With the 23rd overall pick in the 2022 NFL Draft, the Buffalo Bills draft Kaiir Elam, cornerback out of Florida. The physical corner from Florida will be able to step in for any team and serve as a solid starter right away. He has decent size and is extremely patient when he needs to be. His great agility will make him a solid piece for any team he plays for in his career.
Kaiir Elam Highlights
Bills Draft Kaiir Elam | 2022 NFL Draft Profile
Kaiir Elam
Position: Cornerback
Height: 6'2″
Weight: 196 lbs
Age: 20
College: Florida Gators
Kaiir Elam Draft Profile
Strengths
Kaiir Elam brings the size and necessary physicality to have staying power in the NFL. He is patient which is one of the reasons that he rarely gets beat with release fakes. Elam also does a solid job reading routes just before they start to develop. He has great agility, especially in the hips which makes it easy for him to mirror routes and not get turned around.
Weaknesses
One of the biggest knocks on Elam is that he allows too much room at the start of routes. As a result, he sometimes needs to play catchup unnecessarily. As a tackler in the open field, Elam has lacked the physicality needed to make tackles in the running game at the next level. The other concern is that his play has actually dipped each year since a stellar 2019 season.
---
---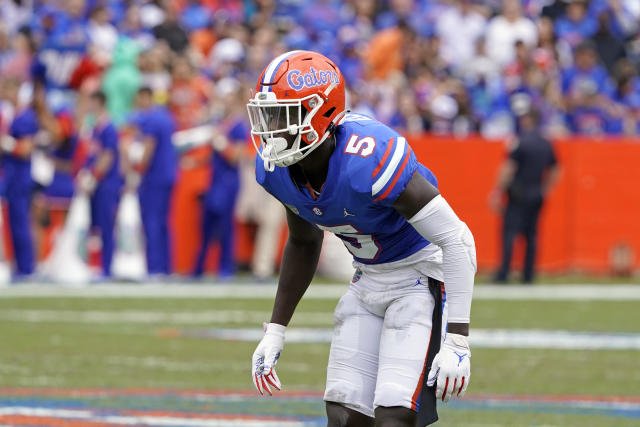 Kaiir Elam Stats 2021 | Florida Gators
Coverage Snaps: 359
Rec/Tgt: 18/35
Completion Rate: 51.4%
Yards Allowed: 185
TD/INT: 2/1
Passer Rating: 74.1
What to Expect From Kaiir Elam in 2022
It's clear Kaiir Elam was drafted this high to contribute immediately. So, look for him to play a solid role in this defense. He has the size to matchup with any sized receiver at the NFL level. His agility makes him incredibly hard to shake and his patience will make him tough to distract or fake out.