Fantasy football Week 4 has gone by, and some of the biggest names in the NFL can't seem to find their way off this list. It's been a whacky, and altogether lower-scoring start to the fantasy season, and some of these players are to blame for it.
The following article looks at some of the biggest disappointments from fantasy football Week 4 of the NFL season across each position. This week's notable fantasy disappointments include Jonathan Taylor, Stefon Diggs, Lamar Jackson, Kyle Pitts and James Robinson.
---
What is PickUp?
PickUp is an up-and-coming sports media company aiming to give out free prizes including apparel, betting promos and much more to users who simply answer their proposed questions.
Users' all-time records are kept and recorded via telephone number. PickUp will not contact you or send unwanted messages. Phone numbers are simply the chosen method of tracking a user's answer history.
The better your record, the more prizes you can win! So, make sure to participate whenever you see a PickUp prop in a FlurrySports article.
---
Week 4 Fantasy Football Disappointments | QB
Lamar Jackson Fantasy Stats
Stat Line: 20/29 passing, 144 yards, 1 PTD, 2 INT; 11 carries, 73 yards
PPR Fantasy Points: 15.06 (QB19)
We acknowledge that 15 points isn't terrible for most quarterbacks, and there are some across the league who are averaging even less than that per game. However, when it comes to Lamar, 15 points is a letdown, especially when the former MVP was coming off of back-to-back weeks with over 40 points. His ability to rush the ball kept him just inside the top-20, but he was still outscored by Kenny Pickett who played just one half of football and threw three interceptions.
Trevor Lawrence Fantasy Stats
Stat Line: 11/23 passing, 174 yards, 2 PTD, 1 INT; 2 carries, 7 yards, 4 FUML
PPR Fantasy Points: 6.66 (QB30)
Lawrence has not been a fantasy football world-beater but has been a serviceable starter for those in larger leagues or even super-flex. Everything was against the Jaguars on Sunday as they had to play in a monsoon against the only remaining undefeated team in the NFL. Even with those conditions, there is no way you can turn the ball over five times and expect anything but misery. On a couple of rare occasions where Lawrence was able to hang onto the ball, he managed two touchdown passes; the only saving grace on the day, and the only reason he did not finish the game with a negative score.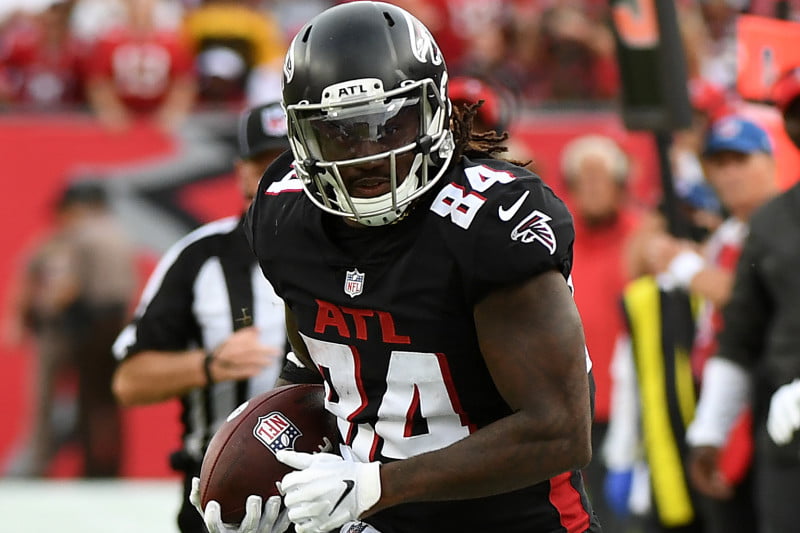 Week 4 Fantasy Football Disappointments | RBs
Cordarrelle Patterson Fantasy Stats
Stat Line: 9 carries, 38 yards, 1 TD; 0 reception, 0 yards
PPR Fantasy Points: 9.8 (RB32)
To be fair to Patterson, fantasy owners were warned that he was a bit banged up and had sat out of practice multiple times leading up to the Falcons Week 4 matchup with Cleveland. However, as a top-5 scoring fantasy RB through three weeks, he was a must-start once it was announced he was going to play. His streak of boom or bust every other game continued this week, with just 9.8 points coming off the heels of a 21.3-point Week 3 performance. The exact same happened in Weeks 1 & 2 where he scored 19.6 and 4.1 points respectively. A third straight rebound week will be tough against a great running defense in Tampa Bay.
Jonathan Taylor Fantasy Stats
Stat Line: 20 carries, 42 yards, 0 TD; 1 reception, 1 yard, 1 FUML
PPR Fantasy Points: 3.3 (RB57)
Jonathan Taylor fantasy owners are staring directly in the face of back-to-back bleak, and possibly last-place seasons. As the number one overall pick in essentially every single fantasy football draft on earth, Taylor is making a case to be the most disappointing first pick of all time. He has now made this list in two of four weeks, and has scored just two-thirds of his Week 1 total (27.5) in the Colts' last three games combined. For what its worth, he started out slow last season as well, ranking as RB20 through four weeks. He currently sits at RB22 this season.
James Robinson Fantasy Stats
Stat Line: 8 carries, 29 yards, 0 TD; 0 reception, 0 yards
PPR Fantasy Points: 2.9 (RB60)
As the second Jaguar on this list today, Robinson was the victim of circumstance and game script. With less than half of his average touches on the ground, and no targets through the air, Robinson really had no chance to make a fantasy impact. After scoring over 55 points in his first three games, he was being started in over 90% of leagues. His 2.9 points surely hurt some owners and probably cost many their weekly matchup.
Week 4 Fantasy Football Disappointments | WRs
Stefon Diggs Fantasy Stats
Stat Line: 4 receptions, 62 yards, 0 TD
PPR Fantasy Points: 10.2 (WR37)
While double digits of any sort is always the goal in fantasy football, Stefon Diggs was drafted with the expectation of much more. He got a pass from us last week, even with the 30 point drop between Week 2 & Week 3, but we cannot let it slide two weeks in a row. While Diggs has yet to post a single digit stinker, he has slowed down significantly since bursting out of the gate to the tune of 20 rec, 270 yds, 4 TD and 71 fantasy points. Across the last two weeks against Miami and Baltimore on the road, his production has been cut in half, and he has been held out of the endzone completely.
Week 4 Fantasy Football Disappointments | TEs
Kyle Pitts Fantasy Stats
Stat Line: 2 receptions, 19 yards
PPR Fantasy Points: 3.9 (TE28)
There is no tight end on earth who can disappoint to the level of and with the consistently of Kyle Pitts. His spot on this list has become rinse and repeat for four straight weeks. At first, we saw this as a Falcons problem, assigning blame to the coaching staff and Marcus Mariota for Pitts' nonexistence on the field.
Through four weeks, things have become more clear, making us now believe this could be a Kyle Pitts problem. Beyond his inability to find the end zone, with still just 1 touchdown in his 21 game career, he is proving unable to convert his opportunities into positive plays. He has caught 10 total passes this season. That number is low, but becomes truly alarming when you realize it is less than 50% of his targets. The ball has been thrown his direction 22 times, but he has managed to score more than four fantasy points just once.
---
Follow us on all of our social channels! Check out our Twitter, Facebook and YouTube for more great FlurrySports content.