There was plenty more chaos on the 12th Sunday of what has been an NFL season full of surprises. Parity continues to reign supreme across the league. In many ways, a similar sentiment has taken shape in fantasy football this season. As a result, even some of the most trustworthy fantasy stars have been prone to turning in a disappointing box score here and there. Unfortunately, injuries also impacted the Week 12 landscape. While some players who suffered injuries managed to avoid being total fantasy football disappointments, managers could face an uphill battle in the weeks to come depending on the official diagnoses.
The following article looks at some of the biggest fantasy football disappointments from Week 12 of the NFL season across each position. This week's notable fantasy busts include Christian McCaffrey, Najee Harris, Chris Godwin and George Kittle.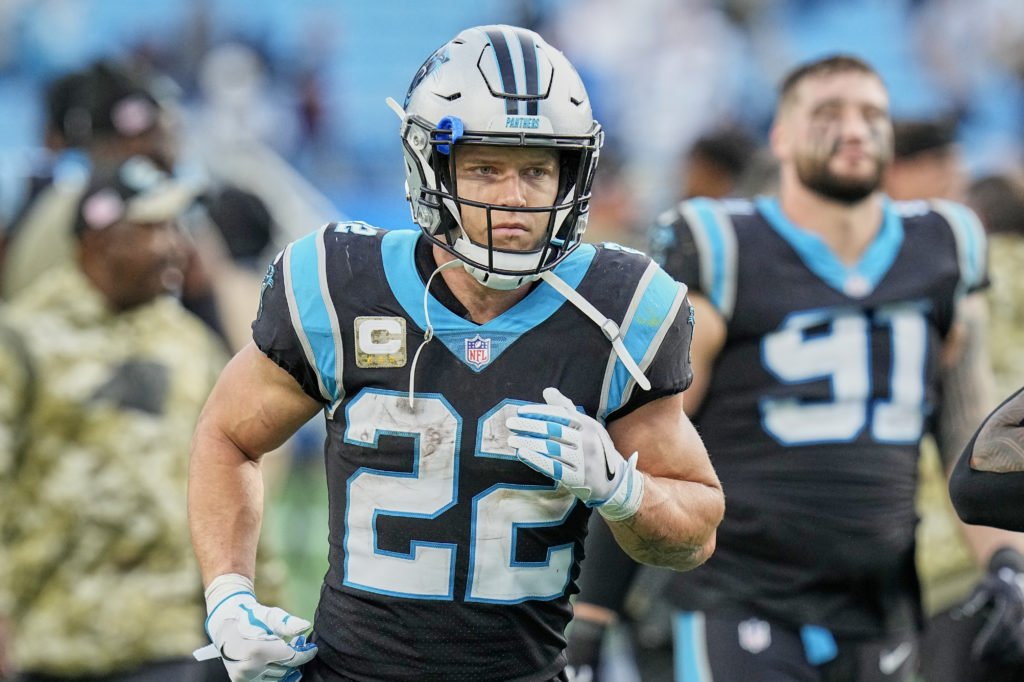 Week 12 Fantasy Football Disappointments | RB
Christian McCaffrey | Carolina Panthers
Stat Line: 10 carries, 35 yards
PPR Fantasy Points: 3.5 (RB55)
In actuality, the entire 2021 fantasy football season, in general, can be characterized as a disappointment for Christian McCaffrey owners. For the second straight season, injuries have hampered both the availability and production of the Panthers' star running back. McCaffrey was already sidelined for a five-game stretch spanning Weeks 4-8. Just when it looked as though he was rounding back into the superstar form we've grown accustomed to, he sustained a new ankle injury in Sunday's loss to the Miami Dolphins.
McCaffrey played just 36% of Carolina's offensive snaps as a result of being knocked out of the game early. The 35 rushing yards and 3.5 fantasy points scored undoubtedly cost some managers their Week 12 matchups. He was spotted leaving Hard Rock Stadium in a walking boot and many fantasy managers feared the worst. Sure enough, the Panthers placed McCaffrey on IR Monday morning, effectively ending his season and removing any last-gasp trade efforts of his respective owners.
Najee Harris | Pittsburgh Steelers
Stat Line: 8 carries, 23 yards; 3 reception, 14 yards
PPR Fantasy Points: 6.7 (RB36)
Rookie Steelers RB Najee Harris had scored double-digit PPR fantasy points in every game since the team's Week 1 opener. That streak came to an end in a blowout loss to the Cincinnati Bengals on Sunday. Even Harris could not overcome a horrendous all-around performance by the Steelers' offense. He finished with a measly 23 rushing yards on eight carries and added three receptions for 14 yards. Of course, the fact that he played only 58% of the snaps given the lopsided score certainly didn't help matters. An RB36 showing in Week 12 ranks well below Harris' overall season rank of RB4.
Nick Chubb | Cleveland Browns
Stat Line: 8 carries, 16 yards; 2 receptions, 23 yards
PPR Fantasy Points: 5.9 (RB39)
Much like the recount of Najee Harris and the Steelers' performance above, it wouldn't be fair to single out Nick Chubb as a bust for the Browns. In reality, the entire Cleveland offense was atrocious in their primetime game. In fact, the Browns became the first team in the Super Bowl era to lose despite holding the opponent to less than 17 points and 350 yards while also forcing three or more interceptions. How much more Baker Mayfield can Cleveland fans take anyways?
Concerning Chubb's fantasy football box score, it was a stark difference from last week's 22-point effort. The Browns' top running back mustered only 2.0 yards per carry, finishing with 16 yards rushing, 23 yards receiving and 5.9 total PPR points. While managers can expect Chubb to perform better than this RB39 showing, the return of Kareem Hunt from IR could take away opportunities that he has had for himself during his absence. On top of that, a Week 13 bye is certainly not timely for owners in the midst of pushing for a playoff spot.
Week 12 Fantasy Football Disappointments | WR
Chris Godwin | Tampa Bay Buccaneers
Stat Line: 4 receptions, 24 yards; 1 carry, 3 yards; 1 fumble lost
PPR Fantasy Points: 4.7 (WR61)
It was entirely the Leonard Fournette and Rob Gronkowski show in the Buccaneers' comeback win over the Indianapolis Colts on Sunday. In many ways, it was shocking to see Chris Godwin so quiet on a day in which Tampa Bay put up 38 points. After a stretch of four straight games scoring double-digit PPR points, Godwin could only muster 24 yards receiving on four receptions. He hurt his final line even more by coughing up a fumble, finishing out as the WR61 on the week with just 4.7 fantasy points.
Perhaps making Godwin's disappointing afternoon all the more perplexing was that fellow wideout Mike Evans endured similar struggles. In fact, Evans finished one spot behind Godwin in the final position rankings, catching just three passes for 16 yards. With Antonio Brown still sidelined, the fact that both Godwin and Evans were fantasy football busts on the same day was truly a stunning development. With so many weapons in the Bucs' offense, perhaps managers should be wary of there occasionally not being enough production to go around.
Ja'Marr Chase | Cincinnati Bengals
Stat Line: 3 receptions, 39 yards
PPR Fantasy Points: 6.9 (WR49)
After kicking off his NFL career with no fewer than 13 fantasy points in eight straight games, Sunday marked the second time in the last three weeks that Ja'Marr Chase was held below the double-digit threshold in PPR leagues. In reality, Chase's fantasy football value has been leaning heavily on his catching a touchdown pass going all the way back to Week 8. Since his massive 201-yard receiving game in Week 7, Chase has not topped 50 yards in any of Cincinnati's four contests since. While Chase struggled to 39 yards and a WR49 finish in PPR on Sunday, his Bengals teammate, Tee Higgins, went off with over 23 fantasy points.
Courtland Sutton | Denver Broncos
Stat Line: 2 receptions, 18 yards
PPR Fantasy Points: 3.8 (WR71)
While this column was not created with the intention of picking on Courtland Sutton virtually every week, one would be forgiven if they assumed that was the case. Fresh off a bye week in which Sutton inked a contract extension with the Broncos, he was once again a non-factor in Sunday's win. While he was on the field for 76% of the team's plays, Sutton garnered just three targets and sputtered his way to 3.7 PPR points. He is clearly not the preferred option for quarterback Teddy Bridgewater.
Interestingly enough, fellow Denver wideouts Tim Patrick (4.6) and Jerry Jeudy (4.5) were also held below five PPR points in Sunday's win. Running back Javonte Williams wound up as the team's leading receiver in a game that flowed almost exclusively between him and fellow RB Melvin Gordon. There's no denying the talent that the Broncos have assembled at the wide receiver position. Unfortunately, better QB play appears necessary for them to truly meet their fantasy football potential.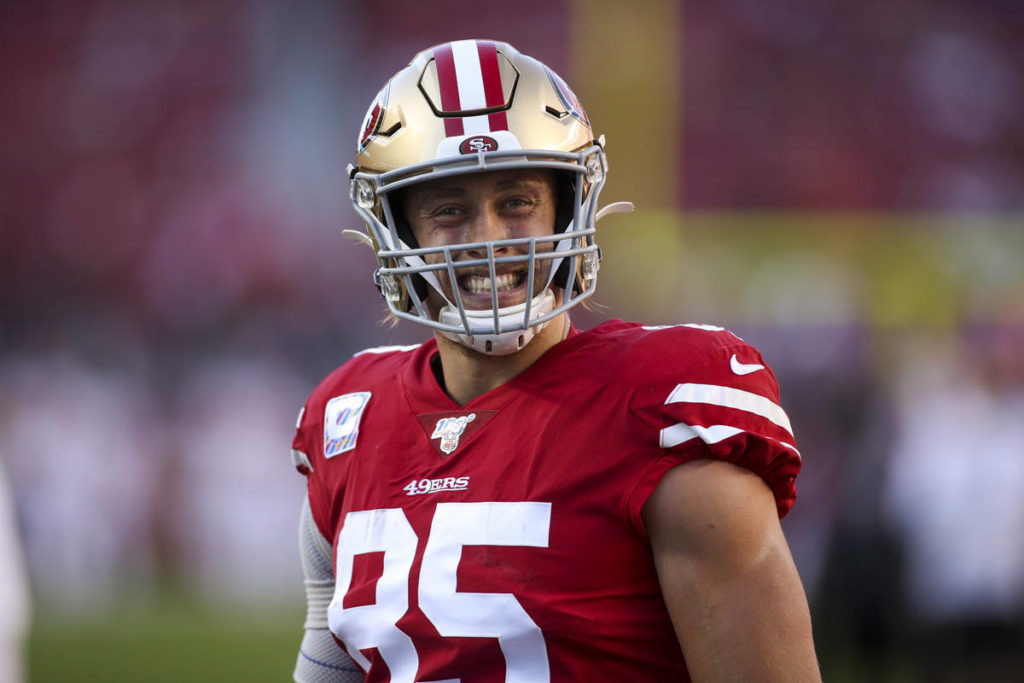 Week 12 Fantasy Football Disappointments | TE
George Kittle | San Francisco 49ers
Stat Line: 1 reception, 13 yards
PPR Fantasy Points: 2.3 (TE35)
Since returning from a stint on IR, George Kittle had rewarded fantasy football managers with three straight double-digit performances. However, it took a touchdown scored to push him over the 10-point threshold in two of the three games. Without that TD reception, his Week 12 outing can only be summed up as disappointing. In fact, Kittle was hardly a factor for the 49ers in a big win over the Minnesota Vikings. He saw just two targets in the game, catching one for 13 yards. That was it for a player many used extremely high draft capital on before the season began. Kittle should be better than TE35 in most weeks moving forward. However, several owners are still overvaluing his role in the current 49ers offensive system.
Kyle Pitts | Atlanta Falcons
Stat Line: 2 receptions, 26 yards
PPR Fantasy Points: 4.6 (TE26)
Gee, imagine that! Cordarrelle Patterson returned to the Falcons' lineup after missing last week's game. He promptly picked up right where he left off with a 27-point performance in PPR scoring. Meanwhile, highly-touted rookie TE Kyle Pitts was held to just 26 yards receiving on two receptions. It's almost like defenses are keying in on Pitts given the lack of other threats in Atlanta's passing game. The future is bright, but the rest of this season will remain a struggle for the No. 4 overall pick.
Week 12 Fantasy Football Disappointments | QB
Jalen Hurts | Philadelphia Eagles
Stat Line: 14/31 passing, 129 yards 3 interceptions; 8 carries, 77 yards
PPR Fantasy Points: 6.86 (QB27)
Considering the fact that Jalen Hurts is the QB2 in fantasy football on the season, a finish outside the top-25 at the position in Week 12 undoubtedly gave some owners nightmares. The Eagles signal-caller has been riding his dual-threat capabilities to solid fantasy production all season. At the same time, Hurts remains an unsure thing when it comes to playing the role of a passing quarterback. His three interceptions in Sunday's ugly loss to the New York Giants put his inaccuracy and poor decision-making on full display.
Hurts also completed less than 50% of his passes on the way to a disappointing 6.86 fantasy points. If not for 77 yards rushing, this would have been an all-time terrible fantasy performance by a QB. Once again, Hurts' legs saved him from ultimate embarrassment.