There was plenty more chaos on the 12th Sunday of what has been an NFL season full of surprises. Parity continues to reign supreme across the league. In many ways, a similar sentiment has taken shape in fantasy football this season. Sure, a handful of stars continue to go out and do their thing on a weekly basis. That said, various young players and even some unlikely veteran journeymen can also be found among the top fantasy football performers from Week 12.
Let's take a look at the top fantasy football performances from Week 12 of the NFL season across each position. This week's notable top fantasy performers include Leonard Fournette, Elijah Mitchell, Jaylen Waddle and Tee Higgins.
Top Week 12 Fantasy Football Performances | RB
Leonard Fournette | Tampa Bay Buccaneers
Stat Line: 17 carries, 100 yards, 3 touchdowns; 7 receptions, 31 yards, 1 touchdown
PPR Fantasy Points: 44.1 (RB1)
Remember that vaunted Indianapolis Colts run defense? Yeah, well the Buccaneers simply laughed at that ranking in Sunday's head-to-head matchup. Even without starting offensive guard Ali Marpet, Tampa's offensive line dictated the line of scrimmage, especially during the second half. RB Leonard Fournette was the beneficiary, as were his fantasy football owners. Just one year removed from being cast to waivers by the Jacksonville Jaguars, he has firmly entrenched himself as the lead back for the defending Super Bowl champs.
Fournette averaged nearly six yards a pop on his 17 carries in Sunday's game, finishing with 100 yards rushing and three touchdowns. As if that wasn't enough, he also reeled in seven receptions for 31 yards and a fourth touchdown. One week after Colts' running back Jonathan Taylor turned in a dominant five-touchdown performance, Fournette returned the favor to Indy's defense. The line saw him total 44.1 PPR fantasy points.
Joe Mixon | Cincinnati Bengals
Stat Line: 28 carries, 165 yards, 2 touchdowns; 4 receptions, -2 yards
PPR Fantasy Points: 32.3 (RB2)
Joining Leonard Fournette as the only other RB with north of 30 fantasy points on Sunday was Joe Mixon. The Bengals thoroughly dominated the AFC North Division rival Pittsburgh Steelers, and Mixon was a big part of the offensive onslaught. He led the league in rushing on the day, posting 165 yards and two scores on 28 carries. Although he finished with negative receiving yards, his four receptions helped push him over the 30-point threshold in PPR formats. Along with Jonathan Taylor and Austin Ekeler, Mixon is one of only three running backs with over 200 total fantasy points on the season.
Elijah Mitchell | San Francisco 49ers
Stat Line: 10 carries, 59 yards; 7 receptions, 60 yards, 1 touchdown
PPR Fantasy Points: 27.8 (RB3)
Rookie 49ers running back Elijah Mitchell is one tough customer. After missing last week's contest after undergoing surgery on a broken finger, the former Louisiana Ragin' Cajun went absolutely bonkers in Week 12. In a critical game against the Minnesota Vikings, the Niners leaned on Mitchell early and often. Behind a dominant offensive line, he totaled 135 rushing yards and a score on 27 carries. Mitchell also added five catches for 35 yards, finishing as the RB3 in PPR scoring on the week with 27.8 fantasy points. Sunday's game was a clear indication that, when healthy, Mitchell is the 49ers' lead back over Jeff Wilson Jr.
We also must show some love to Atlanta Falcons RB/WR, Cordarrelle Patterson here. After all, he finished just 0.3 fantasy points behind Mitchell for a spot atop the Week 12 podium at the running back position. Patterson was also inactive last week but returned to run for over 100 yards and a pair of scores against a respectable Jacksonville Jaguars run D. Despite playing in a very uninspiring Falcons' offense, Patterson continues to impress on a weekly basis. He is the RB4 in PPR on the season following Sunday's outing.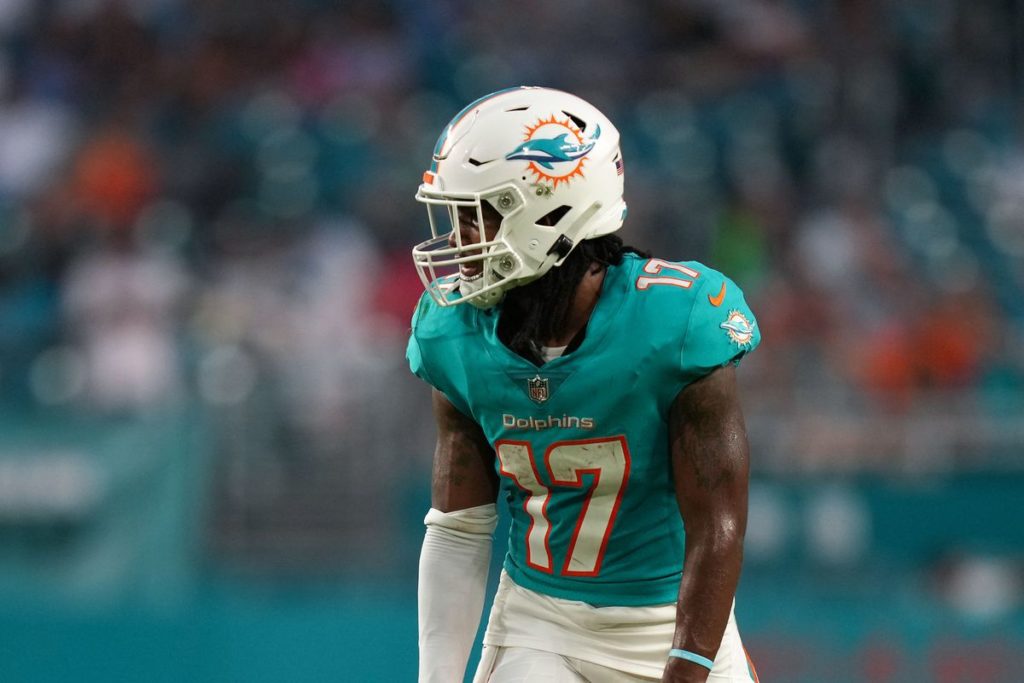 Top Week 12 Fantasy Football Performances | WR
Jaylen Waddle | Miami Dolphins
Stat Line: 9 receptions, 137 yards, 1 touchdown
PPR Fantasy Points: 28.7 (WR1)
Much like running back Leonard Fournette having a monster day against the Colts defense was surprising, the same can be said for Dolphins rookie wideout Jaylen Waddle. Taking on a stingy Carolina Panthers pass defense, Waddle threw down one of his best fantasy football performances of the season. The chemistry he had with Miami QB Tua Tagovailoa from their college days at Alabama has clearly transitioned over to the NFL level. Waddle continues to be a target hog, getting 10 passes thrown his direction on Sunday. He hauled in nine of them for 137 yards and a score to finish as the WR1 in fantasy with 28.7 PPR points. Waddle has now scored double-digit PPR points in six of the Dolphins' last seven games.
Tee Higgins | Cincinnati Bengals
Stat Line: 6 receptions, 114 yards, 1 touchdown
PPR Fantasy Points: 23.4 (WR2)
While all of the hype and adulation was directed at Bengals rookie receiver Ja'Marr Chase earlier in the season, the No. 6 overall pick has been oddly quiet in recent weeks. While second-year wideout Tee Higgins may have been swept under the rug, he is proving to be perhaps an even more reliable fantasy football commodity. Higgins torched a banged-up Pittsburgh Steelers defense for 114 yards and a score on Sunday, finishing as the WR2 in Week 12 with 23.4 fantasy points. This marked the best outing of what has been an extremely consistent season for Higgins. The sky is the limit for the Bengals' young receiving duo.
Kendrick Bourne | New England Patriots
Stat Line: 5 receptions, 61 yards, 2 touchdowns
PPR Fantasy Points: 23.1 (WR4)
For the second time in the last three weeks, Kendrick Bourne eclipsed 20 PPR fantasy points. The Patriots kept right on rolling with their sixth consecutive win on Sunday, and Bourne was a big part of the effort offensively. He caught five of six targets for 61 yards and a score to finish as the WR4 in fantasy football on the week. Oddly enough, Bourne's stat line was exactly identical to the Minnesota Vikings' Adam Thielen aside from a one-yard differential. While the performance was certainly noteworthy, it's unlikely that many managers actually started Bourne in their lineups. Trusting any New England pass-catchers to contribute in fantasy with regularity is a tough ask.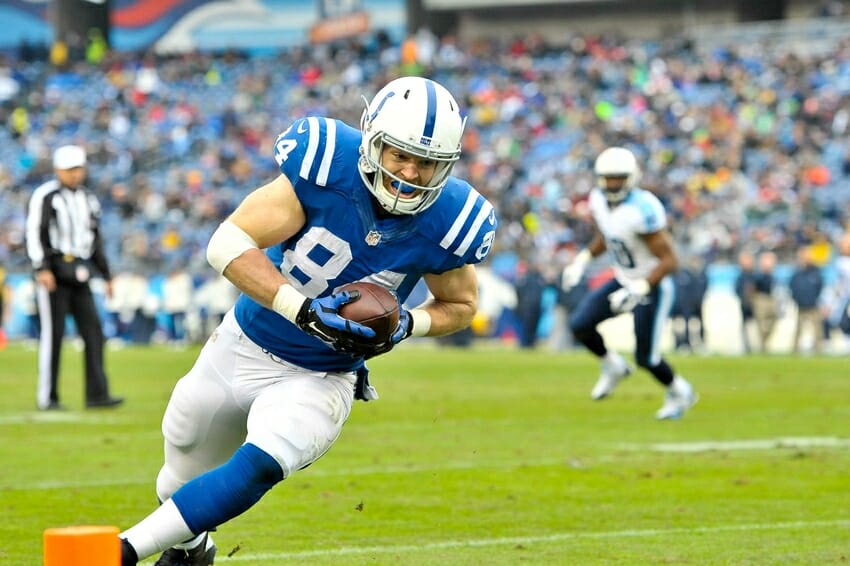 Top Week 12 Fantasy Football Performances | TE
Jack Doyle | Indianapolis Colts
Stat Line: 6 receptions, 81 yards, 1 touchdown
PPR Fantasy Points: 20.1 (TE1)
You remember Jack Doyle, right? The 31-year-old used to be a highly-owned, highly-regarded fantasy football tight end. Well, he resurfaced on Sunday in the Colts' loss to Tampa Bay to finish as the TE1 in fantasy on the week. Quarterback Carson Wentz was known for targeting his tight ends often while in Philadelphia. That sentiment was true again this week as Doyle hauled in six of a season-high seven targets for 81 yards and a score. Will this performance carry over into future weeks? Only time will tell, but that sure seems unlikely given the Colts' desire to lean on Jonathan Taylor and the run game as much as possible.
Rob Gronkowski | Tampa Bay Buccaneers
Stat Line: 7 receptions, 123 yards
PPR Fantasy Points: 19.3 (TE2)
Welcome back, Gronk! It doesn't matter how much time Rob Gronkowski has to miss with injuries. The chemistry between him and Tom Brady is second to none at this point. After garnering eight targets in his return game last Monday night, Gronkowski led the Buccaneers with 10 targets in Sunday's win. He caught seven of them for 123 yards, finishing as the TE2 in PPR scoring with 19.3 fantasy points. When it comes to fantasy football production, a 19-point effort from a tight end who failed to score a touchdown is almost unheard of.
Top Week 12 Fantasy Football Performances | QB
Aaron Rodgers | Green Bay Packers
Stat Line: 28/45 passing, 302 yards, 2 touchdowns; 1 touchdown run
PPR Fantasy Points: 26.28 (QB2)
Put some respect on his name! Honestly, Aaron Rodgers really should repeat as the NFL's MVP this season given his significance to the Packers. In a high-profile NFC showdown against the Los Angeles Rams on Sunday, Rodgers was at his best, broken toe and all. He torched the Rams' defense for 307 yards passing and two scores. Rodgers even ran for a touchdown early on, totaling 26.28 fantasy points on the day. One week after eclipsing 30 fantasy points in a narrow loss at Minnesota, he dropped another doozy. 
Although he lacks the mobility of other fantasy football stars at the position, Rodgers' consistency has allowed him to hold onto the QB7 ranking on the season. There is simply no slowing this guy down. One has to wonder if all of the media's horrible takes and hatred only fuel Rodgers even more in his pursuit of greatness.
Mac Jones | New England Patriots
Stat Line: 23/32 passing, 310 yards, 2 touchdowns; 2 carries, 11 yards
PPR Fantasy Points: 21.50 (QB5)
Many people believed that the Offensive Rookie of the Year Award was the aforementioned Ja'Marr Chase's to lose after his incredible start. Consider Patriots quarterback Mac Jones a worthy challenger, if not the new favorite, based on his recent form. Just one year ago, Jones was making a national championship run at Alabama. Now, he looks like a seasoned NFL vet. The Patriots aren't asking him to do too much, but he showed on Sunday that he can make plays when called upon.
Jones threw for 310 yards and two touchdowns to finish with a season-high 21.50 fantasy points. While it remains difficult to assume this kind of production from him moving forward, Jones is firmly in the weekly QB2 conversation based on his consistency.
Top Week 12 Fantasy Football Performances | D/ST
Miami Dolphins
Stat Line: 5 sacks, 3 interceptions, 1 blocked punt, 1 touchdown scored; 198 yards allowed, 10 points allowed
PPR Fantasy Points: 21.0 (D/ST1)
While Tua Tagovailoa and the aforementioned Jaylen Waddle have spearheaded the Dolphins' four-game winning streak on offense, Miami's defense also deserves full marks. One of the worst units in the NFL to begin the year, the Dolphins were so effective on Sunday that the opponent Carolina Panthers benched Cam Newton. One of the most turnover-savvy defenses in the league a season ago forced three interceptions on Sunday. One came courtesy of star corner Xavien Howard. The Dolphins also throttled Carolina's pass protection up front, finishing with five sacks. Rookie linebacker Jaelan Phillips was a one-man wrecking crew with three of those.
Miami's special teams also got in on the fun. Justin Coleman recovered a blocked punt just six minutes into the game and ran it in for a score. It all led to the Dolphins finishing as the D/ST1 with 21.0 fantasy points.
Top Week 12 Fantasy Football Performances | K
Nick Folk | New England Patriots
Stat Line: 3-3 PAT; 5-6 FG, 2 from 20-29, 1 from 30-39, 1 from 40-49, 1 from 50+
PPR Fantasy Points: 20.0 (T-K1)
15-year veteran kicker Nick Folk has been lights-out for the Patriots all season long. That continued in Sunday's win as he widened the gap between himself and the rest of the NFL for the top spot among kickers in fantasy football on the season. Folk was plenty busy, achieving his K1 finish on the week despite missing a field goal attempt. He attempted nine kicks in total, converting on eight of them. Folk was perfect on extra points and knocked in five field goals, including a long from 52 yards out to finish with 20.0 fantasy points. With 132 total fantasy points scored on the season, Folk leads Daniel Carlson of the Las Vegas Raiders by 19 for the top kicker spot.
---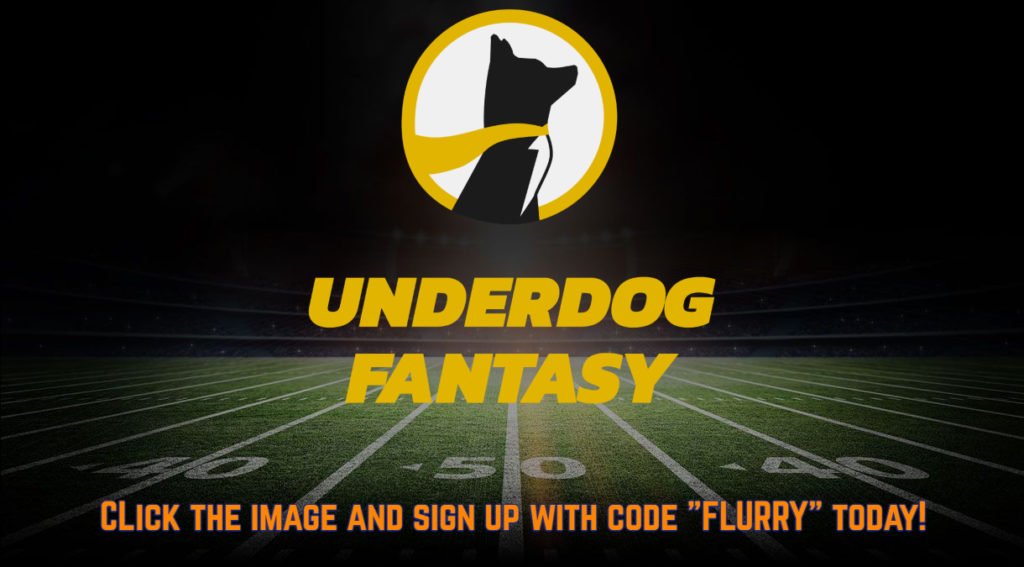 Underdog Fantasy is a new type of DFS that combines the fun of season-long drafts with daily fantasy sports. Aside from their fun, addictive draft mode, Underdog Fantasy also has pick'em player props for many different sports and athletes!
Click the image or RIGHT HERE to get signed up today, and don't forget to use the promo code FLURRY for a FREE $10 bonus on your first deposit!
---