In a series of tweets, Doug Baldwin wrote what he described as a letter to his younger self. It was beautiful, but ultimately, it was his way of announcing his retirement from the NFL after eight successful seasons in Seattle.
The two-time Pro-Bowler and Super Bowl champ was seemingly underrated his entire career. From being undrafted to shadowed by the louder, more flamboyant receivers in the league, the media never paid much attention to Baldwin.
However, Baldwin was among the best slot receivers in the league. He reached 1,000 yards twice, played in all 16 games in 6-of-8 seasons, had a 14-touchdown season, and finished third all-time in franchise receiving yards.
Knowing injuries would be ending his playing career, the Seahawks drafted D.K. Metcalf 64th overall. While he's a physical freak, Metcalf has been looked at as a project for Seattle. And even if he performs well early, he will not be filling the hole Baldwin leaves behind. Tyler Lockett is a candidate to see more snaps in the slot, but the 65% of snaps in the slot that Baldwin played last season is unlikely.
No matter what their plans are with their current group of pass-catchers, Seattle is likely to bring in another body. Here are the best options available for the Seahawks to fill the hole left by Baldwin.
2018 Stats: 54 REC/607 YDS/3 TD
There's no question, the most talented receiver on free agency is Michael Crabtree. Bringing Crabtree back to the NFC West would allow the Seahawks to play Lockett in the slot more often.
The move to start Lamar Jackson at quarterback essentially eliminated the passing game in Baltimore, obviously destroying Crabtree's numbers. However, he totaled 38 of his 54 catches during the first eight weeks. In each of the three previous seasons, Crabtree totaled 8+ touchdowns and received 100+ targets. We would draw attention on the outside, creating great matchups for Lockett and Metcalf, or opening running lanes between the tackles.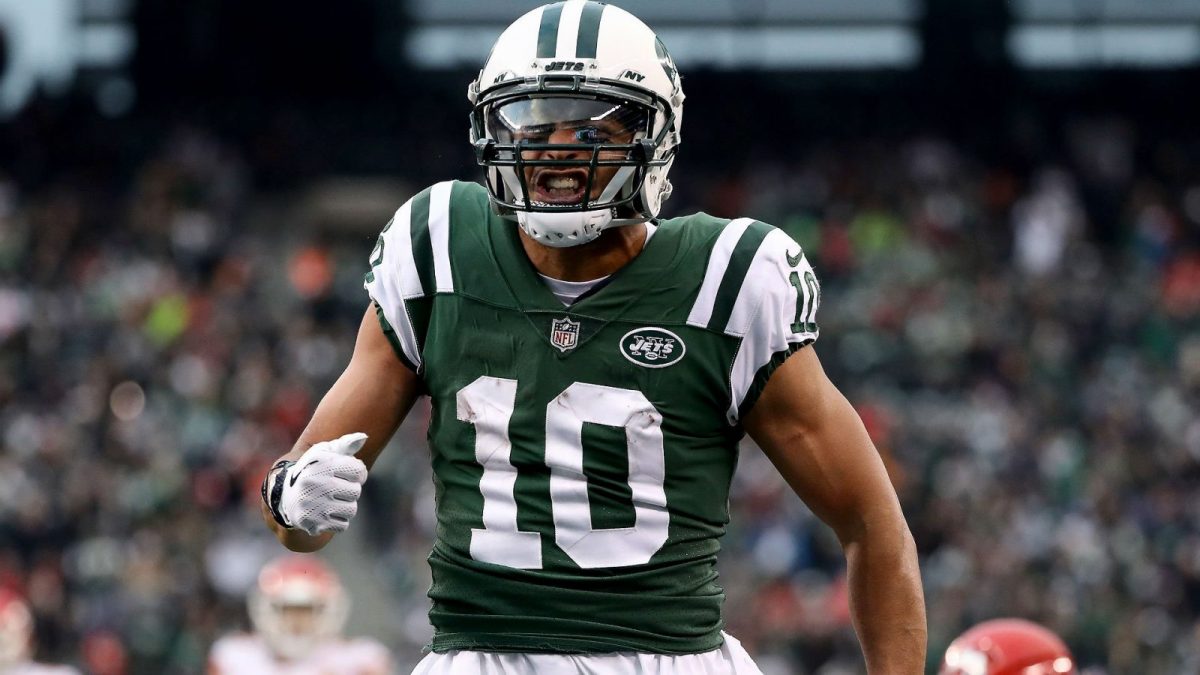 2018 Stats: 37 REC/371 YDS/ 1 TD
A return to Seattle is definitely an interest of Kearse.
"Yeah. Look, I would love to play back in Seattle," Kearse said. "Obviously, things have to work out on its own and things have to be right…It would be an opportunity that would be a great opportunity."
Kearse returning to Seattle should be something the Seahawks are interested in too. He is a slot receiver that has experience in this offense and an interest in catching passes from Wilson again. In his last season in Seattle, Kearse caught 41 passes for 510 yards and a touchdown. He was competing for targets with Baldwin, Lockett, and Jimmy Graham. In other words, he is more than capable of putting up these numbers again, and there's even a chance he sees more than the 89 targets he received back in 2016.
2017 Stats: 69 REC/838 YDS/6 TD
We all know about Bryant's 2018: he threw Dallas teammates under the bus, waited for the right opportunity to sign with a team, then suffered a season-ending achilles injury before game day. An achilles injury is a big risk, especially with a 30-year-old that relies on his explosiveness, but a one-year deal could turn into a massive steal.
If Dez comes back with the athleticism we remember, him and Metcalf out wide would be extremely dangerous, and it would be especially deadly in the red zone. Pete Carroll certainly doesn't seem to mind strong personalities, so the attraction of him and Wilson together may be enough to get both parties excited.
2017 Stats: 52 REC/748 YDS/4 TD
A broken fibula limited Wallace to just two games last season. But assuming the recovery has gone well, Wallace is a playmaker that could really help elevate this offense. He hasn't spent a lot of time running out of the slot (under 20% of routes in recent seasons), but as Wallace continues to age, a transition to the slot could really help him.
We know he can fly, so giving him a little extra space off the snap would open up opportunities for a few other routes, and he could easily get defenders off balance or turned around.
2017 Stats: 53 REC/795 YDS/4 TD
After a strange 2018 where Matthews was nonexistent on both the Titans and Jets, he looks for a team to give him a chance to get back to the production he showed 2015-17. Perhaps the most appealing part of Matthews' game to Seattle would be his versatility. Back in 2017, he spent 25% of snaps on the right, 44.6% on the left, and 30.4% in the slot. This would allow for a strong rotation at the receiver position, while the Seahawks continue to feature the run.
---
More Articles
2019 Post-NFL Draft RB Depth Chart
All You Need to Know About FIBA 2019
Enter Our FIFA 19 Tournament, Featuring Montee Ball
Biggest Steal of Each Round in the NFL Draft