There is nothing in sports quite like a Game 7. It just so happens that we have not one but TWO Game 7 NBA Playoffs matchups on tap for Sunday. The early game features the Milwaukee Bucks taking on the Boston Celtics with the winner set to advance to the Eastern Conference Finals. Then, in primetime, the Dallas Mavericks will battle the Phoenix Suns for a spot in the Western Conference Finals. It doesn't get much better than two Game 7's in one day! For bettors, finding some value on NBA betting picks and props will only add to the day's excitement. The following article offers three of the best NBA player prop bets for the May 15th games.
But first, check out this exclusive NBA betting offer from BetMGM!
---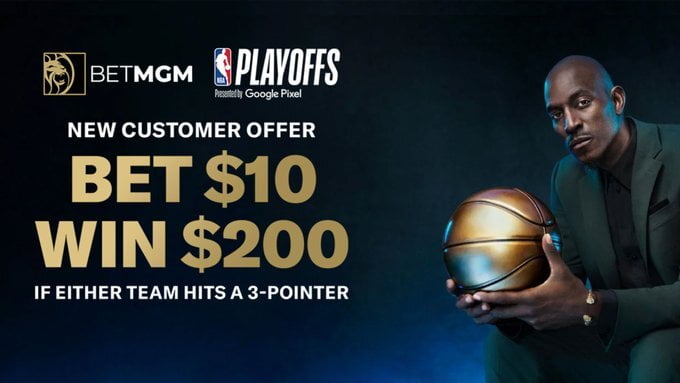 Bet $10 to Win $200 at BetMGM Sportsbook
Have you ever seen a player hit a three-pointer? Of course, you have. In today's NBA, a long-range three is as effective as a shot in the paint for many players. For some reason, BetMGM is deciding to give away money if a player hits a three! All you need to do is make an account and deposit!
Bet $10 on any team to win. If they hit a three-pointer during the game, you win $200!
That's right, you win 20x your money regardless of if you pick the winner correctly. I can guarantee even the losing team will hit a three-pointer. Either CLICK HERE or click the image above to claim the limited-time offer!
---
Best NBA Betting Player Props for Tonight, 5/15
All NBA betting player props odds are taken from BetOnline Sportsbook
As this Eastern Conference Semifinals series has gone on, Derrick White has seen his playing time steadily increase. The Boston Celtics' trade deadline acquisition has been on the floor for 30+ minutes in each of the last three games. While he is hardly one of the Celtics' primary scoring threats, White has certainly made an impact in other areas, most notably on the defensive end.
Among White's defensive contributions has been a steady rate of production on the glass. The former Colorado star secured five total rebounds in Game 6. This marked the second game in a row that White corralled five boards. It was also the fifth time in the Eastern Conference Semifinals that he managed to eclipse the NBA betting props line of 3.5 rebounds.
On the full season, White averaged 3.4 rebounds per game. Given the disadvantages that the Celtics face against the Milwaukee Bucks in the frontcourt when it comes to size, Boston has had to take an all-hands-on-deck approach when it comes to rebounding. Never one to shy away from contact, White has made an impact and has seen an uptick in minutes as a result. It would be surprising to see anything different in Sunday's Game 7.
NBA Player Props Prediction: Derrick White OVER 3.5 Rebounds (-130)
---
Best Sportsbook Offers and Promotions
---
On the surface, betting against Dallas Mavericks superstar Luka Doncic in a winner-take-all Game 7 may seem like a risk that isn't worth taking. After all, he has tended to deliver when facing elimination in the playoffs before. In order to win on the road tonight, the Mavs will clearly need their best player to be on top of his game. With that being said, Doncic has done little of late to sway bettors from playing under his NBA player props line of 34.5 points.
For starters, this NBA betting total is clearly inflated considering that Doncic only averaged 28.4 points per game on the full season. While he did drop 45 in Game 1 of these Western Conference Semifinals, his scoring has followed a downward trajectory since. In Game 6 on Thursday night, Doncic scored 33 points as Dallas earned the home win. That output marked the first time that the former No. 3 overall draft pick managed to eclipse the 30-point threshold since Game 2 of this series.
Doncic has actually struggled a great deal with his outside shot in this series. Spanning Games 3-6, he has only knocked down seven of 33 shots from three-point range. That 21% shooting percentage is much lower than the 35% Doncic has shot from distance on the full season. Credit a Phoenix Suns defense that ranks third in the NBA in defensive efficiency for adjusting to better contain Doncic after his Game 1 scoring outburst. Add in the fact that this under can be obtained at a plus-money price and fading Doncic is definitely a worthwhile NBA picks selection.
NBA Player Props Prediction: Luka Doncic UNDER 34.5 Points (+104)
---
FlurrySports posts daily NBA player props for betting and DFS on this page! Make sure to bookmark it and come back tomorrow.
---
Anyone who has been following the Mavericks-Suns series knows that home court has made a world of difference for both teams. The performance of role players on both sides has been exponentially better when playing at home. Suns wing Cameron Johnson fits this narrative to a tee. After logging additional minutes in the First Round of the playoffs when Devin Booker was sidelined, Johnson has returned to his reserve role in the conference semifinals. That role has still afforded him between 20 and 25 minutes in the majority of games this postseason.
On the full season overall, Johnson averaged 26.2 minutes and 12.5 points per game. Assuming the Suns opt to tighten up their rotation in tonight's win-or-go-home Game 7, Johnson is probably unlikely to reach his playing time average. However, he hardly needs to do so in order to exceed an NBA player props line of 8.5 points. Note that this NBA picks line is four full points less than what the 26-year-old averaged on a per-game basis this season.
In this playoff series against the Mavericks, Johnson has already managed to surpass the scoring total in four games. This includes each of the Suns' three home games in the series to date. Even when he only played 17 minutes in Game 2 at home, Johnson still snuck past the prop line with a nine-point effort. As a 42% shooter from beyond the arc, he is capable of achieving the nine points necessary to go over the NBA betting picks total in a relatively quick fashion.
NBA Player Props Prediction: Cameron Johnson OVER 8.5 Points (-120)
---
Free $100 for Sleeper Over/Under | New NBA DFS Game
If you're looking for another way to make money on NBA player props tonight, you should check out Sleeper! That's right. It's the same fantasy sports app where you may have your season-long fantasy football league every year!
Recently, Sleeper launched their over/under pick'em game. You can pick over or under various NBA player props and string them together into a parlay. If you CLICK THIS LINK, join the FlurrySports over/under channel and follow the promo directions, you get a free $100 when you deposit any amount! That's right! Deposit $20 and you'll have $120 in your Sleeper wallet!