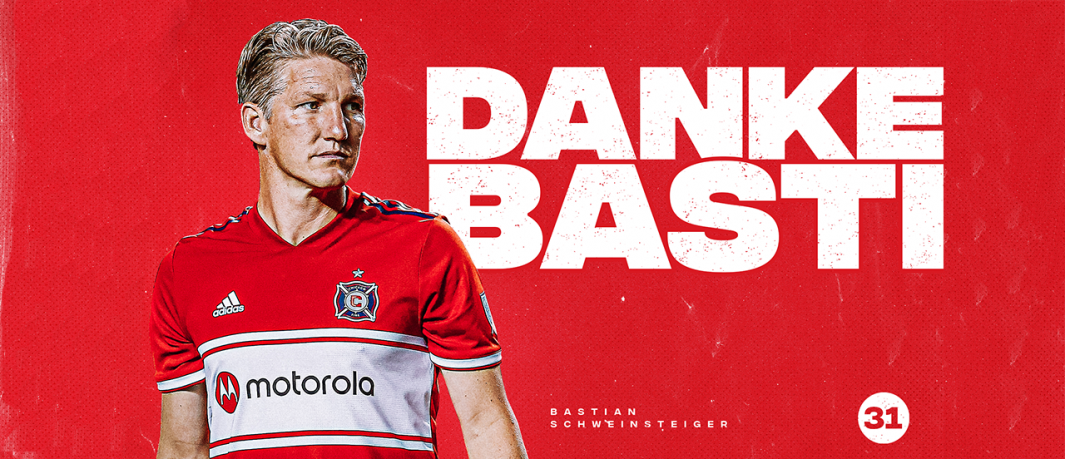 On Tuesday morning, the former German international announced his retirement from professional soccer after 18-years out on the pitch.
His decision to retire was discussed with current Chicago Fire head coach Veljko Paunovic before their 5-2 win against Orlando City on Sunday.
The 35-year-old midfielder-turned-defender start his footballing career with
FV Oberaudorf before eventually joining Bayern Munich where he would spend the majority of his career. In Munich, he had 500 appearances throughout all competitions – winning 18 trophies including the illustrious UEFA Champions League.
During his tenure at Munich, he was also a staple with the German National Team. Schweinsteiger made his international debut in 2004 and has amassed 121 caps winning the 2014 World Cup along the way.
Gloomy English Skies
In 2015 he decided to move to English side Manchester United where he would spend the next two years. A squad player at best under then manager Louis Van Gaal, he never fully established himself with the Red Devils.
Once Jose Mourinho took the helm, Schweinsteiger was sent to train with the reserves. Mourinho later stated that he "regretted" his treatment of the player.
Sweet Home Chicago
In 2017, he was allowed to leave to join the Chicago Fire. He scored a debut goal in a 2-2 draw against the Montreal Impact. He was instrumental in the Fire's rise to prominence during the 2017 season, helping the club reach the playoffs.
However, his next two seasons with the Fire wasn't as fruitful. The club missed the playoffs for his last two seasons due to coaching and front office mismanagement. Paunovic also switched his position from the midfield to a defensive one as there was a gaping hole in the backline. Throughout his last years with the Fire, he played as a center back – which he embraced.
Although not an officially sanctioned trophy, Schweinsteiger leaves the club with two Brimstone Cup trophies to his name.
The legendary midfielder-turned-defender leaves the beautiful game with 20 trophies.