This weekend will see the final regular-season games of the Atlantic 10 basketball season play out. After the Atlantic 10 Conference swapped the dates of its men's and women's basketball tournaments, next Wednesday will kick off the 2021 A10 Tournament with both First Round games. With the results of this week's games in hand, seeding for the A10 Tournament has begun to take shape. What isn't yet settled will be over the next four days as the final games play out.
Atlantic 10 Basketball Headlines
Several teams have staked their claim to a First Round bye at next week's Atlantic 10 basketball tournament. A couple have even locked up a double-bye into the quarterfinals ahead of this weekend's final regular-season games. An update on seeding plus another massive upset courtesy of St. Joseph's highlight the latest headlines from around the conference.
St. Bonaventure, VCU Secure Double-Byes for A10 Tournament
Although neither was the preseason Atlantic 10 basketball betting favorite, St. Bonaventure and VCU have been two mainstays atop the league standings throughout the conference season. In fitting fashion, both the Bonnies and Rams secured a double-bye to the A10 Tournament quarterfinals with big wins earlier this week.
VCU was the first to lock up a double-bye in the Atlantic 10 basketball conference tournament with a 67-65 win over Saint Louis on Tuesday. The game was back-and-forth right from the jump and fittingly came down to the very end. Adrian Baldwin Jr. hit the game-winning free throws in the final seconds to ultimately push VCU over the top. They were the finishing touches on a massive game for the freshman, whose line included 15 points, seven assists, three rebounds and three steals. Junior forward Vince Williams Jr. led the Rams with 16 points and added nine rebounds. The win was even more impressive for VCU given that they were without their leading scorer in guard Nah'Shon Hyland.
Not to be outdone, fellow Atlantic 10 basketball frontrunner st. Bonaventure staved off a second half rally from Davidson to earn a 56-53 road win Wednesday night. The Bonnies rejoined VCU atop the A10 standings at 10-3 and claimed their own double-bye for the conference tournament in the process. Jaren Holmes led the way for SBU with 16 points and five boards. Domnick Welch was on fire from long range, with all 15 of his points coming via 3-pointers. On a night when senior guard Kyle Lofton struggled shooting the basketball, other St. Bonaventure players proved capable of delivering on the offensive end.
St. Joseph's Stuns Dayton for Second Straight Atlantic 10 Basketball Win
Don't look now, but the St. Joseph's Hawks are building a little momentum ahead of the Atlantic 10 basketball tournament. After starting A10 play 0-9, St. Joe's has now won back-to-back games. The second came in the form of a shocking 97-84 upset of Dayton on Wednesday night.
St. Joseph's came ready to play for their showdown against the Flyers. The Hawks led by 16 at halftime and were never truly threatened over the final 20 minutes of play. Junior guard Taylor Funk played out of his mind for SJU in the win. His final stat line included a game-high 36 points and six rebounds. Anytime you can outplay the likes of Dayton's Jalen Crutcher and Ibi Watson, the performance certainly is deserving of praise.
After leading the charge in the Hawks' first Atlantic 10 basketball win over La Salle last weekend, Ryan Daly once again was spectacular against Dayton with 25 points, seven boards, four assists and a pair of steals. Daly has only played in seven games in this, his senior season due to injury. With the Hawks' home finale against Rhode Island being canceled, Daly made the most of this senior day showcase. St. Joseph's is not considered to be a contender in the A10 Tournament. With that said, a guard tandem like Funk and Daly is certainly capable of providing some highlight-worthy moments in Richmond next week.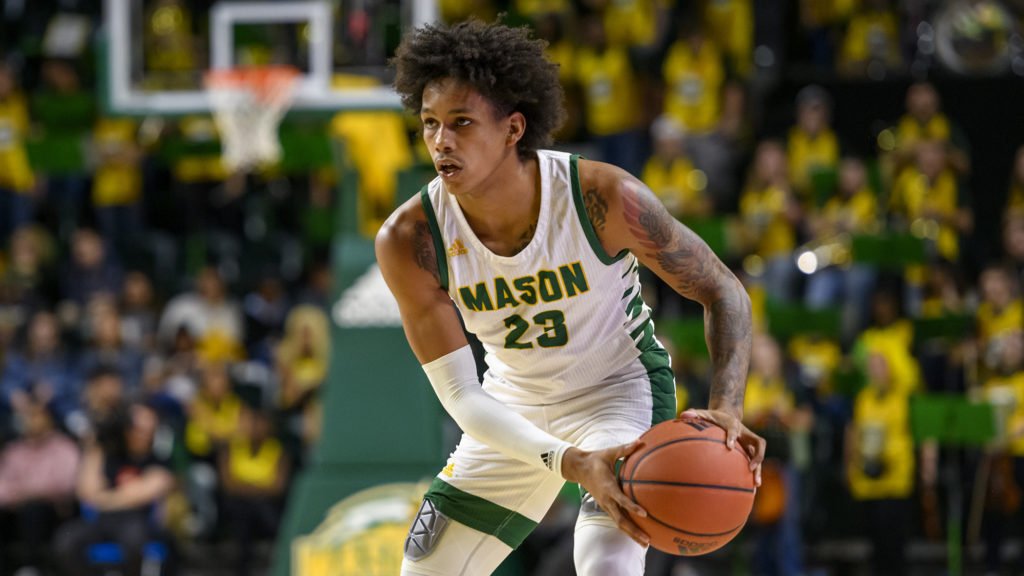 George Mason Picks Up Key Victory Over George Washington
One of the teams that has flown under the radar throughout the Atlantic 10 basketball season is George Mason. After upsetting VCU last weekend, the Patriots were at it again on Wednesday night against rival George Washington. In a game with hefty A10 Tournament seeding implications, GMU saw four players score in double figures in route to a 63-58 victory. With the win, George Mason clinched a First Round bye in the upcoming conference tournament.
Freshman guard Tyler Kolek was the unlikely leader for the Patriots in this winning effort. He did a little bit of everything, filling the stat sheet with a game-high 16 points, five rebounds, four assists and three steals. Javon Greene (15 points), Jordan Miller (14) and Josh Oduro (11) all joined Kolek in double-digit points for the game. Both Miller and Oduro notched double-double lines with 15 and 10 rebounds respectively. George Mason may not be the most public team in Atlantic 10 basketball, but when you have a player in Oduro who can put up a double-double off the bench, it's hard to discount the Patriots entirely in the A10 Tournament.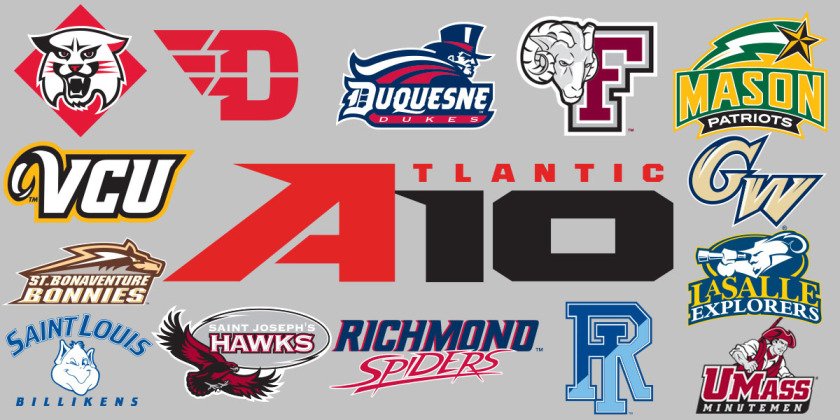 Updated Atlantic 10 Basketball Standings
| Team | Conference Record | Overall Record |
| --- | --- | --- |
| St. Bonaventure | 10-3 | 12-3 |
| VCU | 10-3 | 17-5 |
| Richmond | 6-3 | 13-5 |
| UMass | 6-3 | 7-5 |
| Davidson | 6-4 | 11-7 |
| George Mason | 7-6 | 11-8 |
| Dayton | 8-7 | 12-8 |
| Saint Louis | 4-4 | 11-5 |
| Duquesne | 6-7 | 7-8 |
| George Washington | 3-4 | 4-10 |
| Rhode Island | 7-9 | 10-13 |
| La Salle | 6-10 | 9-14 |
| Saint Joseph's | 2-9 | 3-14 |
| Fordham | 2-11 | 2-11 |
Upcoming Atlantic 10 Basketball Games to Note
Every Atlantic 10 basketball game is one to note! It is the final weekend of the regular season, after all. The outcomes of these games will help finalize the seeding and bracket for the A10 Tournament. They also provide the teams with the chance to go into next week's tournament on a high note. The dates, start times and TV coverage for all remaining games are listed below to ensure you won't miss a second of the action!
George Washington at St. Bonaventure
Date: Friday, Feb. 26
Time: 6 pm EST
TV Coverage: ESPN+
Richmond at Saint Louis
Date: Friday, Feb. 26
Time: 7 pm EST
TV Coverage: ESPN2
VCU at Davidson
Date: Saturday, Feb. 27
Time: 2 pm EST
TV Coverage: ESPNU
La Salle at George Mason
Date: Saturday, Feb. 27
Time: 4:30 pm EST
TV Coverage: NBCSN
Rhode Island at Duquesne
Date: Saturday, Feb. 27
Time: 7 pm EST
TV Coverage: ESPN+
UMass at Saint Louis
Date: Monday, Mar. 1
Time: 6 pm EST
TV Coverage: CBSSN
St. Joseph's at Richmond
Date: Monday, Mar. 1
Time: 6 pm EST
TV Coverage: ESPN+
Dayton at St. Bonaventure
Date: Monday, Mar. 1
Time: 5 pm EST
TV Coverage: ESPNU