Against all odds, the smell of college basketball conference tournaments is officially in the air. In fact, the first such tourneys that will hand out automatic bids to March Madness are set to get underway this week. Safe to say they came upon you faster than expected, am I right? Thanks to a sudden change of dates, the Atlantic 10 basketball conference tournament is the poster child for that claim.
Check out our updated college basketball top-25 rankings!
Atlantic 10 Basketball Headlines
While this past weekend's on-court action around the A10 was as exhilarating as ever, off-court news in the form of a major scheduling adjustment serves as the biggest headline this week.
A10 Tournament Dates Moved Up One Week
The Atlantic 10 basketball tournament was already relocated from the Barclays Center to the campus sites of Richmond and VCU last month. Apparently, the league wasn't done making changes just yet. It was announced on Friday that the dates for the A10 men's and women's basketball tournaments would flip-flop.
As a result of this change, the men's tournament is now set to be played from March 3-6. The home courts of both Richmond and VCU will still serve as the host sites for all games. That is, all games except for the Atlantic 10 Tournament championship game. The conference also announced that the championship game would stay put on the originally scheduled date of March 14. It also will be the only game of the men's tournament that won't be played in Virginia. Instead, the longtime host of the NCAA Tournament's First Four, University of Dayton Arena, will host the title game.
If you're struggling to keep up with all of the location and schedule changes for this year's Atlantic 10 basketball tournament, trust me: you're not alone. To help, here is a breakdown of the full tournament schedule as it stands after these most recent updates, complete with where you can find each day's games on TV.
First Round: Wednesday, March 3rd at the Siegel Center (ESPN+)
Second Round: Thursday, March 4th at the Robins Center and Siegel Center (NBCSN)
Quarterfinals: Friday, March 5th at the Robins Center and Siegel Center (NBCSN)
Semifinals: Saturday, March 6th at the Siegel Center (CBSSN)
Championship: Sunday, March 14th at UD Arena (CBS)
Bonnies Regain Top Spot in Atlantic 10 Basketball Standings
St. Bonaventure dropped their very first A10 game of the season to Rhode Island back at the end of December. After that misstep, the Bonnies went on a seven-game Atlantic 10 basketball winning streak. 10-1 betting longshots to win the conference before the start of the season, SBU found themselves leading the league as the calendar turned to February.
Unfortunately, all good runs come to an end sooner or later. The Bonnies suffered setbacks to both Saint Louis and VCU earlier this month. They also had to contend with a couple of games being postponed. This weekend saw St. Bonaventure reclaim their place atop the A10 standings with a convincing 69-58 home win over fourth-place Davidson.
Pesky defense continues to be a focal point for Mark Schmidt's St. Bonaventure team. The Bonnies once again won the turnover battle in their latest win. They also combined to shoot an impressive 52.4% from 3-point range. Jaren Holmes played all 40 minutes and notched a double-double stat line with 19 points and 11 rebounds. Kyle Lofton added 18 points, six assists and four boards. In an Atlantic 10 basketball conference full of talented backcourts, the Bonnies' duo has certainly proved to be among the best this season.
Stakes are High in Regular Season's Final Week
The other effect of the A10 moving the conference tournament dates is that we are now entering the final week of the conference regular season. This week's games represent the final opportunities for all 14 Atlantic 10 basketball teams to pad their resumes, improve their conference tournament seeding and ultimately head into the tournament on a positive note.
Games will take place all throughout the coming week, and there's a real chance that more could be added to the schedule. Concerning seeding for the A10 Tournament, keep in mind that the top 10 teams get a single bye into the second round. The top four teams in the regular-season standings will enjoy a double-bye all the way to the quarterfinals. Entering the final week of play, 10 teams are still mathematically alive to receive that coveted double-bye. Get ready for some intense basketball to close out the wildest regular season ever!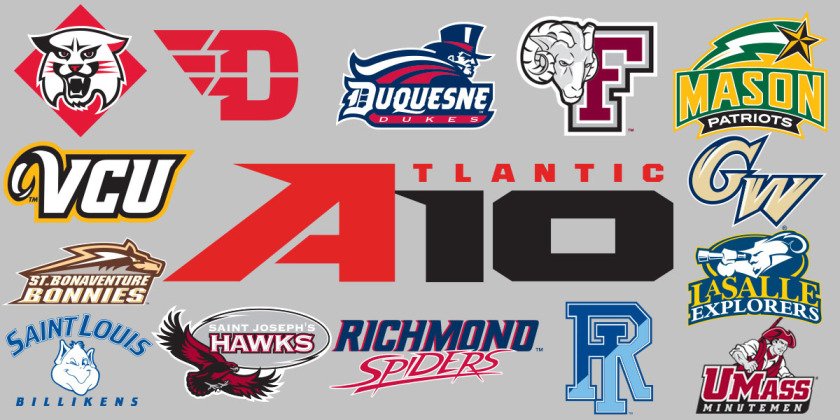 Updated Atlantic 10 Basketball Standings
| Team | Conference Record | Overall Record |
| --- | --- | --- |
| St. Bonaventure | 10-3 | 12-3 |
| VCU | 10-3 | 17-5 |
| Richmond | 6-3 | 13-5 |
| UMass | 6-3 | 7-5 |
| Davidson | 6-4 | 11-7 |
| George Mason | 7-6 | 11-8 |
| Dayton | 8-7 | 12-8 |
| Saint Louis | 4-4 | 11-5 |
| Duquesne | 6-7 | 7-8 |
| George Washington | 3-4 | 4-10 |
| Rhode Island | 7-9 | 10-13 |
| La Salle | 6-10 | 9-14 |
| Saint Joseph's | 2-9 | 3-14 |
| Fordham | 2-11 | 2-11 |
Upcoming Atlantic 10 Basketball Games to Note
At this point in the season, one could realistically make the argument that every game is a game to note. Below are the Atlantic 10 basketball games taking place over the next few days that will be vital to conference tournament seeding. Unsurprisingly, it's a whole lot of them with so many teams still in the running for a double-bye. Buckle up for what should be an awesome finish to the league's regular-season!
UMass at Richmond
Date: Tuesday, Feb. 23
Time: 6 pm EST
TV Coverage: ESPN+
Saint Louis at VCU
Date: Tuesday, Feb. 23
Time: 6 pm EST
TV Coverage: CBSSN
St. Bonaventure at Davidson
Date: Wednesday, Feb. 24
Time: 5 pm EST
TV Coverage: ESPN+
Dayton at St. Joseph's
Date: Wednesday, Feb. 24
Time: 6 pm EST
TV Coverage: ESPN+
George Washington at George Mason
Date: Wednesday, Feb. 24
Time: 6 pm EST
TV Coverage: ESPN+
Duquesne at La Salle
Date: Wednesday, Feb. 24
Time: 7 pm EST
TV Coverage: ESPN+