On Day 1 of the 2022 NFL Draft, the first Dallas Cowboys draft pick was made, selecting Tyler Smith with the 24th pick. Smith is a high-upside offensive lineman from Tulsa that is one of the youngest players in this draft after just turning 21 earlier this month.
Originally from North Crowley High School in Texas, Smith started 23 games in three years playing left tackle for the Golden Hurricanes. He was named a Freshman All-American as a redshirt freshman in 2020, while being honored on the All-AAC teams twice.
At the Combine, he measured just under 6'5" at 324 pounds with 34-inch arms and 10 ¾-inch hands. He ran the forty in 5.02 seconds, with a 1.70-second 10-yard split, and went on to bench press 25 reps of 225 pounds at his Pro Day.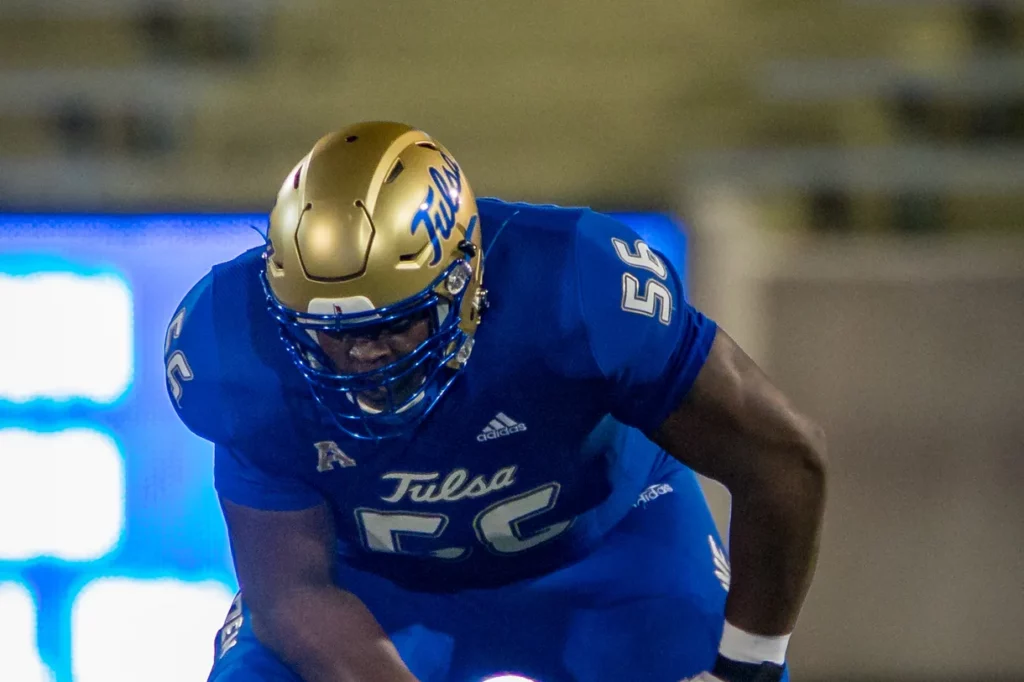 Analysis on Dallas Cowboys Draft Pick of Tyler Smith
The Good About Tyler Smith:
You don't see lot of players boast Smith's combination of size, length and mobility. He's got a big frame and better feet than you'd expect for someone that played close to 330 pounds.
Tyler Smith has a violent demeanor on the field, as he often blocks to the echo of the whistle and aims to finish each rep with his opponent on the ground. As a three-star recruit that weighs around 350 pounds, he has shown the discipline to get his weight under control, and that discipline will be essential as he continues to remake his body.
His best football is likely ahead of him as he looks to get the most out of his physical gifts with refined technique. He's only been playing on the offensive line since his junior year in high school.
The Bad About Tyler Smith:
When I say he needs to refine his technique, I mean the Dallas Cowboys better roll up their sleeves and get ready to put in the work. He is a raw prospect that has gotten by on his immense physical gifts, but that won't work against NFL defenders.
Tyler Smith has a long developmental path to take in order to live up to this lofty selection, as I had him ranked 70 on my big board. It starts with getting him to play with a consistent base and posture.
This will give him more body control, allowing Smith to shift his weight and changes direction more easily. Still, I'm not sure he will ever develop the lateral movement to play tackle, and I believe his best fit is at guard.
While violent and strong, Smith's hands must also get much better. They are wild, seldomly hitting their mark, which caused 12 of his 16 penalties in 2021 to come from holding.
That's right, the team that is consistently one of the worst in the NFL at drawing flags is getting college football's most penalized player. These are just a few of many areas he needs to develop technically.
Tyler Smith's Value:
When you take a guy that many ranked as a day-two prospect at 24, it's a problem. What's worse is Dallas is aware of the consensus evaluation on Smith and are banking on their ability to polish him up to justify this selection.
There were better prospects on the board when the Cowboys took him. In fact, there is a good chance Smith will never impact a team like Devin Lloyd or Tyler Linderbaum, who were both on the board.
Dallas let themselves get tunnel vision, as they locked on to improving one position with their first pick. I addressed my displeasure for that approach in my first-round observations. When linemen started to fly off the board in the top 20 picks, the Cowboys should have been prepared to reverse course.
Make no mistake, Smith can live up to this selection if he develops the proper techniques. Still, with a project like this, I would be more comfortable taking the risk on day two, where I thought Dallas might take him. I hope Smith lives up to his potential, but the jury is still out, and they may be awhile.
Dallas Cowboys Draft Pick Fit:
As I said, I'm not sure Tyler Smith can be the future successor to Tyron Smith at left tackle, nor do I believe he is the long-term answer on the right. I could be wrong, but given his technical deficiencies and only average lateral ability, guard is likely his home in the NFL.
The good news is Dallas also has a hole to fill on the interior after Connor Williams left for Miami. Even better news is the Cowboys have Connor McGovern still in place to be our left guard if Smith's development is slow in the early going.
He could be our future left guard, with an outside chance at playing tackle. Given his brute strength and the Cowboys' need for a long-term solution at several positions, Smith's development is crucial for this team's future success.
Bottom Line For Cowboys' Tyler Smith
Every fan, coach, and front office member needs to understand that there is a strong possibility that their first-round pick does not open the season as a starter, and Smith may not start a single game as a rookie. However, I have a feeling the franchise is ok with that, and I offer Cowboys fans to open their mind to the following:
– The Cowboys drafted a project in the first round.
– They have ties to Sean Payton, who wanted to sit out a year before deciding his next career move.
– There was concern for Mike McCarthy's future in Dallas when the season ended with another disappointing one-and-done showing in the playoffs.
– Dallas cut several quality veterans to improve their cap situation moving forward and nearly added DeMarcus Lawrence to that group if not for a restructure.
– The franchise to a bit of a lax approach to retaining their own quality free agents, which isn't typically the case. The Cowboys may not sign outside free agents to blockbuster deals, but they usually take care of their own.
All I'm saying is that the evidence is stacking up that this team may be prioritizing competing in 2023 as opposed to next season. Sometimes a small step back can help you get on the right path, and for the Cowboys, that path is winning a Super Bowl.
Could this be it? Only those in the front office truly know. However, if it walks like a duck, talks like a duck, and Jerry Jones is bringing draft boards to press conferences to show us just how much they like the questionable Dallas Cowboys draft pick, it's probably a duck.