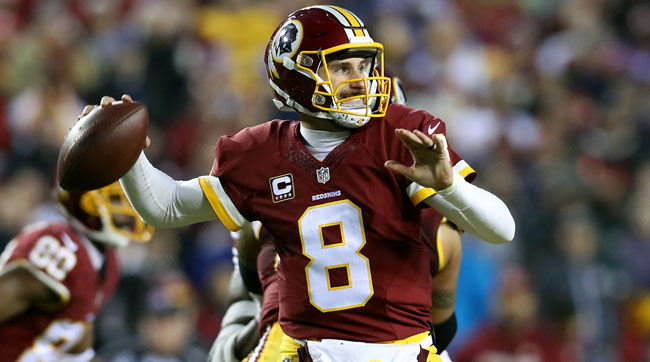 The Kansas City Star reported on Tuesday night that the Kansas City Chiefs have traded QB Alex Smith to the Washington Redskins.
According to NFL Network's Ian Rapoport, the deal is four years with Smith making $94M with a staggering $71M guaranteed.  The deal cannot become official until March when the NFL begins the new year.
For Washington, it gives them stability at the quarterback position after failing to reach a contract between the team and Cousins for the past few seasons. Unable to reach a deal, Washington used their franchise tag on Cousins until both sides came to a mutual agreement.
It never came, and now the former Redskin will look for a new home in 2018.
Smith, 33, had one of his best seasons as a Chief, in which he threw for 26 touchdowns and five interceptions while posting a a career-best 104.7 passer rating.
Cousins, 29,  had a pretty similar year in which he threw for 27 touchdowns and 13 interceptions with a passer rating of 93.9
The only downside in my mind, is that Smith will be losing some pretty important weapons in Kareem Hunt, Travis Kelce and Tyreke Hill. Given that the NFC East seems to be a revolving door with its divisional champions, who knows? Maybe Smith and Washington can win the NFC East like they did with Cousins in 2015.
Cleveland Browns
There are many teams that could use an quarterback like Cousins on their roster in 2018. Many teams believe they're one good quarterback away from being true contenders. The most obvious team that could benefit from his services are the Cleveland Browns. The Browns have had so many starting quarterbacks in the last three decades, that it's hard to keep up with. If Cousins, were go to Cleveland, he could be the long-time starter throwing to the likes of Josh Gordon. Obviously Cleveland has a ton of rebuilding to do on both sides of the ball, but getting a long-time starter goes a long way in today's NFL.
Denver Broncos
Another team that would contend quickly would be the Denver Broncos. The Broncos have had a quarterback carousel since Peyton Manning retired after Super Bowl 50. From Brock Osweiler, Trevor Siemian and Paxton Lynch, the Broncos have failed to make the playoffs, and faded horribly after a 2-0 start last season. Cousins could rectify their offensive woes and make Demayrius Thomas and Emmanuel Sanders revert back to their offensive ways. C.J. Anderson brings a steady running game when healthy, and on the defensive side, they're led by Von Miller. John Elway will have a decision to make on Cousins, and I think it's a pretty easy one.
New York Jets
Lastly, the New York Jets could be a landing spot for Cousins. With Josh McCown getting older, and no true reliable backup, the Jets could bring in Cousins with a long-term contract. The Jets surprised a lot of people this year, in which many experts predicted no more than three wins for them. The AFC East does have the New England Patriots in it, but the Miami Dolphins and Buffalo Bills can be caught if the Jets have an experienced signal caller under center. However, given that despite last season's success, the team will be in rebuild mode for some time.
At the end of the day, Smith got paid big time and Cousins is finally relieved of Washington.
Where do you think Cousins will end up in 2018? Tweet at @WritingDavid or comment below, and let me know what you think!
Related Articles
FlurrySports Expert Super Bowl Selections
History to be Made Again at Super Bowl LII
Super Bowl LII Madden Simulation
FlurrySports Podcast–Ep. 6: WWE, XFL, and Super Bowl Predictions