This year, many people thought that the ACC may come down to a two or three-team race. With Duke continuing to dominate and North Carolina dropping two straight, other teams have stepped up to challenge the Blue Devils. Virginia Tech, Wake Forest, Notre Dame and Duke are the only four ACC basketball teams left undefeated in the conference. With that being said, how many teams remain undefeated after Week 3?
ACC Basketball Weekly Headlines
Believe it or not, the ACC only has one ranked team, with Duke at 5. North Carolina dropped out of the rankings after two losses to Purdue and Tennessee. Outside of those two teams, Virginia Tech is one of the teams that is looking into the Top 25, with Florida State. While this is the case, the ACC had strong performances in general from the past week.
North Carolina Has a Roller Coster of a Week
The Tar Heels started the week with a win over Charleston in a game that saw junior Armando Bacot score a career-high 24 points. Outside of Bacot, the North Carolina basketball guards added an extra 44 points.
Hubert Davis' offense is a semi-traditional four out, one in offense where guards have the liberty to move the ball quickly. This opens up opportunities for guards to drive and kick, which sophomore guard Caleb Love took advantage of. Love finished the game with 22 points on 6/14 shooting. he fits the bill of a quick Carolina point guard who can create plays. With Bacot being the presence inside that he was, Love was able to blow by defenders to finish at the rim. Sophomore Kerwin Walton added another 14 points off of the bench on 4/6 shooting from the three-point line.
The Tar Heels followed up their win over Charleston with back-to-back losses against Purdue and Tennessee. The story for both of those games was UNC's inability to limit turnovers and inability to protect the paint. In those two games, the Tar Heels combined for 96 points given up in the paint, as well as turned the ball over 27 times.
If North Carolina can't figure out how to stop opposing big men, this may be a long season.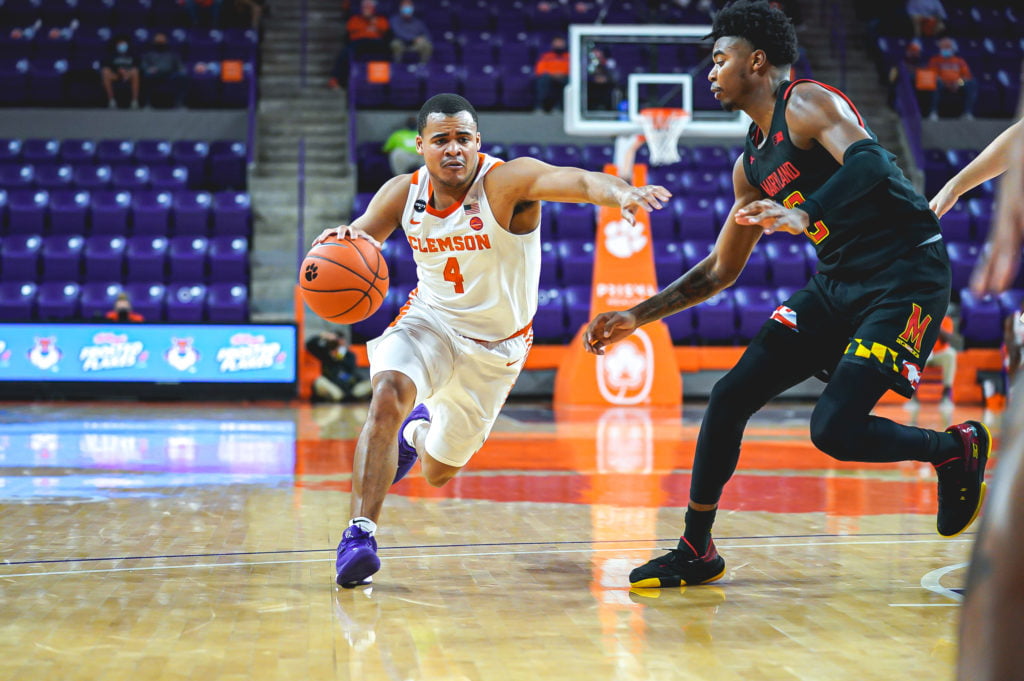 Clemson Falls Short of an Upset vs. Saint Bonaventure
What is great about college basketball is that any team can lose at any point in the season. Is it unlikely to see a number one team lose to an unranked team? Yes, but it has happened (e.g. Duke vs. Stephen F. Austin). Clemson gave their best effort in playing Cinderella, as they took the Saint Bonaventure Bonnies to the wire on November 19. The Tigers rallied behind forward PJ Hall, who scored 22 points. Guard David Collins added 14 points.
What worked for Clemson in this game is that they controlled the paint on both ends of the floor, scoring 24 points in the paint, while giving up only 14. Clemson built up a 51-37 in the second half. Saint Bonaventure then stormed back with a 21-2 to take their first lead since the 2-0 mark. Towards the end of the second half, the teams went back and forth and the Tigers found themselves down three with 20 seconds left. Guard Nick Honor's three-pointer was blocked and the Bonnies secured the rebound to come out with a three-point win.
Updated ACC Basketball Standings
| | | |
| --- | --- | --- |
| School | Conf. Record | Record |
| Duke | 0-0 | 5-0 |
| Virginia Tech | 0-0 | 5-0 |
| Wake Forest | 0-0 | 4-0 |
| Notre Dame | 0-0 | 2-0 |
| North Carolina State | 0-0 | 4-1 |
| Florida State | 0-0 | 3-1 |
| Georgia Tech | 0-0 | 3-1 |
| Louisville | 0-0 | 3-1 |
| Miami | 0-0 | 3-1 |
| Clemson | 0-0 | 4-2 |
| Syracuse | 0-0 | 2-1 |
| North Carolina | 0-0 | 3-2 |
| Boston College | 0-0 | 3-3 |
| Pittsburgh | 0-0 | 2-2 |
| Virginia | 0-0 | 2-2 |
Upcoming ACC Basketball Games to Note
ACC basketball will have several opportunities to make more headlines in the upcoming week. Here are a handful of games to watch for throughout this Thanksgiving week.
Virginia vs. Georgia
Date: Monday, November 22
Time: 7 p.m. EST
TV Coverage: ESPNU
Memphis vs. Virginia Tech
Date: Wednesday, November 24
Time: 9:30 EST
TV Coverage: ESPN2
Duke vs. Gonzaga
Date: Friday, November 26
Time: 10:30 EST
TV Coverage: ESPN