Some losing streaks prove to be tougher to snap than others. For the Abilene Christian Wildcats, a five-game skid coming into Saturday's home contest against the California Baptist Lancers came as a surprise to many. ACU had a tremendous nonconference portion of the schedule to begin the year. However, after getting off to a 2-0 start in WAC basketball play, the Wildcats fell on hard times. One of the biggest issues during the losing streak was poor shooting. The top-scoring offense in the WAC after non-league play, ACU had not topped 70 points in six consecutive contests prior to Saturday.
Of course, the Wildcats had proven more than capable of scoring in bunches already this season. Coming into. the week, they still were averaging 77.2 points per contest. How fitting it was that Abilene Christian basketball met that average almost exactly in Saturday's 77-64 victory over California Baptist. Four Wildcats scored in double figures as ACU shot just under 46% from the field collectively. The result successfully put an end to the losing streak and set a positive tone moving forward in the Western Athletic Conference.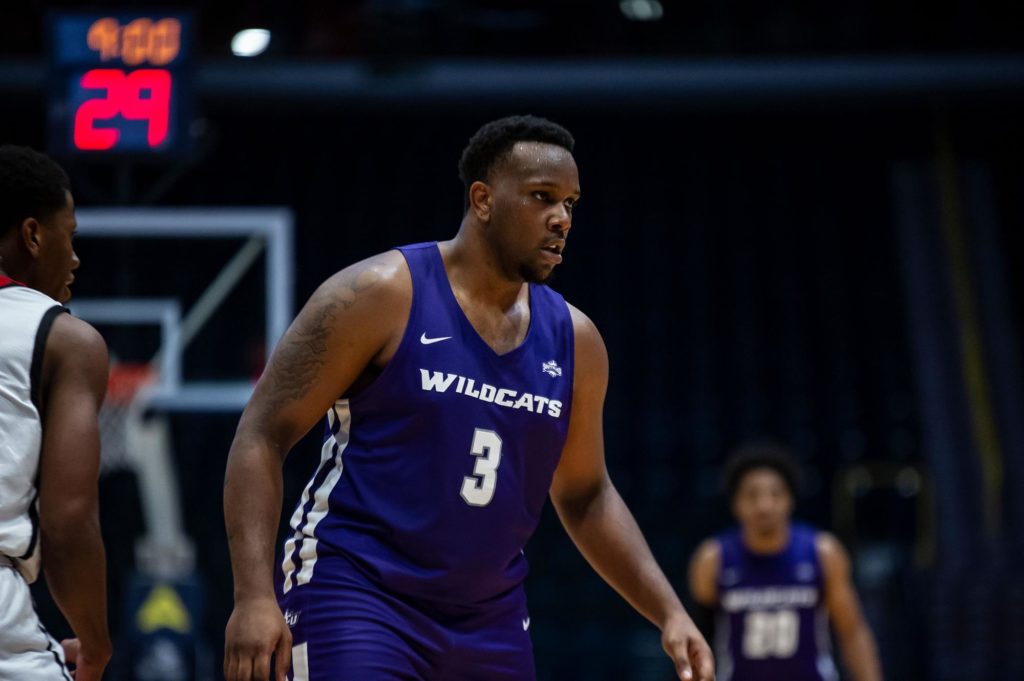 Abilene Christian Wildcats Dominate Early, Never Look Back in Home Win
In many ways, the very first minute proved to be a microcosm of the full game. California Baptist squandered each of its first two offensive possessions with a pair of turnovers in the first 45 seconds. Airion Simmons came up with the steal on the second TO and converted a layup at the other end for the game's first points. Abilene Christian led 2-0 one minute in, but that lead would swell in a big way over the next five and a half minutes. Simmons, Reggie Miller and Mahki Morris each knocked down three-pointers and Coryon Mason poured in back-to-back buckets on either side of the 15-minute mark.
A layup by Cameron Steele around the 13:30 mark extended Abilene Christian's lead to 17-0. No, that's not a typo. CBU's first points didn't come until Tre Armstrong converted on a three with 13:26 to play in the half. By that point, the Wildcats had already built what would prove to be an insurmountable lead. At the under-12 media timeout, ACU held a 21-5 advantage. The Lancers were able to cut the deficit to 10 over the next four minutes, but a pair of jumpers by Simmons got Abilene Christian back on track. CBU didn't give up, ending the half on a 7-3 run over the final 3:30 to pull to within eight at the break.
California Baptist Makes a Run in Second Half but Wildcats Respond
Simmons picked up right where he left off to begin the second half scoring the first three points. That pushed the lead back up to 11 at 36-25 and Abilene Christian maintained a healthy advantage over the next several minutes. Reed Nottage knocked down a triple at the 12-minute mark that cut the deficit to eight, but Immanuel Allen quickly responded with a layup before the media timeout to bump ACU's advantage back to double-digits. Just under the 10-minute mark, the door appeared to crack open for CBU as Simmons picked up his fourth foul and had to go to the bench. UMBC transfer Daniel Akin converted the ensuing three-point play and would do so again with about seven minutes to go to make it a nine-point game.
Unfortunately for Cal Baptist, every time they tried to make a run, the Wildcats had an answer. the closest the Lancers got was around the 5:30 mark when a pair of Tre Armstrong free throws cut the lead to six at 61-55. CBU came up with a stop and then got an offensive rebound on the ensuing possession. Unfortunately, Ty Rowell could not convert on a jumper. ACU raced back the other way and Tobias Cameron got fouled by Akin on a successful layup attempt at the 4:45 mark. Any hopes of a CBU comeback took a major hit on that play as Akin was disqualified with five fouls. Simmons capped his massive day with a three with under 2:30 to play that pushed the margin back to a dozen as Abilene Christian went on to the victory.
Airion Simmons Leads Bounceback Game for Abilene Christian Offense
What a difference two days made for Abilene Christian's shooting. After hitting only 33% of their field goal attempts as a team, the Wildcats bumped that shooting percentage up in a big way on Saturday. Along with the overall 46% clip, ACU converted on nine of 21 three-pointers, good for a percentage of 42.5% from beyond the arc. Airion Simmons led the charge with 18 points of 7-9 shooting. His line included a pair of made triples as well as three rebounds and three steals.
Both Reggie Miller (3-4), Mahki Morris (2-3) and Immanuel Allen (2-4) also converted multiple three-point attempts to boost Abilene Christian basketball. Miller scored all nine of his points via the long ball and also dished out five assists. Meanwhile, Morris (10 points), Allen (14) and Coryon Mason (14) all joined Simmons in double figures. Allen also added four boards and a pair of assists in a terrific showing off the bench.
Turnovers Doom Lancers in Loss
Remember those two turnovers California Baptist had in the very first minute? Well, the Lancers would go on to commit 23 total giveaways for the game, good for a -8 turnover margin. Expecting to win games with that many turnovers at any level of basketball is just setting yourself up for disappointment. CBU did some things well, including finishing with a 12-rebound advantage on the glass. Unfortunately, the careless passing throughout ruined several of the extra possessions that hustle plays on the boards earned them. The Lancers also shot an abysmal 25% (6-24) from three-point range.
Tre Armstrong had three of those six made triples on his way to leading Cal Baptist with 13 points. The only other Lancers to score in double figures were Reed Nottage and Juhlawnei Stone. Both players supplied their points off the bench. After winning their first road game all season on Thursday night, CBU failed to get back to .500 in WAC basketball play.
Looking Ahead
After finally snapping their losing skid, Abilene Christian will hit the road next week. While leaving the friendly confines of Moody Coliseum has presented problems for the Wildcats so far this season, ACU should be able to make some hay in the coming weeks as they face some of the poorer teams in the WAC. A matchup at UT Rio Grande Valley next Wednesday kicks off that stretch.
Meanwhile, California Baptist will look to get back on track at home this week, starting with a Wednesday night contest against Sam Houston State. That makes the first game of a gauntlet stretch for the Lancers. Each of their next four contests come against four of the top five teams in the current WAC basketball standings.