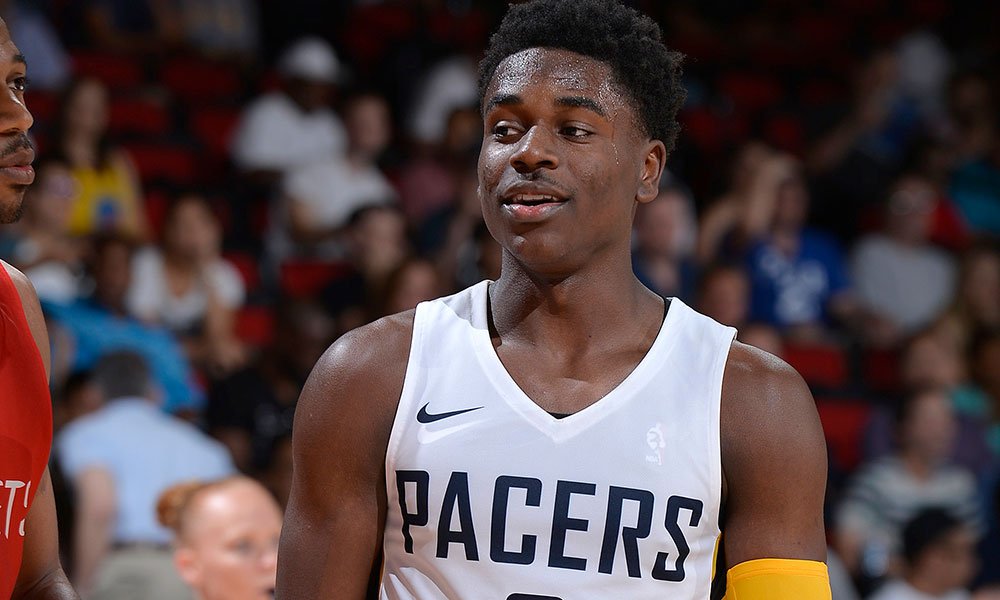 The Houston Rockets win a close match with the Indiana Pacers 93-89 Friday afternoon. Each team played very well, but Houston came out on top due to some unexpected players stepping up.
The Pacers were playing their first game of the summer and it showed in the second quarter. Losing the second quarter 28-19 ultimately was the reason why the Pacers dropped this game. This was also Houston's NBA Summer League debut, as they now start 1-0. The Pacers begin their NBA Summer League 0-1 and will hope to improve on that Saturday against the Spurs.
Aaron Holiday Shines in Debut
Holiday shot 9-15 from the field and 3-6 from deep to bring him to a total of 23 points. He also brought down 5 rebounds and had 3 assists. Holiday looked extremely confident shooting the ball and looked as if he could easily be a leader on this Summer League squad. Holiday knows that as the Pacers first-round selection, he has plenty of high expectations. He answered them here but was still unable to get the win.
Holiday's 7 personal fouls and 6 turnovers proved to be costly. Other notable performances from the Pacers were T.J. Leaf, who had only 4 points but 10 rebounds. Leaf was Indiana's first-round pick last year and the Pacers need him to be a factor on their team this year. Travis Leslie and Alize Johnson each added 15 points for the Pacers. The bench played well for Indiana, but the some of the starters must improve.
Aaron Holiday, 23 points on 9-15. Showed off the confident shot-making, shiftiness off the dribble, ability to play through and finish after contact. pic.twitter.com/6uS5RqDaUf

— Jonathan Wasserman (@NBADraftWass) July 6, 2018
Undrafted Rookie Danuel House Impresses for Houston
The Rockets had a few surprising performances from their Summer League roster in the first game. Danuel House dropped 20 points, 4 rebounds, and 4 assists in this game. These are impressive stats for an undrafted rookie that should turn some heads. House's confidence should rise even more after this game. He also had a nice windmill transition dunk that should even impress the Heat veterans.
However, it wasn't only House who provided for Houston. Trevon Duval also managed 20 points from the bench. Having these two scoring consistently was a large part of their Friday afternoon success. Lastly, Isaiah Hartenstein had a double-double last night with 12 points and 10 rebounds. A solid start for the Heat, it will be interesting to see how they progress moving forward.
Related Articles
Carmelo Anthony and Thunder to Part Ways, Saving Over $100M
Trae Young, Grayson Allen Scuffle as Hawks Drop Third Straight Game
Biggest Questions Thus far in NBA Free Agency
Marvin Bagley III Hits Rock Bottom, Derrick Jones Jr. Continues to Impress