This year, football didn't end when the clock hit zero at the Super Bowl. Instead, the Alliance of American Football (AAF) will begin their inaugural season on February 9th. To learn about the league as a whole, you can read our preview here.
With the beginning of an entirely new football league, there is a lot to learn about the teams. This series of articles will give a preview of all eight teams in the AAF, so you are able to pick the team you will cheer for this season. In this specific article, I will be breaking down the San Diego Fleet.
---
About the Fleet
The Fleet will call SDCCU Stadium their home. Like the other teams in the AAF, San Diego controls player rights from over 13 colleges and pro teams. They have the player rights to these colleges:
USC
Stanford
Washington
Colorado
San Diego State
Fresno State
San Jose State
UNLV
Hawaii
California Davis
Cal Poly
Sacramento State
San Diego
Azuza Pacific
Humboldt State
In addition, player rights from unaffiliated colleges would move onto their most recent pro football experience. For this, San Diego controls the Los Angeles Rams, Los Angeles Chargers, Oakland Raiders, Detroit Lions, and British Columbia Lions (CFL).
Head Coach
Most notably known for coaching "the Greatest Show on Turf," Mike Martz is back as a head coach for the first time since the St. Louis Rams. Martz is also largely credited for the success of legend Kurt Warner. His quick-striking, high-powered offenses have become his signature, and he looks to bring this playing style to the AAF.
When the former Rams head coach was asked if the lure for him is simply the love of the game, he agreed and added, "I like to call this football in its purest sense. Nobody's going to make a big paycheck, there's not a big splash here, it's so pure. It's like college, but there's no boosters, there's no scholarships; it's just football. I love that part of it. I think the guys that are attracted to this are our kind of guys."
Key Players
We know what Mike Martz is capable of doing with quarterbacks, and we also know that the success of his offense relies heavily on the quarterback play. So when Mike Bercovici was named the starter of a Martz-coached team, it was a big deal. Bercovici went undrafted out of Arizona State back in 2016, but spent time on the practice squads of the Chargers and Cardinals. In his senior season at ASU, Bercovici passed for 3,854 yards, 30 touchdowns and 9 interceptions, while completing 59.9% of his passes. He led his team to a 38-34 victory over USC, ending the game with a walk-off 46-yard Hail Mary. He finished the game with 510 passing yards and 5 touchdowns, the most ever by a USC opponent.
As a second-round pick out of San Diego State, Escobar was a backup to Jason Witten with the Dallas Cowboys–not a bad gig. Through the four seasons in Dallas, Escobar started 7-of-62 games. He totaled just 30 catches for 333 yards, but caught 8 touchdowns. He later appeared in two games with the Ravens. Now in the lead role, Escobar is looking to live up to the second-round expectations many had for him. He is also projected as the top tight end in the AAF.
The former Aggie was a third-round draft pick to the Giants in 2013. In two-plus seasons with the team, he played 42 games and totaled 60 tackles, 8.5 sacks, and 2 forced fumbles. He was eventually released after getting in a fight with a teammate. He was picked up for the short term by a few different teams: Dolphins (three games), Seahawks (four games), Cowboys (three games), and Raiders (two games). He was cut by the Seahawks due to injury and the Cowboys because of violating the substance abuse policy. While character issues have certainly been in question, this is the type of thing the AAF is seeking to assist with. If the league is successful in that, it sure seems like Moore is talented enough to be successful too.
Currently on the exempt list.
CLICK HERE for the full roster.
Full Schedule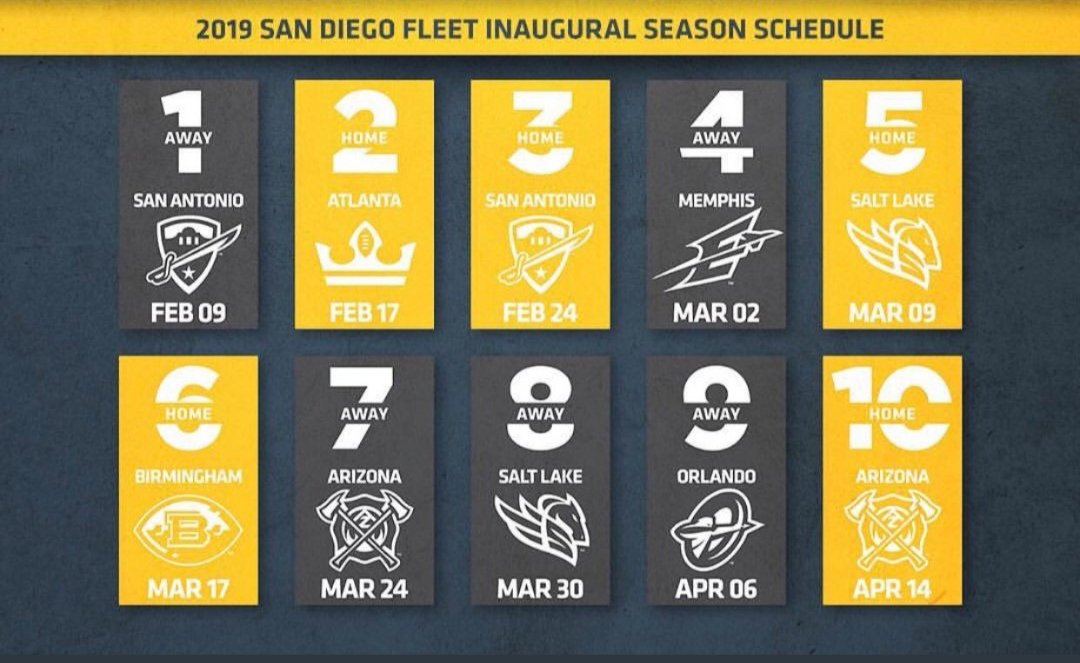 ---
More Articles
AAF Team Previews: Atlanta Legends
Breaking Down the AAF: America's Newest Football League
Super Bowl MVP Fantasy Performances
NFL Power Rankings: Post-Super Bowl