The Green Bay Packers have made their decision. They had to choose between Jamaal Williams and Aaron Jones in NFL Free Agency. Green Bay chose Jones, and with it, have much less money to play with now for bringing in free agents.
The Packers need to make some moves and plenty of rumors have been flying around about who they may be serious about bringing in. Packer fans know all too well that just because a guy is brought in (looking at you Jordan Love), doesn't mean he's necessarily a good fit with the team.
Here are the three best cheap Packers free agency targets.
Cheap Packers Free Agency Targets Following Aaron Jones Contract
Emmanuel Sanders, WR
Ever since the Packers passed on a wide receiver in arguably the deepest class in the 2020 NFL Draft, fans have been pleading for a true No. 2 receiver to be in the Green and Gold. Emmanuel Sanders was choosing between the Saints and Packers last offseason before ultimately choosing New Orleans. Now released due to the catastrophic state of the Saints cap, Sanders is looking for a new team. At the age of 34 as of March 17th, not a lot of teams are going to waste time on a receiver on their last legs. Luckily for Sanders, the Packers don't care about the future. They're in win now mode.
Everywhere Sanders has gone, he has been successful. Sure, he hasn't had a 900-yard season since 2016, but that's not what the Packers need anyways. Any player that can fit well into multiple systems and make an immediate impact is a player that should not be overlooked. He's a good route runner and can still make plenty of plays underneath. It could be a cheap Packers free agency move. And to be able to have receivers such as Allen Lazard or MVS be a third option would only deepen this receiving corps.
Solomon Thomas, DT
Thomas was the third overall pick in the 2017 NFL Draft out of Stanford and has, quite frankly, been nothing short of a disappointment. He has played over 1,800 snaps in 48 games as a defensive end and has just six sacks and 95 tackles to show for it. So, why should the Packers go after this guy? Easy, he's cheap and he's still young. Thomas is only 25 years of age. Plenty of players don't hit their stride until later on in their careers. With the stingy cap this season, guys that have promise and can also come cheap are a dime a dozen.
There is no question that the Packers defense needs to generate a pass rush. No matter how good a secondary is, they can't hold receivers forever. Thomas is a guy that could come in and at the very least take some of the pressure off of other pass rushers. Even if he stays relatively inefficient himself, his presence alone will force offenses to play guys like Za'Darius Smith and Rashan Gary one-on-one. These guys are able to put up some good numbers double teamed, so imagine how much more effective they'd be if teams had to focus on more than just them.
---
---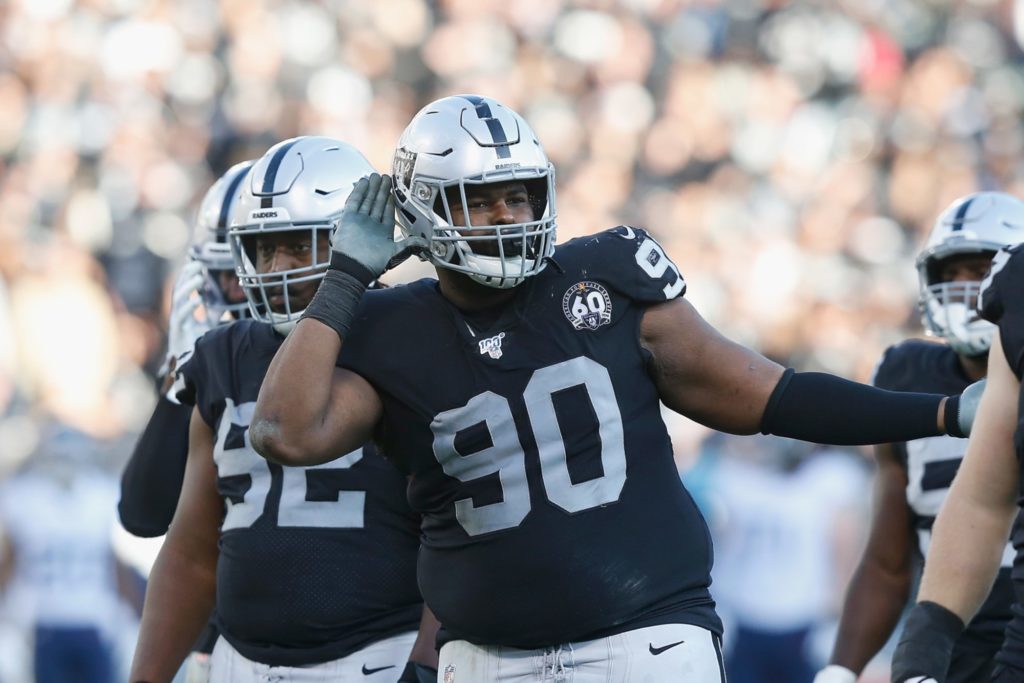 Johnathan Hankins, DT
Defensive tackle Johnathan Hankins is a rare breed when it comes to free agent defensive linemen. Not only does he have eight years of experience under his belt, he's also just 29 years old at the end of the month. He's only had 2.5 sacks over the last two seasons. With that being said, it's easy to see why he's a perfect fit for the Pack. It's because he'd be the second coming of a player who etched his name in Green Bay history in just seven short seasons: B.J. Raji.
Raji only had 0.5 sacks in the last three years of his career. His purpose was much more than sacks. He plugged up the middle as he forced the offensive line to double team him. Not only does that clog up the running game, but it stops the offensive line from double-teaming other pass rushers like the aforementioned Smith and Gary. He's coming off of a two-year/8.5 million dollar contract and would fetch a market value of just $2.9 million per year, according to Spotrac. That is well within the Packers' budget. Being able to shore up the run defense while simultaneously opening up the pass rush; what's not to love about this prospective move?