The week between Christmas and New Year's is always a fun one for sports fans. With college football bowl games taking place all day every day, there is a steady stream of action on the gridiron to carry us into the new year. In a world where player opt-outs and the transfer portal are part of reality, NFL fans may not think much of the College Football Bowl Season. That said, there are still a number of 2023 NFL Draft prospects who will be suiting up for their respective schools in the postseason.
For the players who have already declared entry into the draft or who have used up their college eligibility, bowl games provide one last opportunity to raise their stock. For others, a strong showing in their bowl games could help sway their decision to turn pro next spring.
Whether you play dynasty fantasy football, are an NFL Draft enthusiast, or are a fan simply looking for compelling talent to watch, the players below are worth keeping an eye on in college football bowl games this week.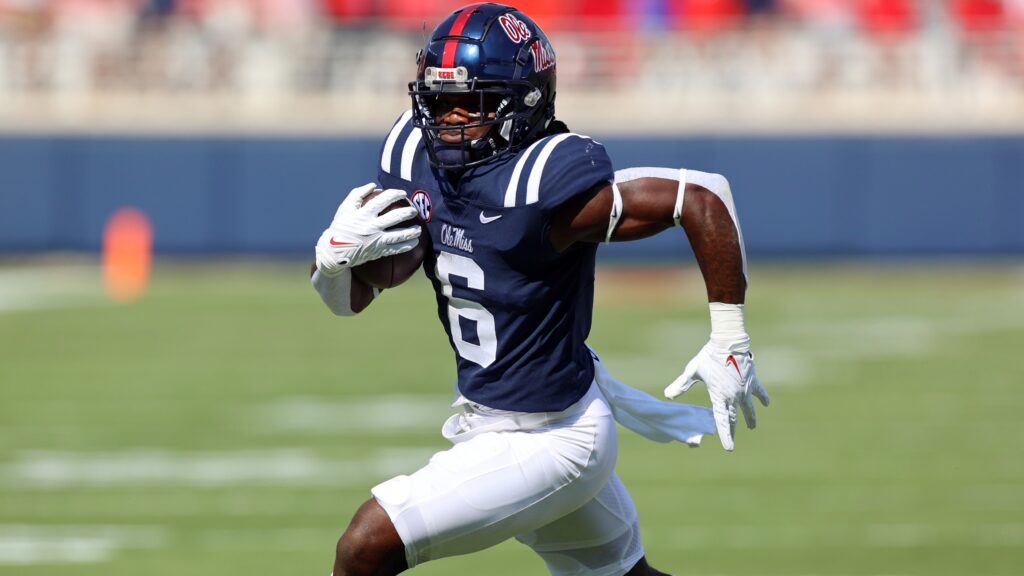 NFL Draft Prospects to Watch in College Football Bowl Games this Week
Zach Evans, RB, Ole Miss
After transferring from TCU last offseason, Zach Evans was part of an Ole Miss backfield that was among the country's best. Despite missing time with a hip injury, he still managed to rush for 899 yards (6.6 yards per carry) and eight touchdowns on the year. Evans usurped 100 yards on the ground in four games with a 207-yard performance in the penultimate game of the regular season against Arkansas.
As a junior, Evans is eligible to enter the 2023 NFL Draft if he so chooses. He has been steadily rising up many NFL Draft prospects rankings of late and a big showing in Wednesday night's Texas Bowl against Texas Tech could sway his decision on whether or not to turn pro or return to Oxford for his senior season.
Mohamed Ibrahim, RB, Minnesota
Dynasty fantasy football players will want to make sure to tune in for the Pinstripe Bowl on Thursday afternoon. While Syracuse running back Sean Tucker has opted out of the game, Minnesota's Mohamed Ibrahim is slated to play. After having his 2021 season cut short by a torn Achilles, Ibrahim returned to have the best statistical season of his collegiate career.
On the season, Ibrahim has totaled 1,594 rushing yards (5.2 YPC) and 19 touchdowns on more than 300 attempts. He rushed for 100+ yards in every game except for the regular season finale, with his biggest performance coming in the form of a 263-yard effort against an Iowa defense that was statistically among the best in the country. Ibrahim will look to cap off his comeback story in the Pinstripe Bowl.
Marvin Mims, WR, Oklahoma
Oklahoma wideout Marvin Mims has already had a stellar junior season. After surpassing the 600-yard mark in each of the last two years, Mims took things a step further in 2022. His 1,006 receiving yards were the second-most of any player in the Big 12 Conference. The speedster averaged an incredible 19.3 yards per reception and also has six touchdowns on the season.
As far as Thursday's Cheez-It Bowl matchup is concerned, Mims figures to be featured heavily in Oklahoma's game plan. With running back Eric Gray opting out and fellow receiver Theo Wease transferring, Mims will be the most proven weapon on the field. A strong showing against a stout Florida State defense would certainly boost his stock if he does in fact declare for the 2023 NFL Draft.
Rome Odunze, WR, Washington
Wideout Rome Odunze is another player who could base his decision on whether or not to declare for the 2023 NFL Draft on his bowl game performance. The Las Vegas native has been a key part of the high-powered Washington passing attack. Odunze boosted his draft stock by posting a season-high 157 receiving yards against Washington State in the regular-season finale.
Entering Thursday night's Alamo Bowl matchup against Texas, Odunze's season-long numbers include 1,088 yards and seven touchdowns on 70 receptions. With Huskies quarterback Michael Penix Jr. announcing that he will return to school for another year, it will be interesting to see what Odunze decides to do after the bowl game.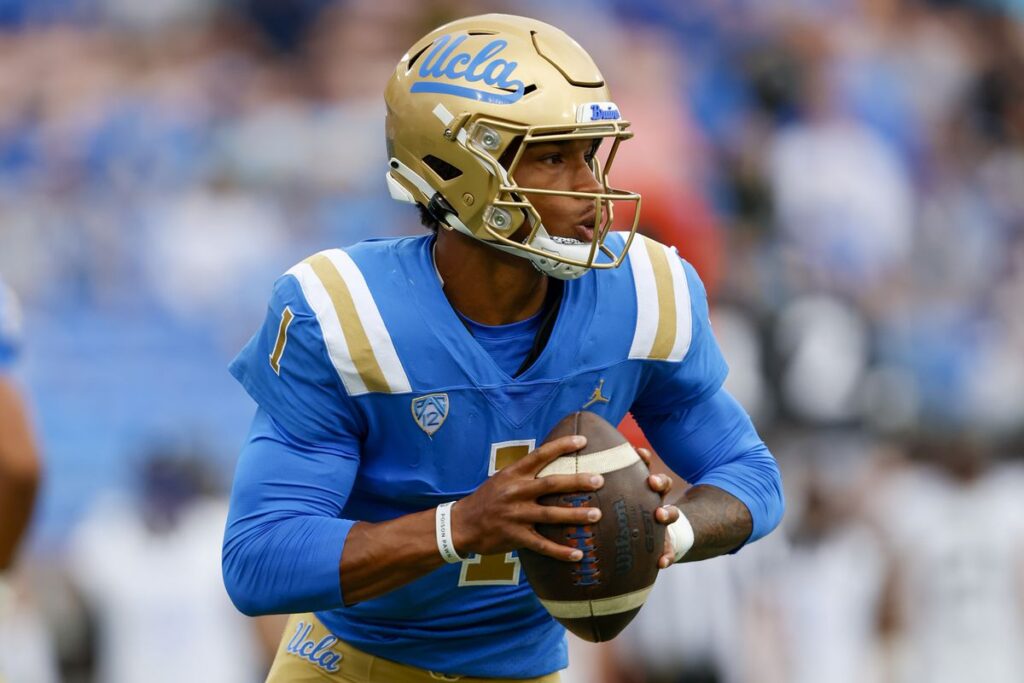 Dorian Thompson-Robinson, QB, UCLA
Initially, many people assumed that UCLA quarterback Dorian Thompson-Robinson would opt out of playing in the Sun Bowl. However, as the game has gotten closer, what seemed to be a foregone conclusion has reversed its course. The Las Vegas native and fifth-year senior is now on track to start for the Bruins against Pittsburgh.
Of course, Thompson-Robinson has already put together a stellar collegiate career, and the 2022 season has been no exception. To date, he has totaled 2,883 passing yards and 25 touchdowns to just seven interceptions. DTR has also compiled over 600 yards rushing and 11 touchdowns on the ground. Dynasty fantasy football managers are encouraged to check out his athleticism in action on Friday afternoon.
Zach Charbonnet, RB, UCLA
Of course, Thompson-Robinson is one of two intriguing NFL Draft prospects found in the UCLA backfield. Former Michigan Wolverine Zach Charbonnet is also on track to suit up at running back in Friday's Sun Bowl. As such, a Bruins offense that ranked eighth in the country in scoring at 39.1 points per game will be about as close to full strength as it gets for the bowl game.
Charbonnet ran wild in Pac-12 Conference play this season, finishing as the league leader in rushing by a wide margin. What's more, he racked up 1,359 rushing yards on just 195 attempts. Charbonnet's 7.0 yards per carry average ranked seventh nationally among players with at least 80 rushing attempts. He scored 14 rushing touchdowns on the year and added over 300 receiving yards for good measure.
Juice Wells, WR, South Carolina
Antwane 'Juice' Wells Jr. made quite an impact in his first season playing Power 5 football at South Carolina. The James Madison transfer finished second in the SEC with 898 yards receiving on 63 catches during the regular season. Much like the Gamecocks as a whole, Wells really busted out in the final two games.
After tallying 177 yards in Carolina's shocking upset win over Tennessee, Wells went for another 131 yards and two scores in the Palmetto Bowl win over Clemson. The junior has yet to officially enter his name into the 2023 NFL Draft and is committed to playing in Friday afternoon's Gator Bowl. The opportunity to go against the highly-regarded Notre Dame defense could help raise his stock even more.
Notable Defensive NFL Draft Prospects to Watch this Week
Jammie Robinson, S, Florida State (Cheez-It Bowl)
Jared Verse, EDGE, Florida State (Cheez-It Bowl)
Drake Thomas, LB, NC State (Duke's Mayo Bowl)
Byron Young, DL, Tennessee (Orange Bowl)
K.J. Henry, EDGE, Clemson (Orange Bowl)