Dallas Cowboys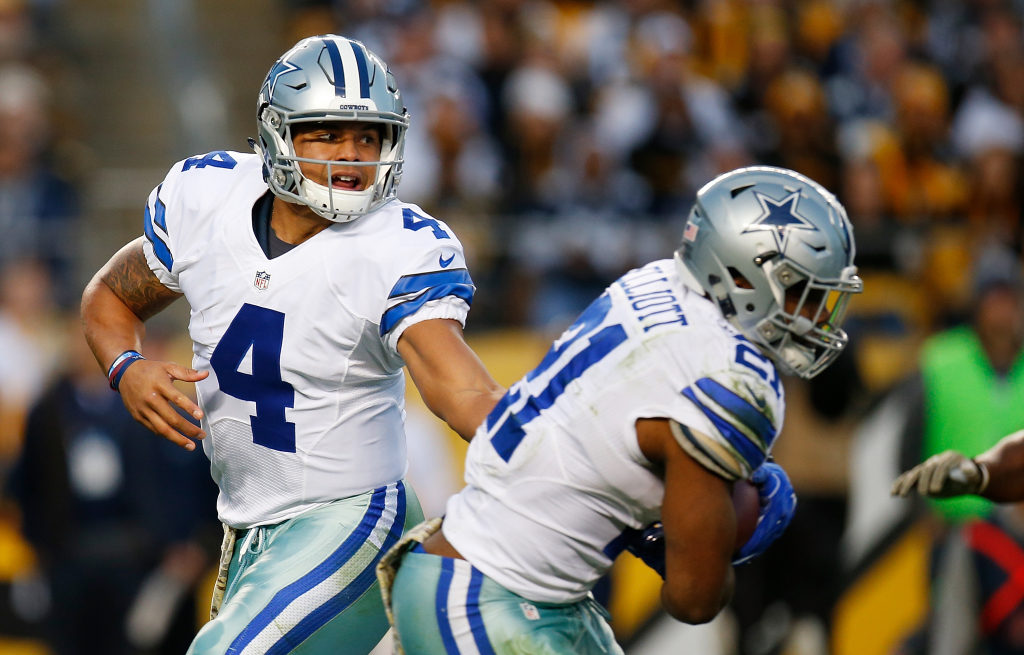 Key FA: Nolan Carroll
Rookies: Taco Charlton, Chidobe Awuzie, Jourdan Lewis, Ryan Switzer,
Key Losses: Doug Free, Ronald Leary, Morris Claiborne, Brandon Carr, Barry Church
Record: 10-6
After a great season for the Dallas Cowboys in which they suffered a heartbreaking loss in the NFC divisional round, Dallas' roster has lost some valuable pieces both in the secondary and on the offensive line. Heading into the season I don't think you can call the Cowboys offensive line a guarantee lock to be as elite as it has been the past few years. Doug Free has retired and Ronald Leary is now in Denver, so that is two very valuable pieces missing to a Dallas team that lives on the run game.
The Cowboys have also lost three starters in their secondary, and didn't do much to replace them. The run defense was superb in 2016 averaging the fewest rushing yards per game in the entire NFL. As for the Cowboys pass D, they were on the opposite side of the spectrum ranking 26th in passing yards per game. All in all if the defense can hold it's own in 2017 and Ezekiel Elliott can run the ball effectively enough to keep their own defense off the field, then Dallas should finish on top of this stacked NFC East division.
Washington Redskins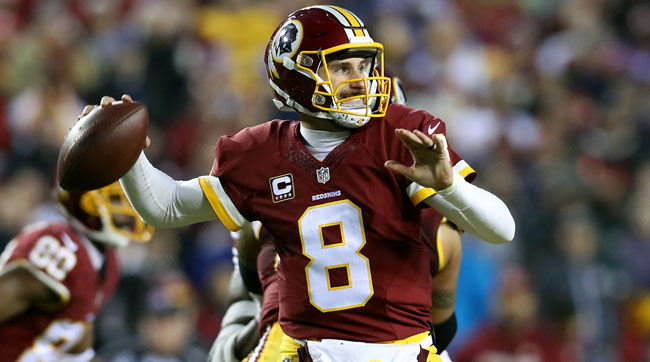 Key FA: Zach Brown, Terrelle Pryor, D.J Swearinger
Rookies: Jonathan Allen, Ryan Anderson, Fabian Moreau, Samaje Perine
Key Losses: DeSean Jackson, Pierre Garcon, Chris Baker
Record: 9-7
The Redskins are a team to pay attention to entering 2017. They have lost some important pieces to that offense with playmaker DeSean Jackson and Pierre Garcon both leaving in free agency. Washington has done an excellent job replacing them with Terrelle Pryor from Cleveland and a healthy Sophomore receiver Josh Doctson. Kirk Cousins has been a topic of discussion over the offseason, and this is a big year for him to get the elite quarterback deal he is looking for. I love rookie Samaje Perine to come in and be a factor in the backfield with Rob Kelly and Chris Thompson. As for Washington's defense…
Not much was brought in through free agency to help. Rookie Johnathan Allen is looking as the early favorite to start at left end. D.J Swearinger will replace DeAngelo Hall and Will Blackmon at the safety spot. Overall, this roster has been slightly improved from last year's 8-7-1 team, and if Cousins is playing well, expect Washington to push for the division title.
New York Giants
Key FA: Brandon Marshall, DJ. Fluker
Rookies: Evan Engram, Dalvin Tomlinson, Davis Webb, Wayne Gallman
Key Losses: Victor Cruz, Robbie Gould, Johnathan Hankins
Record: 9-7
Looking at how the Giants played in 2016 compared to their record is a surprising thing. Eli Manning had one of the worst years of his NFL career, the offense couldn't get the running game going at all and finished the season averaging just under 20 points per game. Some changes have been made to the offense including receiver Brandon Marshall and incoming rookie tight end Evan Engram. An area that needs to be improved for the Giants is their offensive line. The best player they brought in to do so is D.J Fluker. Even with Fluker joining the Giants, he is still not in the starting lineup. Pro Football Focus ranked the Giants offensive line at number 28 out of 32 teams.
The Giants defense was one of the best in the league only allowing 18 points per game in 2016. The D didn't lose any pieces other than defensive tackle Johnathan Hankins.
If the Giants expect to make a serious run at the playoffs in 2017, they have to go through Dallas. Eli Manning has to step up and have a great season, as I expect the Giants run game to be a non-factor as it was in 2016.
Philadelphia Eagles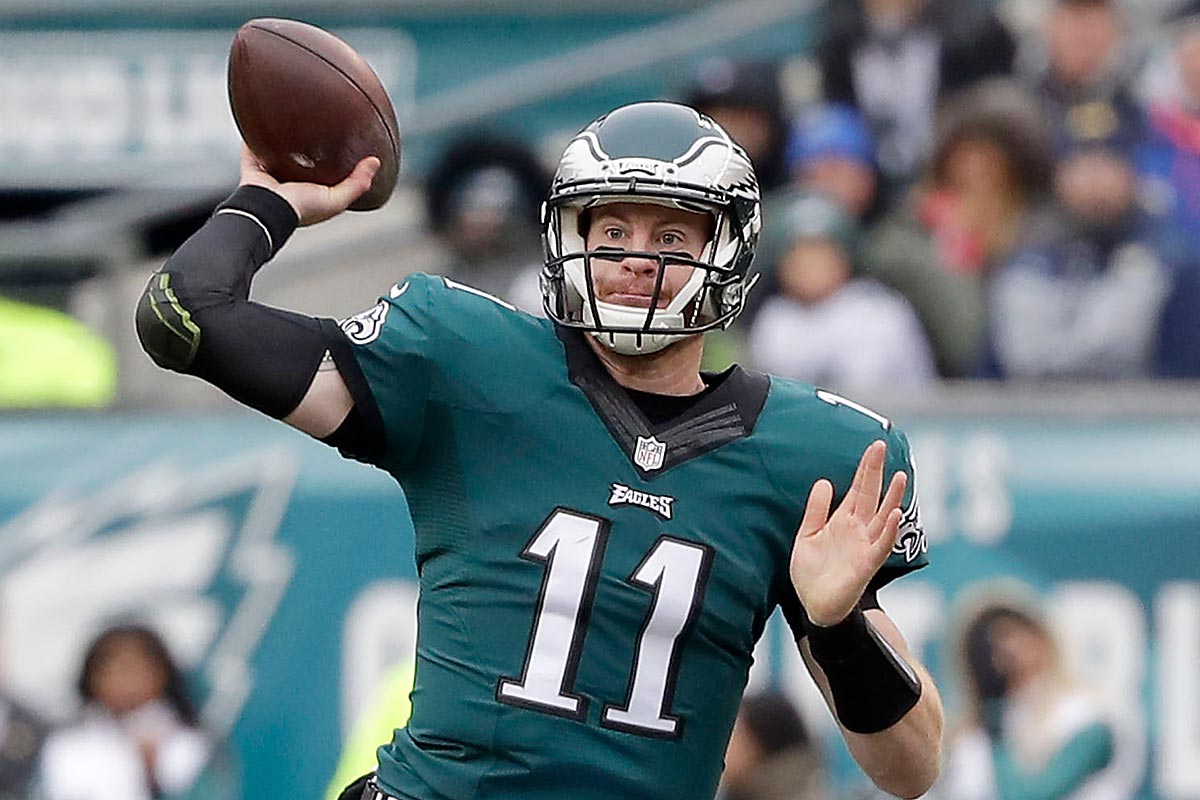 Key FA: LeGarrette Blount, Alshon Jeffery, Torrey Smith, Chance Warmack
Rookies: Derek Barnett, Sydney Jones, Rasul Douglas, Mack Hollins, Donnel Pumphrey
Key Losses: Connor Barwin, Nolan Carroll, Bennie Logan
Record: 7-9
Wow, how tough is it playing in the NFC East? You have four teams that can legitimately make a push for a playoff spot and could compete in the playoffs. The fate of the 2017 season rests on the shoulders of 2nd year quarterback Carson Wentz. As a rookie, Wentz showed a great amount of potential while also experiencing some rough patches. Wentz has gained some great offensive weapons with the arrival of former Chicago Bears receiver Alshon Jeffery and 49ers receiver Torrey Smith.
The Eagles defense is in a tough spot this year, losing defensive end Connor Barwin, starting cornerback Nolan Carroll and a key player on the defensive line in Bennie Logan. If Wentz can make a jump in production from his rookie season, then we could possibly be looking at a four-way race for a playoff spot. I should say sorry to the Eagles fans, as I believe the hit the defense has taken to be too much for them finish at the top of the division.