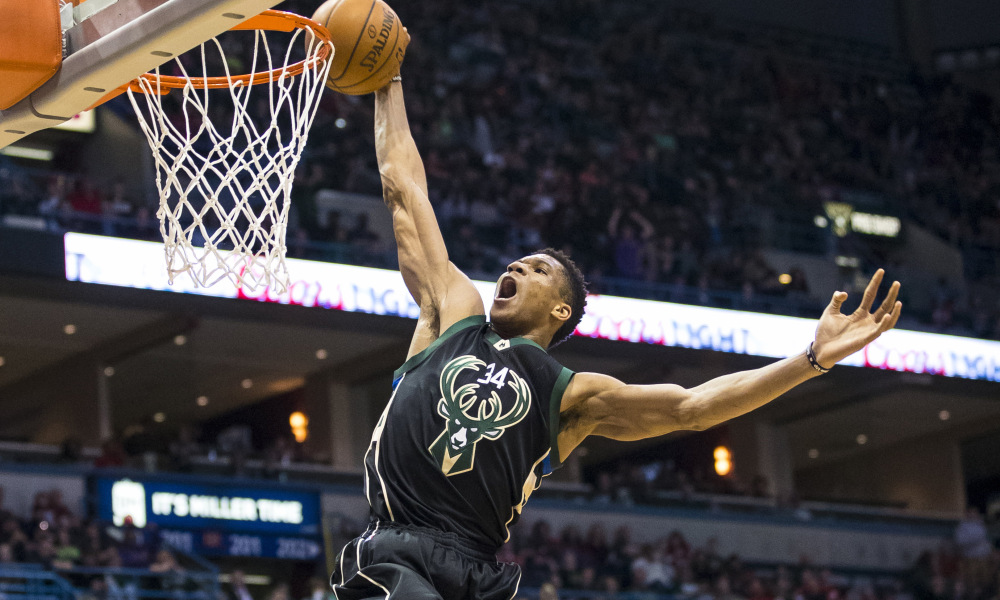 Interesting Time in Milwaukee
The Bucks may be one of the more interesting teams this summer. They are going through a coaching change, Jabari Parker restricted free agency, and they will be active in free agency and trades to boost the talent around Giannis Antetokounmpo and Khris Middleton. Milwaukee finished as the seventh seed, which was one lower than last season despite having two more wins this year. Although there was a lot of growth this season by the Bucks, I can't help but think that this year was a disappointment.
The Bucks were able to take the Boston Celtics to seven games in the playoffs. Giannis and Middleton were spectacular, but the surrounding cast definitely didn't show up. They were able to take care of their home court, but never got the job done in Boston. Many believed Milwaukee had a good chance to win the series, and they did, but the Celtics had more talent all-around in the series. Plus, the Celtics had Brad Stevens while Milwaukee had interim head coach Joe Prunty. Milwaukee has a bright future, but it's time for Milwaukee to make the future now. Giannis and Middleton have shown they have what it takes. The rest of the team needs to step up or get out.
Players to Watch
The Bucks traded for Eric Bledsoe early in the season and his production a bit inconsistent. Bledsoe also managed to not show up for five of the seven games against the Celtics in the playoffs. He was continuously beaten by Terry Rozier on and off the court. His inability to shine when the playoffs came is a big concern. Milwaukee will have him under contract for another year and may need to trade him now if they don't believe he is the point guard of the future.
Bucks' Thon Maker, who had played minimally during the season, made an impact off the bench in the playoffs. The good thing about this Thon Maker appearance is that it shows he can be productive, but the negative is that it seems more and more obvious that he won't be a starter in this league. The Bucks thought Maker would turn into a Mo Bamba type player, but that hasn't been the case. He should be key for the Bucks in the future, but he will most likely be their backup five for the future.
Milwaukee has a few more guys I would deem as valuable to the future. I think Tony Snell had a bad half of the season, but will bounce back. I don't think Snell will be a starter in this league much longer, but Snell has value and it's too early in his contract to quit on him. Sterling Brown was a solid rookie for Milwaukee, and his 3-D potential is on the rise. Jabari Parker is the next biggest question, but his future, according to Giannis, is in Milwaukee.
Mike Budenholzer
Perhaps the best decision this team has done in the past few years was hiring Mike Budenholzer. Yes, Budenholzer's Hawks were one of the leagues worst this season, but that wasn't on him. Atlanta had no great players and only a few good ones. The Hawks had no direction this year, and since his 60-win season, they have gone downhill. Budenholzer had Al Horford, Paul Millsap, Kyle Korver and Jeff Teague, along with others, in that 60-win season. Losing key player after key player, and all of a sudden your best players are Dennis Schroder and Taurean Prince. Budenholzer worked under Gregg Popovich and was named Coach of the Year a few years back. Now that he has Giannis Antetokounmpo, Khris Middleton, Eric Bledsoe, Thon Maker, and potentially Jabari Parker, his elite status as a head coach should be renewed.
The Jabari Conundrum
Jabari Parker joined the team in February and had a positive boost to the team off the bench. His ability to score on his own and help Giannis and Middleton was very valuable in Milwaukee. Parker came late to the scene in the playoffs, but ended up having a positive impact on the floor. His lack of defensive production and two ACL repairs leads to many questions about his future. I would expect that Jabari stays in Milwaukee on a contract that favors the Bucks.
If I were the Bucks, I couldn't let a talent like Jabari just leave. The plan would be to see how he does with Mike Budenholzer's system. Budenholzer wants an elite defense, and I'm not sure if that can be possible with Jabari. However, Budenholzer loves shooting and Parker averaged 38% from three and 19 ppg per 36 minutes, despite mainly coming off the bench.  If the experiment doesn't work, I could see them trading Parker to a rebuilding team for a quality guard or center, depending on their needs after this summer.
Free Agency This Summer
When it comes to free agency, the Bucks don't have a lot to work with. The only expiring contracts are Jabari (who they will most likely bring back) and Jason Terry, who has said he wants to play one more season in Milwaukee. Mirza Teletovic's contract will be expunged by the NBA due to early retirement from a medical condition. However, the NBA will not rid the Bucks of his contract until the beginning of the season instead of in the summer, making it extremely difficult to do anything with $10.5 million still on the books.
In order for the Bucks to sign anyone significant, they will need to trade one or two of their bad contracts. First, John Henson (2-year $20 M) and second, Matthew Dellavedova (2-year $19.2 M). If the Bucks are able to do this, they could get someone such as Nikola Vucevic from the Orlando Magic. If not, Milwaukee should try hard to sign restricted free agent Jusuf Nurkic or free agent DeAndre Jordan. Instead of going for the home run ball with those two free agents, they could also aim for Kyle O'Quinn, Dewayne Dedmon, Derrick Favors, Ed Davis, Ersan Ilyasova, and others.
Recent NBA Articles
How Boston Can Reload for a Championship Next Year
Are the Washington Wizards Stuck in a Rut?
Where Do the Thunder Go from Here?
How the 76ers can Continue Their Process Towards Winning a Title
🚨1-Year Anniversary #Giveaway🚨

RT and FOLLOW to win an autographed Antonio Brown jersey courtesy of @PristineAuction! Winner will be announced on July 1st, our 1 year! pic.twitter.com/qJd7Yx0NXv

— FlurrySports (@FlurrySports) June 6, 2018