Week 9 fantasy football is almost in the books, with tons of high-scoring games, upsets and most importantly, monster fantasy football performances. The fantasy football stats were irregularly high this week, with some new and unfamiliar names appearing near the top.
Let's check out the top NFL Week 8 fantasy football stats leaders from Sunday across all positions. This week's notable performers include Joe Mixon and Justin Fields with some unfamiliar faces like Kenneth Walker III and Cole Kmet.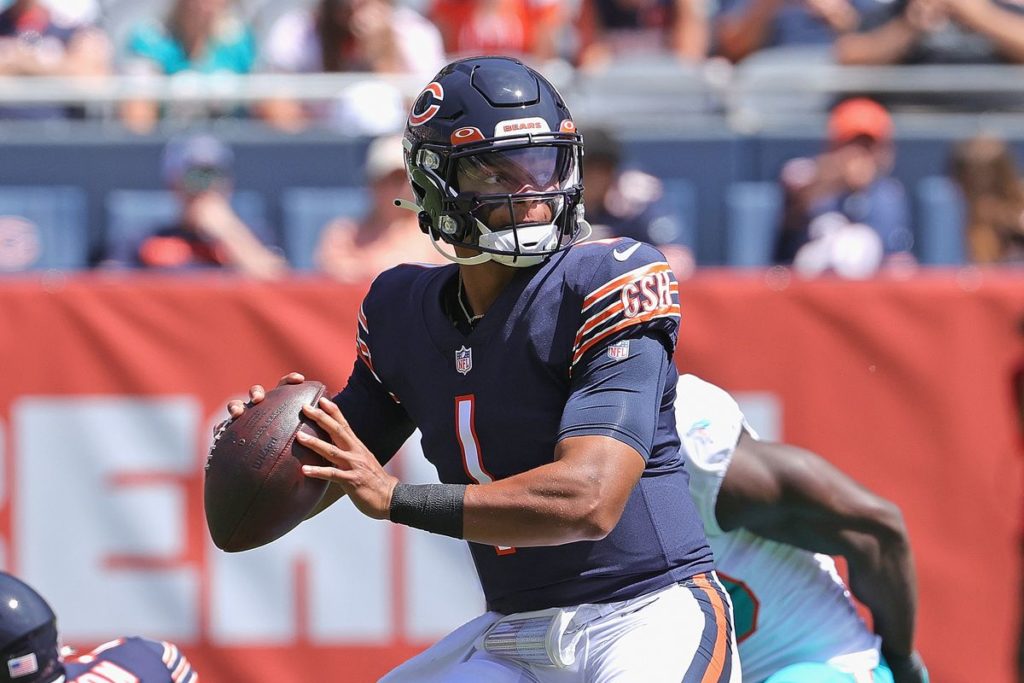 Week 9 Fantasy Football Stats Leaders | QBs
Justin Fields Fantasy Stats
Stats: 123 passing yards, 178 rushing yards, 4 total TDs, 2pt Passing Conversion
Fantasy Points: 42.72 (QB1)
Are we finally witnessing the Justin Fields fantasy football breakout campaign? Fields has looked better and better over the last few weeks, mainly with his legs but this performance solidifies his value in fantasy football. He rushed for 178 yards, the most by a quarterback in a regular season game. This is just the beginning for Fields and the Chicago Bears offense and as long as he keeps churning out quality fantasy performances, he could easily finish as a top-5 fantasy QB by the end of the season. 
Patrick Mahomes Fantasy Stats
Stats: 446 passing yards, 63 rushing yards, 2 total TDs, 1 2pt Conversion, 1 INT
Fantasy Points: 34.14 (QB2)
It shouldn't be much of a surprise but Patrick Mahomes had yet another dominant performance, scoring over 30 fantasy points for the third time this season. He threw the ball over 60 times and led the Kansas City Chiefs in rushing yards to combine for over 500 total yards just himself. He's currently the QB5 in fantasy football but that will likely rise to QB2 or QB3 range if he posts these 30-point performances regularly. Buckle up for multiple monster performances from Mahomes considering the defensive state of the Chiefs' next few opponents.
Week 9 Fantasy Football Stats Leaders | RBs
Joe Mixon Fantasy Stats
Stats: 153 rushing yards, 58 receiving yards, 4 receptions, 5 total TDs
Fantasy Points: 55.1 (RB1)
You would think that Justin Fields' 40+ fantasy point performance would top the boards but Joe Mixon had other plans. In possibly the most random breakout game ever, Mixon found the endzone five different times, with one coming through the air. The Cincinnati Bengals were in control from the start of the game so Mixon naturally saw plenty of usage simply to burn clock. After only finding the endzone three total times leading up to this game, he nearly doubled it in just one game. I wouldn't expect Mixon to suddenly become dominant but surely this bodes well for his confidence moving forward. 
Kenneth Walker III Fantasy Stats
Stats: 109 rushing yards, 20 receiving yards, 3 receptions, 2 TDs
Fantasy Points: 27.9 (RB2)
Kenneth Walker III is easily the biggest waiver wire pickup of the year thus far, unless you predicted this and stashed him from the start. He's been on fire, scoring seven touchdowns in his last five games as a starter and it's clear he's already a top-10 running back in the league. Fantasy managers that were lucky enough to snag him before his breakout have certainly enjoyed the benefits thus far. He's proven he's a reliable RB1 moving forward and may be the reason for some fantasy championship wins.
Week 9 Fantasy Football Stats Leaders | WRs
Davante Adams Fantasy Stats
Stats: 10 receptions, 146 yards, 2 TDs
Fantasy Points: 36.6 (WR1)
After a very quiet 1.2 Week 8 fantasy point performance, Davante Adams silenced all the doubters with a dominant game in Week 9. He only caught one of five targets last week but hauled in 10-of-17 for 146 yards and two touchdowns this time around, with the majority coming in just the first half. It's obvious Adams can be an absolute game-changer on offense and it seems Derek Carr fully realized that this week and fed him all game long as a result. His volume will always be there but fantasy managers can hope these performances become the norm. 
Tyreek Hill Fantasy Stats
Stats: 7 receptions, 143 yards, 1 TD
Fantasy Points: 27.3 (WR3)
Tyreek Hill continues to show the league he is quarterback-proof and has eclipsed over 1,000 yards receiving through just nine games. He's recorded at least 140 yards receiving in five of nine games thus far and ranks as the WR1 in fantasy football. The Miami Dolphins offense is high-powered and Hill is the main focal point so he will consistently put up 25+ fantasy points a game until defenses figure out how to guard both him and Jaylen Waddle.
Week 9 Fantasy Football Stats Leaders | TEs
Cole Kmet Fantasy Stats
Stats: 5 receptions, 50 total yards, 2 TDs
Fantasy Points: 22.0 (TE2)
Since Justin Fields had a day, surely his receiving options did too, right? Cole Kmet had the best game of his young career, hauling in two touchdowns against the Miami Dolphins. Fields has struggled throwing the ball this season, making his pass-catchers unappealing virtually every week but Kmet's performance was impressive and left him as the top tight end from Sunday's slate of games. This was simply a boom game for him and this won't happen on a regular basis because passing is not a focal point of the offense.
Travis Kelce Fantasy Stats
Stats: 10 receptions, 106 yards
Fantasy Points: 20.6 (TE2)
If Patrick Mahomes has a solid passing day yardage-wise, surely Travis Kelce is on the receiving end of a ton of it. Kelce has failed to find the endzone in three straight games after finding it four times in Week 5 but his production is still elite nonetheless. He saw a season-high 17 targets against the Tennessee Titans and is only his third double-digit target performance of the season thus far. It's no surprise Kelce continues to produce at an elite level like this and there's no signs of anyone catching up to him to overtake TE1 in fantasy football.
Week 9 Fantasy Football Stats Leaders | D/ST and K
New England Patriots DEF Fantasy Stats
Stats: 1 INT, 9 sacks, 3 points allowed
Fantasy Points: 21.0
Nick Folk Fantasy Stats
Stats: 4 FG Made, 2 PAT Made
Fantasy Points: 13.0 
---
Follow us on all of our social channels! Check out our Twitter, Facebook and YouTube for more great FlurrySports content.