I know, I know. It's been a solid week since I was able to put a fantasy basketball column together. For that, I apologize. On top of being a wee bit busy with the start of the spring 2021 semester and heading up the new-look FlurrySports NASCAR content, I gave myself a concussion while snowboarding last week. But don't worry. Busy, fun and just a wee bit painful are exactly how I like it!
With that said, we are back in a big way with some Week 8 fantasy basketball category analysis. Consider adding these sparsely-owned players where appropriate to help you finish off your Week 8 matchups on a positive note.
**Note: Criteria for inclusion requires players to be owned in 60% of leagues or less**
Points | Fantasy Basketball Category Analysis
Dillon Brooks, SG/SF, Memphis Grizzlies (41.9% ESPN Ownership)
From an efficiency standpoint, Dillon Brooks is brutal. From a consistency standpoint, also brutal. But for fantasy basketball category managers in need of some extra points, the 25-year-old is worthy of a look. Brooks has played over 30 minutes in each of the Grizzlies' last two games and has made good on the playing time. Point totals of 22 and 20 brought Brooks' season average to 15.6 points per game. If you can afford to swallow his 38.7% shooting from the floor in addition to limited contributions in other categories, Brooks could provide just the scoring boost your lineup needs.
Other Players to Note
Terrence Ross, SG/SF, Orlando Magic
Doug McDermott, SF/PF, Indiana Pacers
Rebounds | Fantasy Basketball Category Analysis
Marvin Bagley III, PF/C, Sacramento Kings (47.1% ESPN Ownership)
While it's hard to argue that Marvin Bagley is anywhere near the player that the Kings drafted him to be, there is value here for fantasy basketball category managers in need of rebounds. A 10-rebound effort this past Sunday against the Los Angeles Clippers is the high mark of an impressive stretch for the 2018 No. 2 overall pick. Bagley has now secured six or more boards in three of his last four games. Overall, there is far less variance in his rebounding contributions on a nightly basis than in his scoring. An average of 7.4 boards per game ties for 32nd among all NBA players. With his ownership continuing to decline, managers looking for rebounds can opt to zag while others zig.
Other Players to Note
Josh Hart, SG/SF, New Orleans Pelicans
Royce O'Neale, SF/PF, Utah Jazz
Jakob Poeltl, C, San Antonio Spurs
Assists | Fantasy Basketball Category Analysis
Joe Ingles, SF/PF, Utah Jazz (49.7% ESPN Ownership)
It's always nice when you can find a big man to contribute dutifully to the assists category. Joe Ingles is proving to be just that for fantasy basketball managers this season. After missing time earlier in the year with injuries, Ingles has seen his minutes steadily increase of late. No statistical category has had more consistent production than assists. Ingles has outperformed his season per-game average of 4.6 in six of the last nine games. This includes a 10-point, 11-assists double-double and a terrific all-around stat line of 24 points, six dimes and three rebounds in the Jazz' last game. Furthermore, Utah is the hottest team in the NBA and many believe they are legitimate title contenders. Don't sleep on Ingles if your fantasy team needs extra assists.
Other Players to Note
T.J. McConnell, PG, Indiana Pacers
Tyus Jones, PG, Memphis Grizzlies
Kevin Huerter, SG, Atlanta Hawks
3-Pointers | Fantasy Basketball Category Analysis
Davis Bertans, PF, Washington Wizards (15.8% ESPN Ownership)
Latvian big man Davis Bertans has not played well through the first two months of the NBA season. There is minimal value to rostering him in fantasy basketball which undoubtedly explains the low ownership percentage. But for category managers in need of added 3-pointers, Bertans is certainly an option. Fun fact: in each of the Wizards' last three games, all of Bertans' points came by way of 3-point shooting. Unfortunately, the shots haven't been falling at a high rate for him this season, evidenced in the 33.1% shooting clip from deep. With that said, one has to believe Bertans will eventually find his shooting stroke. Until then, owners who roster him must be prepared to stomach poor percentages and limited contributions in other categories.
Other Players to Note
Eric Gordon, SG, Houston Rockets
Cameron Johnson, SF/SG, Phoenix Suns
Kelly Olynyk, C/PF, Miami Heat
Blocks | Fantasy Basketball Category Analysis
Nerlens Noel, C, New York Knicks (3.9% ESPN Ownership)
We featured Nerlens Noel in this very column a couple of weeks ago. No shame in going back to the well for further emphasis here in Week 8. When it comes to shot-blocking, Noel is a machine. Despite averaging just 17.6 minutes per game, Noel is tied for fourth with 1.9 blocks per contest. After missing a pair of games due to injury, the 26-year-old bounced right back with a trio of swats in 19 minutes against the Miami Heat earlier this week. It was Noel's third consecutive multi-block game. Fantasy basketball managers can also expect sound percentages (54.4% from the floor) and solid rebound production (5.2 per game) from the Knicks center.
Other Players to Note
Josh Jackson, SF/SG, Detroit Pistons
Daniel Gafford, C/PF, Chicago Bulls
Derrick Favors, C/PF, Utah Jazz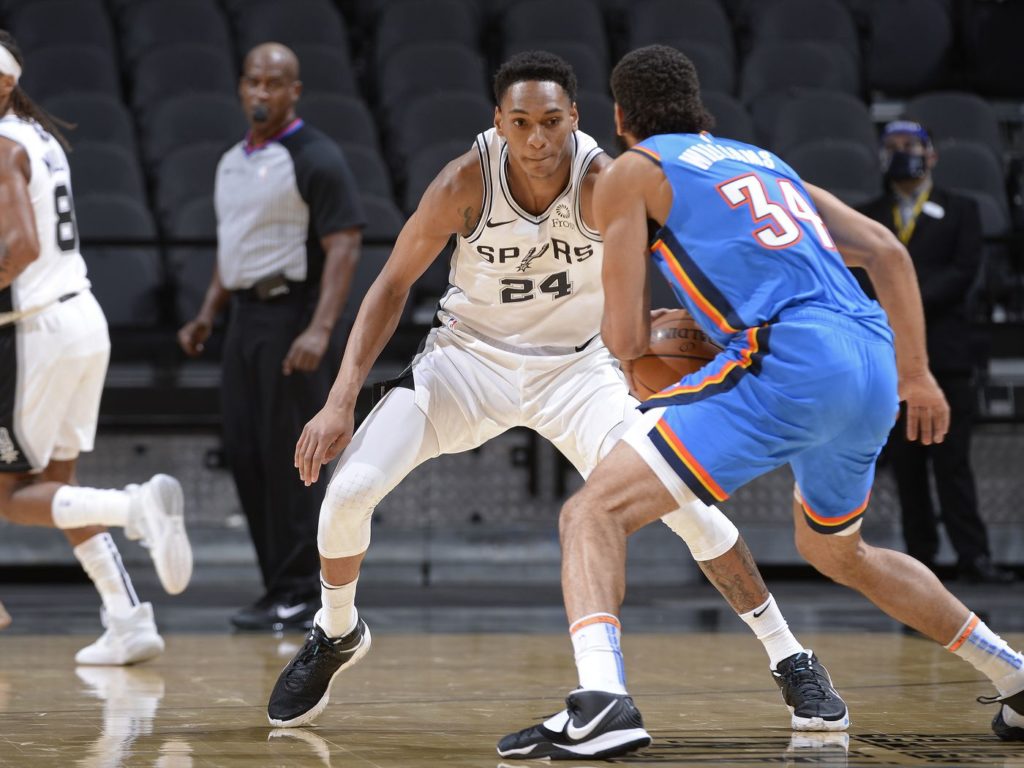 Steals | Fantasy Basketball Category Analysis
Devin Vassell, SG/SF, San Antonio Spurs (2.5% ESPN Ownership)
The 11th overall pick in the 2020 NBA Draft, Devin Vassell is slowly but surely earning increased playing time in the Spurs' rotation. Vassell is averaging an impressive 1.2 steals in just 18.0 minutes per game. A fabulous performance against the Houston Rockets last week saw the rookie snatch a trio of steals to go with nine points, two rebounds, an assist and a block. Why was that stat line fabulous you ask? Vassell did it in just 15 minutes. If that's a precursor of what's to come as the minutes rise and he becomes a bigger part of the Spurs overall gameplan, sign me up. Keep tabs on Vassell going forward in all fantasy basketball leagues. For now, those in deeper leagues or who are desperate for steals can consider freeing up a roster spot for him.
Other Players to Note
Ricky Rubio, PG, Minnesota Timberwolves
T.J. McConnell, PG, Indiana Pacers
Dillon Brooks, SG, Memphis Grizzlies