What an NFL weekend it was! We saw upsets, thrilling finishes, and the comeback story of the year. Tuesday Night Football was everything fans could have hoped for. Kudos to the Tennessee Titans, who showed that not even the infamous COVID-19 can slow them down. With so much going on, it's no surprise that there is plenty of movement throughout the FlurrySports Week 6 NFL Power Rankings.
Read on to see where your team landed after the dust settled.
Week 6 NFL Power Rankings
1. Seattle Seahawks
Week 5 Ranking: 2
Russell Wilson is money! After being thoroughly being outplayed in the first half and at times in the second half as well, the Seahawks pulled out a last-second win over the Minnesota Vikings to stay unbeaten. Wilson continues to build his MVP case and D.K. Metcalf continues to look like one of the best wideouts the NFL has ever seen. Seattle's defense is shaky, to say the least, but they've done enough to sit atop the best division in football.
2. Kansas City Chiefs
Week 5 Ranking: 1
Sunday's loss to the Las Vegas Raiders was flummoxing on a number of levels. Despite the Raiders' shaky secondary, the Chiefs' offense could never get it going. Regardless, Kansas City is so talented that this is likely but a blip on the radar. Patrick Mahomes and Co. will return to the top of the NFL power rankings soon enough.
3. Baltimore Ravens
Week 5 Ranking: 3
Top to bottom, the Ravens are as talented a football team as any. The defense had a field day against the hapless offensive line of the Cincinnati Bengals. The real concern here continues to be the reigning NFL MVP, Lamar Jackson. Outside of Week 1, Jackson's numbers haven't exactly popped. He has failed to throw for 200 yards since Week 2, and his 51.35% completion percentage in this one won't cut it against more complete teams.
4. Green Bay Packers
Week 5 Ranking: 4
With the bye week to ensure good health for Davante Adams, the Green Bay offense should look even better in Week 6. Aaron Rodgers has been a machine thus far, and the Packers' defense has playmakers to get the job done. Za'Darius Smith continues to be one of the most underrated pass rushers in the league.
5. Pittsburgh Steelers
Week 5 Ranking: 5
Well, hello Chase Claypool! The rookie second-round wide receiver out of Notre Dame officially had his NFL coming-out party in Week 5 with a 4-touchdown effort in The Battle of Pennsylvania. With Diontae Johnson continuing to battle injuries, Claypool could have a significant role in the Pittsburgh offense going forward. Other than some defensive concerns given that the Steelers surrendered 29 points to the Philadelphia Eagles, this team continues to look like an AFC front-runner and remains in the top-5 of the Week 6 NFL power rankings.
6. Los Angeles Rams
Week 5 Ranking: 7
The Rams avoided the West-to-East coast woes that have plagued many an NFL team in the past, as they earned a convincing win over Washington. Jared Goff piled up over 300 yards passing and Cam Akers had a successful return from injury with 61 yards rushing against a talented defensive front. Once again, we see how Sean McVay's offense is predicated on finding success on the ground.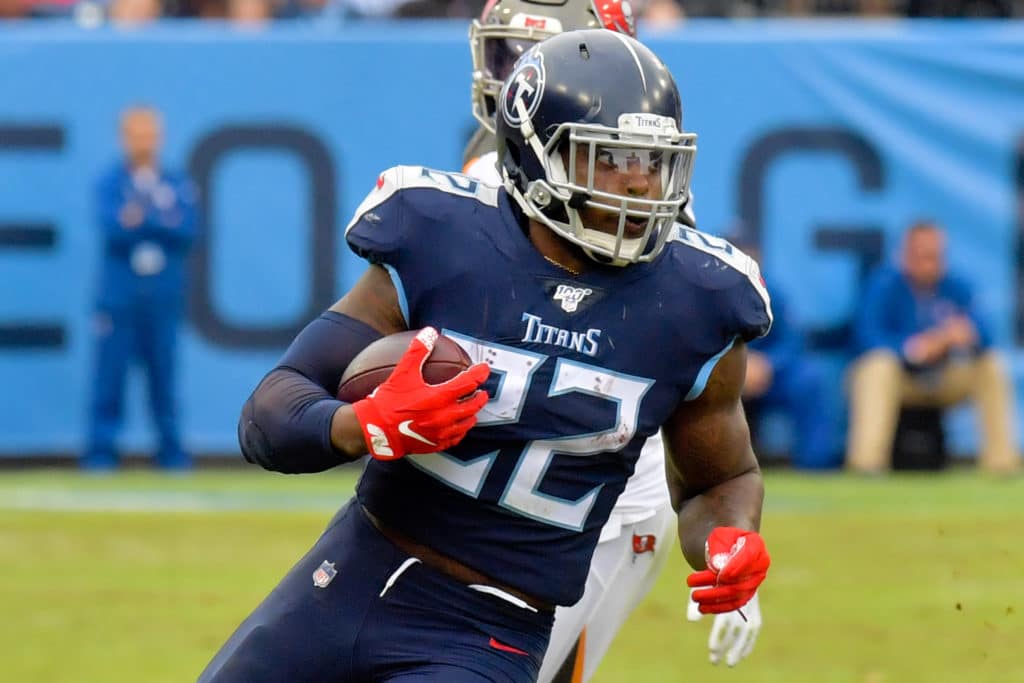 7. Tennessee Titans
Week 5 Ranking: 9
If there was any doubt that the Titans are for real, they pretty much squashed it Tuesday night. Even with Derrick Henry being held under 60 yards rushing, the Titans offense was incredibly efficient. The Titans took advantage of short fields off of turnovers and Ryan Tannehill totaled 4 touchdowns (3 passing, 1 rushing). While there are still concerns about the Titans' ability to hold up defensively, this game proved that perhaps their best bet is to play opportunistic football.
8. New Orleans Saints
Week 5 Ranking: 11
The Saints fell behind early but made the adjustments necessary to outplay the Los Angeles Chargers in the second half and resurface above .500 heading into their Week 6 bye. In theory, star wideout Michael Thomas will be back on the field in Week 7, a welcome sight for Drew Brees who continues to show his age. The Saints will hope to have some of their banged-up secondary back following the bye as well.
9. Buffalo Bills
Week 5 Ranking: 6
After looking like a potential MVP candidate for the first month of the season, Josh Allen was out of sorts against Tennessee. After averaging roughly 29 pass attempts per game last season, that number has risen to nearly 38 in 2020. Buffalo needs to rekindle its running game going forward to establish balance offensively. Better defensive play would certainly help too. The Bills sorely missed Tre'Davious White on Tuesday.
10. Tampa Bay Buccaneers
Week 5 Ranking: 8
Tom Brady's career record against Nick Foles is now 0-2. The Bucs beat themselves in a Thursday night game against the Chicago Bears that seems like it happened a month ago. Tampa Bay's 8.4 penalties per game are tied for the NFL lead and will need to be a point of focus going forward. The defense continues to rank among the league's best, although losing tackle Vita Vea for the season is a major blow.
11. Cleveland Browns
Week 5 Ranking: 13
The Browns successfully passed a major test against the Indianapolis Colts in Week 5. The ground game continues to thrive while the secondary is a noted weakness. Up next for Baker Mayfield, a major AFC North battle against Pittsburgh.
12. New England Patriots
Week 5 Ranking: 14
The Patriots benefitted from their impromptu bye week in terms of their ability to rise a couple of spots in the NFL power rankings. New England will hope for Cam Newton to be COVID-free and ready to go for Sunday's game against the Denver Broncos.
13. Chicago Bears
Week 5 Ranking: 18
It may not be pretty, but the Bears are finding wins. Nick Foles led a few confidence-boosting drives against a stout Tampa Bay defense, and Chicago's ability to defend continues to serve as the backbone of the team. With Tarik Cohen out for the year, could this be a possible landing spot for Le'Veon Bell?
14. Las Vegas Raiders
Week 5 Ranking: 15
The young Raiders continue to show significant signs of growth, operating well ahead of schedule in the eyes of many experts. Week 5 gave us but a glimpse of what Henry Ruggs is capable of. Tyreek Hill 2.0 perhaps?
15. San Francisco 49ers
Week 5 Ranking: 10
The 49ers got a face full of FitzMagic in Week 5. Jimmy Garoppolo's return from injury was so unsuccessful that he was benched in the second half. While San Francisco is a much better football team than what we saw Sunday, sitting 2-3 after five games is not ideal with a much more difficult stretch of schedule on the horizon.
16. Indianapolis Colts
Week 5 Ranking: 12
The Colts were outplayed by the Browns and were fortunate to be in the game for as long as they were. The defense missed Darius Leonard, and Phillip Rivers looks closer to retirement than winning a Super Bowl. They drop down in the Week 6 NFL power rankings as a result.
17. Arizona Cardinals
Week 5 Ranking: 16
Arizona was in cruise control throughout their Week 5 matchup. Chase Edmonds continues to make a case for increased run alongside Kenyan Drake out of the backfield. If only there was better offensive line play to consistently run the ball against teams not named the New York Jets.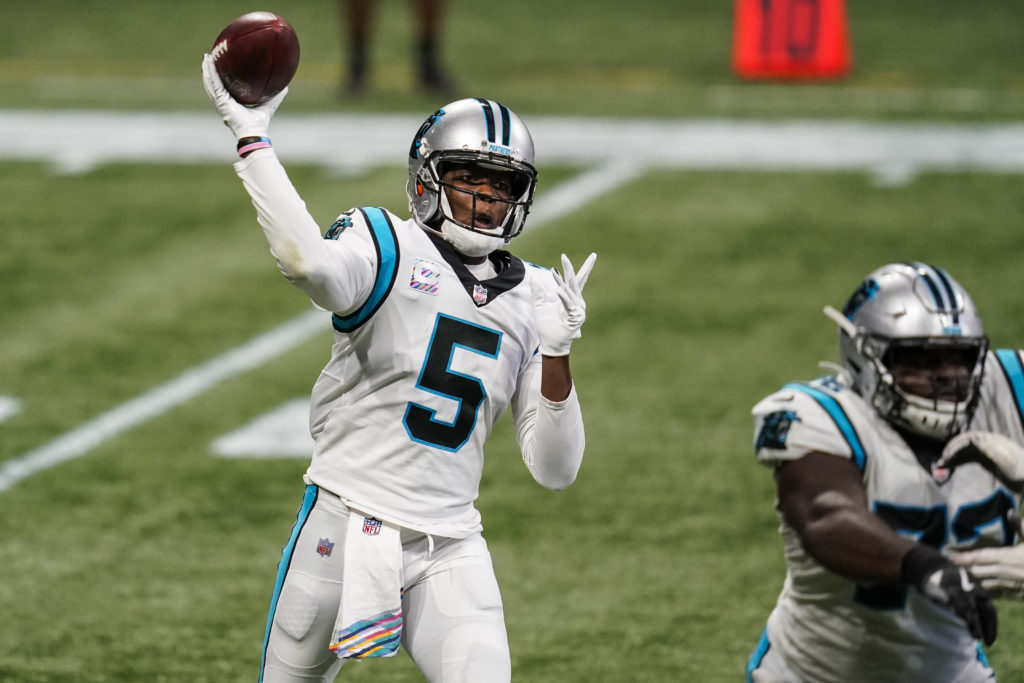 18. Caroling Panthers
Week 5 Ranking: 20
"Teddy Covers" is quickly turning into "Teddy Wins" for Carolina. Bridgewater and the entire Panthers' offense impressed, albeit against the weak defense of the Atlanta Falcons. The play of Carolina's defense over the last three weeks has been the true pleasant surprise. Just how far can the Panthers rise in the NFL power rankings?
19. Philadelphia Eagles
Week 5 Ranking: 17
It will go down as a loss, but it sure was nice to see some life from Carson Wentz and the Eagles' offense in a tough matchup. Philadelphia's pass-catchers continue to get healthier. Travis Fulgham, Greg Ward, and Quez Watkins have the potential to be the most unlikely group of contributing wideouts in the NFL.
20. Los Angeles Chargers
Week 5 Ranking: 19
Once again, the Chargers fell victim to a second-half collapse, squandering yet another big lead. Los Angeles is 1-4 but could very easily be 4-1. Despite the losses, Justin Herbert continues to look terrific.
21. Minnesota Vikings
Week 5 Ranking: 24
Minnesota continues to improve on both sides of the ball. The rushing attack had a day against Seattle in Week 6. Even after Dalvin Cook was forced out of the game with an injury, Alexander Mattison also looked terrific.
22. Detroit Lions
Week 5 Ranking: 22
With a Week 5 bye to rest and heal what ails them, the Lions will be back in action against the Jacksonville Jaguars in Week 6. With four of their next six games against sub-.500 opponents, the time is not for Matt Patricia's team.
23. Miami Dolphins
Week 5 Ranking: 25
To paraphrase fellow FlurrySports writer Hunter Skoczylas, "Why start Tua Tagovailoa when you can trot a 37-year old magician out to play quarterback instead?" Ryan Fitzpatrick continues to perform behind a much-maligned offensive line, and Sunday's throttling of the 49ers came as a shock to many.
24. Houston Texans
Week 5 Ranking: 27
With Bill O'Brien no longer holding them back, Houston was able to get their first win of the season on Sunday. Unfortunately, the road doesn't get any easier for Deshaun Watson going forward, although an upset win over the Titans in Week 6 would be a major step in the right direction as the Texans try to get back in the AFC South race.
25. Dallas Cowboys
Week 5 Ranking: 21
Despite squeaking past the New York Giants for their second win of the season, the loss of Dak Prescott to a gruesome ankle injury leads to Dallas falling further down the Week 6 NFL power rankings. Although at this point, one could make the argument that this is where Dallas belongs given their horrendous defense.
26. Cincinnati Bengals
Week 5 Ranking: 23
The Bengals were up against it from the opening kick against Baltimore. While better days are ahead for Joe Burrow and Cincinnati, they are still a step or two behind their competition in the loaded AFC North.
27. Atlanta Falcons
Week 5 Ranking: 26
The defense has always been bad, but with poor showings from the Falcons offense in back-to-back weeks, Dan Quinn's ticking time bomb finally exploded. Raheem Morris will be tasked with leading a broken group for the remainder of the season. The first goal at this point is just to win a football game.
28. Washington Football Team
Week 5 Ranking: 28
Alex Smith may very well have locked up the Comeback Player of the Year Award for the 2020 season simply by stepping onto the field Sunday. The showing was ugly, due in large part to Football Team's offensive line being no match for the likes of Aaron Donald, but Washington remains but a game out of first place in the NFC East.
29. Jacksonville Jaguars
Week 5 Ranking: 29
MinshewMania seems to be petering out in Jacksonville. Now back in last place in the AFC South, the Jags are showing that they are still a long way from contending and remain near the bottom of the Week 6 NFL Power Rankings.
30. Denver Broncos
Week 5 Ranking: 30
Melvin Gordon wasn't happy about it, but the Broncos sat idle in Week 5 due to positive COVID-19 tests in New England. One positive is that Drew Lock and Noah Fant each got an extra week to heal from their injuries.
31. New York Giants
Week 5 Ranking: 31
Imagine being 0-5 but only two games out of first in your division. That is exactly where the Giants sit now after coming oh-so-close against the Cowboys in Week 5. With four of their next five matchups coming against Washington and Philadelphia, the upcoming stretch will be critical.
32. New York Jets
Week 5 Ranking: 32
It just gets worse and worse for the New York team in green. Sam Darnold is rumored to be on the trade block, and Le'Veon Bell was released Tuesday night, clearly signaling that Joe Douglas is in full tank mode. In the meantime, we get more Frank Gore, something that no true football fan can be disappointed by.
---
More Articles
Chase Claypool Fantasy Outlook High Following Monster Performance
Damien Harris' Fantasy Outlook High
Panic Time for Julio Jones Fantasy Owners?