It was another action-packed week in the NFL, and the playoff picture has become much more clear. In the AFC, five teams have now clinched. In the NFC, the top seed was bequeathed to the Green Bay Packers. While there are still playoff spots left to be determined, the number of teams left alive has gone down greatly. Going into the last week of the NFL season, here are your updated NFL Power Rankings.
NFL Power Rankings: Week 18
1) Green Bay Packers (13-3) (Last Week: 2)
In a game where the Packers played the Minnesota Vikings, who were out Kirk Cousins, this game would usually mean very little. The biggest takeaway from this game, however, is the improvement of the special teams. Recently-signed returner David Moore looked good in punt returns, with an average of 11 yards per return and a long of 21 yards. On kickoffs, four of Mason Crosby's seven kicks were touchbacks, taking the burden off of the other players to make a tackle. With such a lack of talent across the board for special teams, being able to improve to serviceable this week was a sight for sore eyes in Green Bay. They regain the top spot in the NFL Power Rankings this week.
2) Kansas City Chiefs (11-5) (1)
The reason the Kansas City Chiefs had a tough start to the season had some to do with Patrick Mahomes and the offense. Most of the blame, however, could be attributed to a defense that, at that time, was historically one of the worst. In Week 17 against the Cincinnati Bengals, their defense looked to revert to its early-season form. Joe Burrow gashed the Chiefs for over 440 yards and four touchdowns. For as good as the Chiefs offense is, it won't mean anything if they can't defend.
3) Los Angeles Rams (12-4) (5)
The LA Rams played a trap game against the Baltimore Ravens and nearly fell victim. Late heroics from Matthew Stafford led Los Angeles to a 20-19 win. Unfortunately for the Rams, the game went into the same script as it has the past couple of weeks. Once again, Stafford was shaky at best until the last possible moment. He was impatient too often and tried to force the ball into pockets that weren't there. While their defense did a good job keeping Tyler Huntley and the Ravens in check, they won't get anywhere in the postseason if they keep turning it over.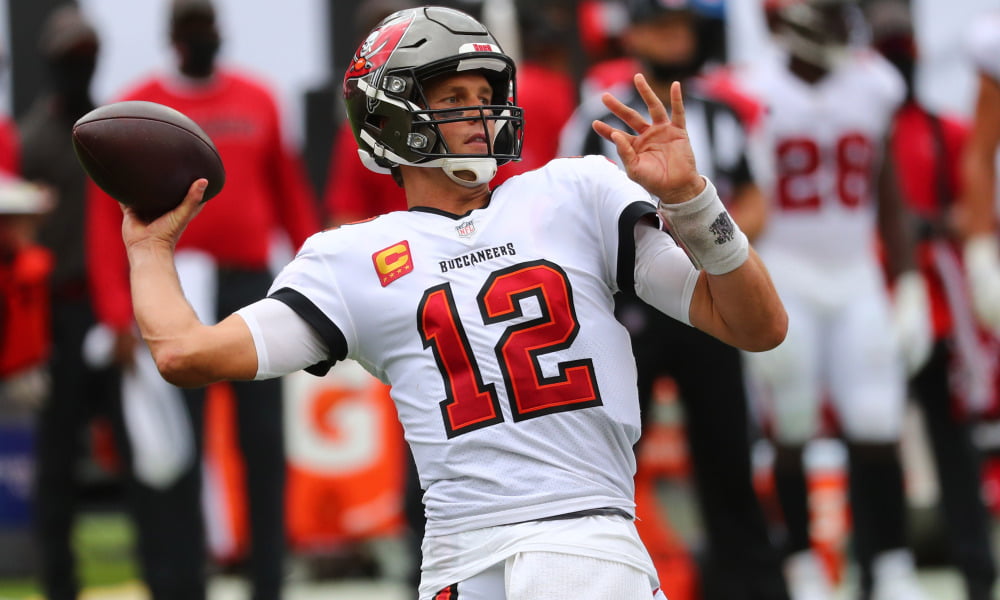 4) Tampa Bay Buccaneers (12-4) (6)
The big story from the Tampa Bay Buccaneers this week is quite obviously the Antonio Brown incident. His loss will really hurt a team that has already been short on elite weapons for Tom Brady. How much his loss will hurt Tampa Bay still has yet to be known, but it certainly hurts a team that just barely beat the New York Jets. Credit to Brady for a solid game and a miraculous game-winning drive, but this defense needs to do better. Giving up 24 points isn't bad, but it is against a Jets offense that has struggled mightily all season. Tampa Bay should be able to shore up some issues defensively next week against the Carolina Panthers.
5) Buffalo Bills (10-6) (7)
It looked shaky in the first half against the Atlanta Falcons. Down 15-14 at the half, the Buffalo Bills scored 15 unanswered in the second half on their way to a 29-15 home victory. Josh Allen was inaccurate all day and completed just 11/26 passes. Allen only had 120 yards in the air and threw three interceptions. Fortunately, the Bills were able to use his rushing ability, as he scampered for 81 yards and two touchdowns. The Bills have found something running the ball with running back Devin Singletary but will need Allen to be more reliable in the air come playoff time.
6) Cincinnati Bengals (10-6) (8)
When this Cincinnati Bengals offense is on, it is as good, if not better, than any other in the NFL. Cincinnati has scored 34 points or more in the past two weeks. The defense still has some work to do, but it's hard to fault them for giving up 31 points to Kansas City. The big question will be just how healthy Joe Burrow's knee is. If he's feeling good, who knows how far they can go. With a win against the Cleveland Browns next week, Cincinnati can clinch at least the three seed in the AFC.
7) Arizona Cardinals (11-5) (10)
Coming off of a three-game losing streak, Arizona found themselves in a "prove it" game against Dallas. Their defense was flying all over the field for the first three quarters. Arizona did a good job keeping Dak Prescott and the Dallas offense in check for most of the game. Kyler Murray finally played at an elite level again and he kept his undefeated record at AT&T Stadium alive. With a win next week against the Seattle Seahawks and a Rams loss, they can win the NFC West and a home playoff game.
8) Dallas Cowboys (11-5) (4)
This game was in the works for a while for the Cowboys. Outside of a blowout of the Washington Football Team last week, this offense has been stagnant for long periods of time virtually every game this year. On Sunday, it finally caught up to them. The defense has been solid as of late too, but is it really that good, or is it a result of their competition? Is cornerback Trevon Diggs really that good with 11 interceptions seeing he's also given up over 1,000 receiving yards himself? In their past five games, only one came against a team .500 or above. This team has a lot of questions left unanswered and now don't have a bye or home-field advantage to bank on. Dallas will be an interesting team to watch the rest of the season. For now, they fall in the NFL Power Rankings.
9) New England Patriots (10-6) (9)
There's not much to nitpick the New England Patriots on after a 50-10 demolition of the Jacksonville Jaguars. Mac Jones looked sharp again and the running game was dominant. Both Damien Harris and Rhamondre Stevenson had two touchdowns in a game that was over by halftime. The defense was rolling and this looks like a vintage Bill Belichick Patriots team just a week after being shredded by the Bills. The Patriots have clinched the playoffs again and, with a win and a Bills, loss would win the AFC East.
10) Tennessee Titans (11-5) (11)
For as bad as it's looked at times for the Tennessee Titans, they are in a great spot. Tennessee currently holds the top seed in the AFC, thanks to the Chiefs' loss, and they play the Houston Texans to end the season. For as bad as this offense has looked at times, they have a chance to get a week off and possibly get Derrick Henry back for their first playoff game. If they can do that and get the AFC to run through Nashville, they have as good of a chance as any. Look for them to continue rising in the NFL Power Rankings.
11) Indianapolis Colts (9-7) (3)
12) San Francisco 49ers (9-7) (13)
13) Baltimore Ravens (8-8) (12)
14) Los Angeles Chargers (9-7) (14)
15) Las Vegas Raiders (9-7) (17)
16) Philadelphia Eagles (9-7) (16)
17) New Orleans Saints (8-8) (18)
18) Pittsburgh Steelers (8-7-1) (20)
19) Minnesota Vikings (7-9) (19)
20) Chicago Bears (6-10) (23)
21) Denver Broncos (7-9) (22)
22) Cleveland Browns (7-9) (21)
23) Miami Dolphins (8-8) (15)
24) Seattle Seahawks (6-10) (27)
25) Atlanta Falcons (7-9) (24)
26) Washington Football Team (6-10) (25)
27) Houston Texans (4-12) (26)
28) Carolina Panthers (5-11) (28)
29) New York Jets (4-12) (31)
30) New York Giants (4-12) (29)
31) Detroit Lions (2-13-1) (30)
32) Jacksonville Jaguars (2-14) (32)