It was a good week for favorites, but that didn't keep fans from walking away with plenty of excitement and talking points from the NFL Sunday that was. We had the Arizona Cardinals pulling off what very well could go down as the best play (and best postgame quote) of the season as they took down the Buffalo Bills. The Detroit Lions buried a last-second field goal from distance to thwart off the comeback effort of Alex Smith and the Washington Football Team. Finally, Bill Belichick and the New England Patriots delivered a stern message to those who may have written them off too soon. Add it all up and there is once again plenty of movement throughout the FlurrySports Week 11 NFL Power Rankings.
The most notable change has to be the lone remaining unbeaten team finally getting the nod over the defending Super Bowl champs as the top team. Behind this change, the entire top ten got a shakeup from last week, and there is plenty of movement toward the bottom of the Week 11 NFL power rankings as well. At this point, perhaps the only thing we can guarantee is that the remaining seven weeks of the regular season will only be crazier. It's safe to say that the National Football League wouldn't have it any other way.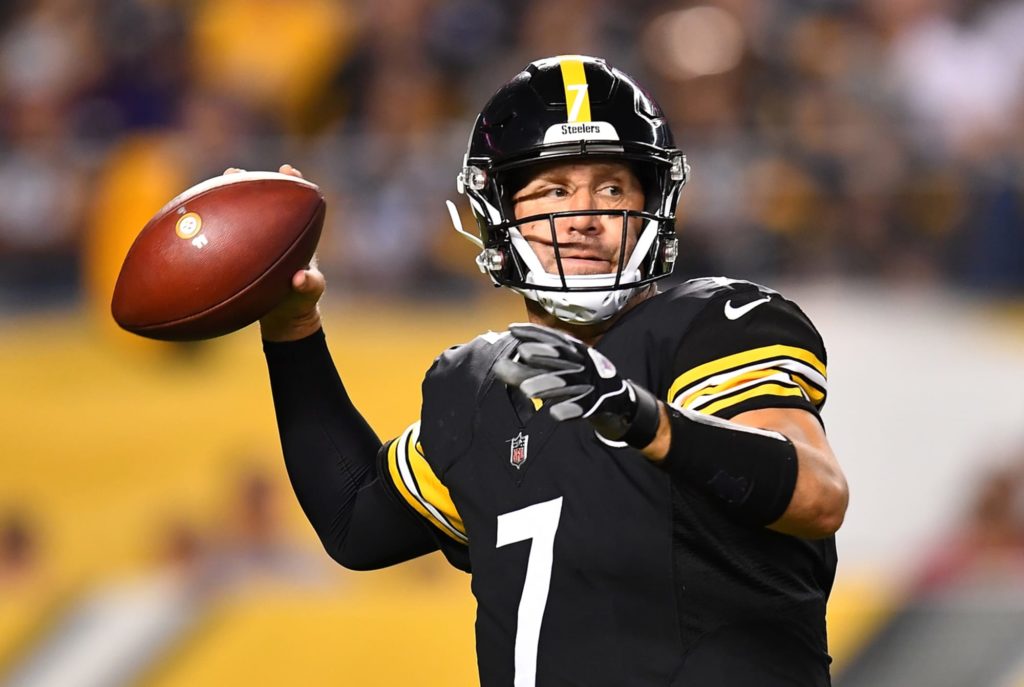 Week 11 NFL Power Rankings
1. Pittsburgh Steelers
Week 10 Ranking: 1
High winds in Pittsburgh on Sunday couldn't slow down Ben Roethlisberger and the Steelers. Both JuJu Smith-Schuster and Diontae Johnson had big games and the Steelers' blitz-heavy defense overwhelmed Joe Burrow as they ran their undefeated mark to 9-0. With a more complete offense and defense than the Kansas City Chiefs at this point in time, the Steelers finally jump into the top spot in the Week 11 NFL power rankings.
2. Kansas City Chiefs
Week 10 Ranking: 1
The Chiefs sat idle in Week 10, a much-needed break with a tough stretch of games ahead. Patrick Mahomes continues to be sensational, but Kansas City's lack of a consistent ground game is somewhat concerning. That aspect of the Steelers offense feels more solidified and is a big reason for Kansas City being nudged out of the top spot.
3. New Orleans Saints
Week 10 Ranking: 4
The Saints sputtered out of the gate but were in firm control by the start of the fourth quarter against the injury-marred San Francisco 49ers. The Saints suffered a key injury of their own on Sunday when Drew Brees went down with several cracked ribs and a collapsed lung. Until the Hall of Famer is ready to return, we the people will have the pleasure of watching Jameis Winston quarterback the New Orleans offense. I'm all in.
4. Tampa Bay Buccaneers
Week 10 Ranking: 5
Tom Brady and crew got back to their winning ways with a clinic offensively against the Carolina Panthers. Ronald Jones II's 98-yard touchdown run was the longest in Buccaneers franchise history and just the highlight of a 192-yard day for the tailback.
5. Green Bay Packers
Week 10 Ranking: 7
The Packers love to make their fans sweat it out in games you would think they should win easily. But a win is a win. Aaron Rodgers was phenomenal, and the defense clamped down late to preserve the four-point victory over the Jacksonville Jaguars. Aside from the Cardinals' game-winner, the Rodgers-to-Marquez Valdes-Scantling TD pass, complete with a referee getting trucked, was the highlight of the day in my book.
6. Baltimore Ravens
Week 10 Ranking: 3
Ravens fans were best off to look away from the team's dismal Sunday night performance in Foxborough. Somehow, you just knew Bill Belichick wasn't going to let Lamar Jackson get the best of him two years in a row. The loss of defensive tackle Brandon Williams early did nothing to the Ravens' resistance to the run. The injury could prove impactful again next week with Derrick Henry and the Tennessee Titans coming to town.
7. Indianapolis Colts
Week 10 Ranking: 11
The Colts were on a mission to earn some respect from the nation and they got it thanks to a convincing Thursday night win at Tennessee. Philip Rivers has quietly been playing better than we thought, but the real story here is a defense that ranks top-five in points allowed and adjusted efficiency. This team is for real. Time to treat them as such.
8. Los Angeles Rams
Week 10 Ranking: 10
In many ways, the Rams' divisional showdown against the Seattle Seahawks was far from what many expected in terms of game script. This was largely thanks to L.A.'s defense which forced a trio of Russell Wilson interceptions and held the league's top scoring offense to just 16 points. The collective unit assembled around stars Aaron Donald and Jalen Ramsey may be better than advertised. The Rams are the highest-ranked NFC West team in the Week 11 NFL power rankings for the first time all season.
9. Tennessee Titans
Week 10 Ranking: 6
Thursday's loss was the Titans' third in their last four games and also dropped Mike Vrabel's team behind the eight-ball in the AFC South race. The Titans will get a chance to avenge their loss to the Colts in just two weeks' time…right after a road trip to Baltimore. A brutal stretch indeed.
10. Buffalo Bills
Week 10 Ranking: 8
The Bills are the definition of a well-rounded football team. After last week's offensive explosion, Josh Allen was back to throwing brutal interceptions and the run game was back to being nonexistent. And yet, the defense was able to limit the damage done by Kyler Murray and the Cardinals' offense and give Buffalo a chance to win. That is until DeAndre Hopkins decided to dunk on them. RIP.
11. Seattle Seahawks
Week 10 Ranking: 9
The Seahawks defense actually did its part to rebound from a horrific outing last week, only to see Russell Wilson and the mighty Seattle offense sputter for the first time all season. The Seahawks are trending in the wrong direction in the Week 11 NFL power rankings right now, but they'll find themselves sooner than later. At least, I think.
12. Las Vegas Raiders
Week 10 Ranking: 12
Speaking of teams that are deserving of a little more respect, how about Jon Gruden's Las Vegas Raiders? Just when people thought Drew Lock might be good, the Raiders picked him off four times on Sunday on their way to a dominant divisional victory. If they knock off the Chiefs for the second time next week, bank on them shooting up these power rankings.
13. Miami Dolphins
Week 10 Ranking: 13
That's five straight dubs for those of you counting at home. The dolphins continue to roll, and Tua Tagovailoa is now 3-0 as an NFL starter after outplaying fellow rookie quarterback Justin Herbert on Sunday. With their next three games coming against the Denver Broncos, New York Jets, and Cincinnati Bengals, there doesn't seem to be an end to the winning in sight.
14. Arizona Cardinals
Week 10 Ranking: 14
We didn't really learn anything new about the Cardinals this week so much as get previous observations confirmed. Kyler Murray is a real-life video game, Kliff Kingsbury loves to kick field goals, and DeAndre Hopkins is the best wide receiver in football. I'll let the highlight speak for itself.
15. Cleveland Browns
Week 10 Ranking: 16
It's safe to say that Nick Chubb ticked off a lot of people with his decision to go out of bounds and let the Browns kneel out a 10-7 victory. Lost in the shuffle might be the fact that Chubb was phenomenal in his first game back from a knee injury, as was the Browns defense. 30-mph winds weren't the only thing slowing Deshaun Watson down on Sunday.
16. Minnesota Vikings
Week 10 Ranking: 18
It took ten tries, but Kirk Cousins finally notched that elusive Monday Night Football win. The Vikings have now beaten all three of their NFC North divisional foes in consecutive weeks and have a very favorable schedule on the horizon. From 1-5 to playoffs??
17. New England Patriots
Week 10 Ranking: 22
Just when you thought they were dead! The Patriots are one of the biggest risers in the Week 11 NFL power rankings after knocking off the highly regarded Ravens. New England has found a strong offensive identity in a run-heavy approach and Jakobi Meyers has been a revelation for Cam Newton in the passing game.
18. Detroit Lions
Week 10 Ranking: 20
They made an adventure of it as they always do, but the Lions managed to take down the Washington Football Team thanks to a 59-yard bomb for the win by Matt Prater. Rookie tailback D'Andre Swift is proving to be every bit as good as advertised in year one, and the receiving corps continues to tread water in the absence of Kenny Golladay. With winnable games looming, don't count Detroit out just yet.
19. Chicago Bears
Week 10 Ranking: 15
The Bears' offense is borderline unwatchable and may only be getting worse after Nick Foles was carted off in the final minute of Monday's loss. Things don't get any easier either with the Packers on deck. The Bears' fall down the Week 11 NFL power rankings could very well continue.
20. Philadelphia Eagles
Week 10 Ranking: 17
Rather than firmly planting their flag as the team to beat in the NFC East, the Eagles were outclassed on every level by the New York Giants and saw their lead in the division shrink to a mere game and a half. With more playmakers returning from injury, one would think the tide will turn eventually.
21. Carolina Panthers
Week 10 Ranking: 19
It seems like just yesterday that the Panthers were the talk of the town at 3-2. Five consecutive losses later and Carolina is proving to be the young, rebuilding team we had originally thought. Catching Tom Brady in a bad mood doesn't tend to help matters either.
22. San Francisco 49ers
Week 10 Ranking: 21
Despite all of the injury carnage in San Francisco, the 49ers deserve a lot of credit for continuing to show up and play hard. While it wasn't enough against two of the NFC's better teams the last two week's there are still some winnable games remaining for Kyle Shanahan's squad.
23. Atlanta Falcons
Week 10 Ranking: 23
The Falcons will look to prove that their two-game winning streak is no joke as they take on the NFC South-leading Saints on the heels of their bye week. Can they continue their ascent up the Week 11 NFL power rankings?
24. New York Giants
Week 10 Ranking: 28
Well, well, well, would you look at that. Joe Judge once again had the Giants ready to play as they avenged a Thursday night game that they let get away from them and took down the Eagles for their third divisional win of the season. Don't look now but the offensive line is moving defenders and Daniel Jones has played back-to-back turnover-free games.
25. Los Angeles Chargers
Week 10 Ranking: 24
Yet again, the Chargers as a whole are failing to equal the sum of their collective parts. Time is ticking on Anthony Lynn.
26. Houston Texans
Week 10 Ranking: 25
You can't help but feel bad for Deshaun Watson. It's going to be a long road back to relevancy for the Texans in the coming years.
27. Cincinnati Bengals
Week 10 Ranking: 26
Joe Burrow managed to escape Pittsburgh alive, but the steady Steelers pass rush was not kind to the rookie QB. Until the Bengals fix their offensive line woes, they will continue to stay near the bottom of the Week 11 NFL power rankings.
28. Washington Football Team
Week 10 Ranking: 29
Alex Smith is back! The only thing that could've made his 390-yard day a little sweeter was a victory. This Washington defense has looked vulnerable since losing Landon Collins.
29. Denver Broncos
Week 10 Ranking: 27
Drew Lock had fantasy football managers buzzing after a couple of solid outings against the Falcons and Chargers. Enter a defense worth a salt and that flame was quickly extinguished.
30. Dallas Cowboys
Week 10 Ranking: 30
Shoutout to the National Football League for throwing the Cowboys into national viewing spots in each of the next three weeks. The Thanksgiving Day matchup against the Football Team is my personal favorite.
31. Jacksonville Jaguars
Week 10 Ranking: 31
Despite being overwhelmed nearly every week in terms of pure talent, the Jaguars continue to play hard and hang with teams. James Robinson is the bright spot in an otherwise dark season.
32. New York Jets
Week 10 Ranking: 32
The Jets are running out of opportunities to pull in that elusive victory but have another on the horizon in Week 11 when they face the Chargers.
---
More Articles
Greatest NFL Thanksgiving Games of All Time
The Daily Leadoff | FlurrySports' Daily Email Newsletter
Top-25 College Basketball Rankings