At long last, Super Bowl Sunday has arrived! No matter who wins the Super Bowl LVI matchup between the Los Angeles Rams and Cincinnati Bengals, we are guaranteed a fresh NFL champion. Of course, there are all kinds of standard NFL betting options and an endless array of props for this game. They don't call it the biggest sports betting event of the year for nothing. With this in mind, fans are also encouraged to check out the variety NFL DFS picks and Rams vs Bengals props available on Underdog Fantasy.
The following article provides a brief intro to the phenomenal Underdog Fantasy platform and offers up a handful of DFS picks and NFL player props to consider for the Rams vs Bengals Super Bowl showdown.
What is Underdog Fantasy?
Underdog Fantasy might be most known for their live DFS drafts, but they also offer pick'em contests. In essence, making NFL DFS picks on Underdog combines daily fantasy sports and player props into one. Available to those in non-sports betting states, a wide variety of player props exist for tonight's Rams vs Bengals Super Bowl matchup. The more props a user combines together, the greater their potential payout.
Unlike some other platforms in the market, Underdog Fantasy also allows users the flexibility to pick and choose which props they combine together. You can even combine DFS picks from multiple sports and games! When making Underdog Fantasy NFL picks, the only limitations are truly the user's own imagination and creativity.
Underdog Fantasy Pick'em Payout
For the pick'em game format, users string player props together to form a parlay. If one pick is wrong, the entire NFL DFS parlay fails. However, cashing can give a very nice payout, with more picks meaning a higher multiplier.
2 Picks: 3x
3 Picks: 6x
4 Picks: 10x
5 Picks: 20x
2 Picks: 3x
3 Picks: 6x
4 Picks: 10x
5 Picks: 20x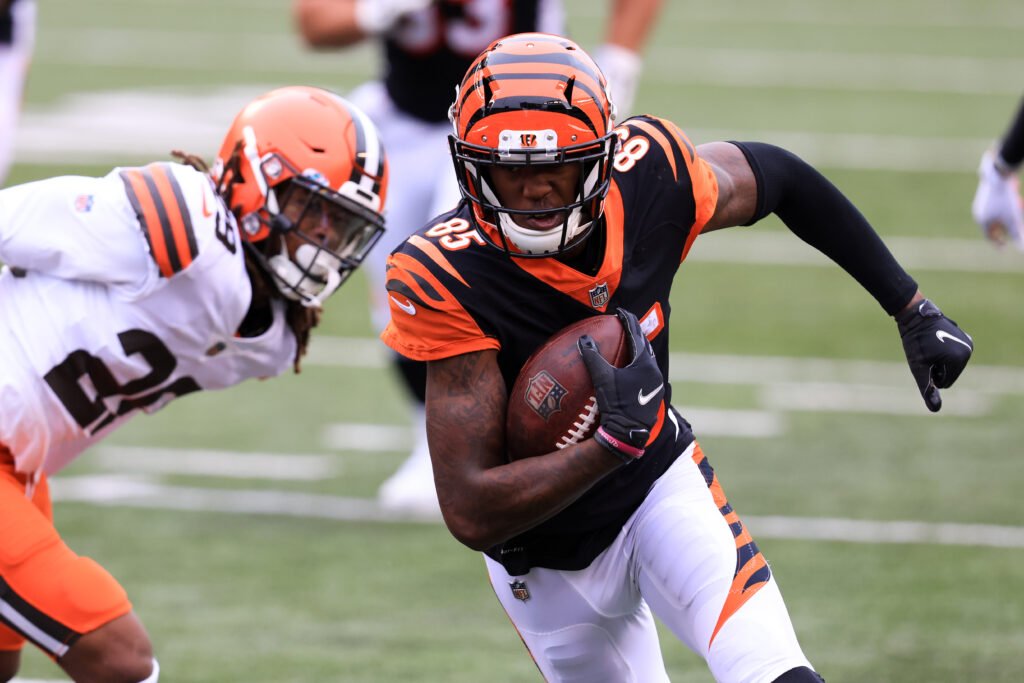 Best Underdog Fantasy NFL DFS Picks | Rams vs Bengals Super Bowl LVI
Much like betting odds move and update throughout the day and week, props at Underdog Fantasy also move. In other words, if there is a prop you like, make sure you place it quickly.
Joe Burrow (CIN) Over 1.0 Passing Yards
The fine folks over at Underdog Fantasy are giving everyone a free Super Bowl Sunday gift. Yes, they are actually offering Joe Burrow over/under 1.0 passing yards as a prop this weekend. Do we really need to analyze this one in-depth? Make sure you lock it in amongst your Super Bowl NFL DFS picks!
Cam Akers (LAR) Under 61.5 Rushing Yards
Speaking of Underdog Fantasy prop lines that are on the move, such is the case for Cam Akers' rushing yards total. With the Rams announcing that fellow RB Darrell Henderson has been cleared from injury and will play in the Super Bowl, Akers' stock has taken a massive hit. Sean McVay has stated that L.A. will ride with whichever ball-carrier has the hot hand. Thus, Akers is almost certainly going to be in a timeshare. Considering his fumble issues throughout the playoffs and the fine play of Henderson during the regular season, he could very well wind up with the minority of touches on Sunday.
Ja'Marr Chase (CIN) Under 6.0 Receptions
While Ja'Marr Chase was just recognized with the NFL Offensive Rookie of the Year Award this week, he faces a tough task in the Super Bowl. Star Rams cornerback Jalen Ramsey will undoubtedly shadow Chase in coverage on the majority of plays. While Ramsey has been prone to giving up a big play now and then, Chase's yardage total is irrelevant when it comes to our NFL DFS picks selection. So long as Ramsey limits his volume of catches as predicted, this under makes for a solid play.
Tee Higgins (CIN) Over 73.5 Receiving Yards
Based on the handicap that the Rams defense will successfully limit Ja'Marr Chase, this means that another Bengals wideout will have to emerge as the preferred target for Joe Burrow. While Tyler Boyd figures to be a short-yardage safety valve, second-year pro Tee Higgins might wind up leading Cincinnati in receiving yardage in the Super Bowl. The NFL DFS picks total of 73.5 is certainly within his reach. Higgins has already made an impact this postseason, going for 96 yards in the Divisional Round and 103 in the AFC title game. Don't sleep on the Bengals' less-heralded young WR stud.
Odell Beckham Jr. (LAR) Over 0.5 Rushing + Receiving Touchdowns
When Odell Beckham Jr. first signed on with the Rams, his first key role was serving as a red zone weapon for Matthew Stafford. Beckham snagged touchdown receptions in five of his first seven games as a Ram. Although that streak has since cooled (Beckham has just one score in the last four games), the 29-year-old has become a bigger part of Los Angeles' passing attack. His 113 yards receiving in the NFC Championship Game was his highest output of the season. The Bengals will have no choice but to key in on Cooper Kupp in the Super Bowl. This will help open the door for Beckham to find the end zone and go over the Underdog Fantasy NFL DFS prop.