Yes, you read that title right. Underdog Fantasy is giving away a free shot at $1 million in their Best Ball Mania II contest! The catch? Free entries into the fantasy football best ball contest ends TODAY! So, we will go over who Underdog Fantasy is, what a best ball contest is and how you can claim your free shot at becoming a millionaire.
What is Underdog Fantasy?
Are you sick of the typical salary cap-based DFS sites? If you are, then Underdog Fantasy could be a breath of fresh air for you. There are two main styles of play that they offer.
Live Drafts
The most popular way to play at Underdog Fantasy is though live drafts. Users join a contest and draft players in a snake draft style with other live users. Athletes are chosen only once, and the user's draft team with the most fantasy points wins that DFS contest. It combines the fun and excitement of your season-long fantasy draft day with the style of DFS. There are live drafts for daily contests, along with weekly, monthly and even full season. They also offer multiple sports, with NBA, MLB, NHL and even NFL being the most popular right now.
For the $1M Best Ball Mania II contest, it is a live draft, with users competing all NFL season to become Underdog Fantasy's newest millionaire.
Pick'em
Underdog Fantasy also has a pick'em style of play. For this, users compete only with themselves, selecting the side of the over/under prop they believe to be correct. Users can choose up to five props in a single entry, and it can span across multiple sports. Getting all five correct earns the user 20x their entry fee! Choosing less props leads to a smaller payout, but unlike other related DFS sites where you're locked into a specific prop (ahem…Monkey Knife Fight), Underdog Fantasy gives you a big list, and you pick and choose what you are most confident in. This is a big advantage over other sites.
What is Best Ball Fantasy Football?
If you have never heard of best ball fantasy football, let's get you up to speed so you can take down this million dollar contest (remember me when you win 🙂). In the most simple terms possible, best ball fantasy leagues are when you draft a big group of players, and that is your locked team for the entire season. Your top-scoring players every week at each starting position are counted. So, for example, if Patrick Mahomes scores 26 and Aaron Rodgers scores 27, Rodgers' 27 points will be counted in your quarterback spot, and it is as if you benched Mahomes.
Simple, right?
There are specific strategies involved to better your chance at winning. We at FlurrySports will go over some strategies and useful information for you throughout this month. For now, you will simply want to reserve your spot in the $1M Best Ball Mania II contest. We'll give you the tools to win in another article.
---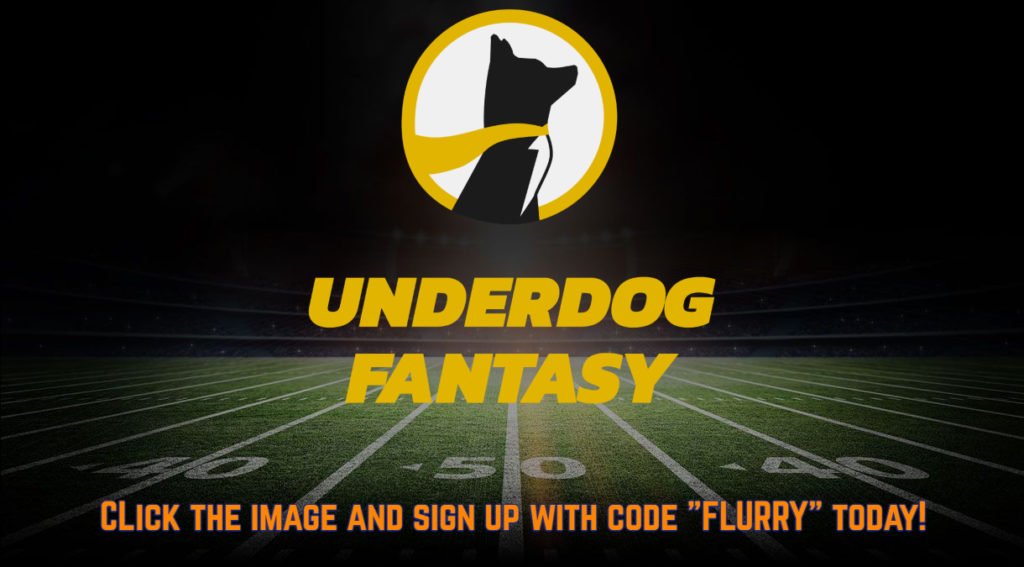 Underdog Fantasy is a new type of DFS that combines the fun of season-long drafts with daily fantasy sports. Aside from their fun, addictive draft mode, Underdog Fantasy also has pick'em player props for many different sports and athletes!
Click the image or RIGHT HERE to get signed up today, and don't forget to use the promo code FLURRY for a FREE $10 bonus on your first deposit!
---
How Do I Claim Free Shot at $1M From Underdog Fantasy?
Oh yes, this is the million dollar question…literally. Luckily, Underdog Fantasy isn't going to give you a million hoops (one for each dollar) to jump through to claim your free shot at becoming a millionaire and making a generous donation to the author of this article. Let's break it down into a few each steps.
Step 1: Click here to start the process, taking you to the Underdog Fantasy site. Once you're there, click the green "Sign Up" button in the middle of the screen.
Step 2: Enter the sign-up information they are looking for, including your email address, username and a password. Make sure you like the username you pick, because you can't change it later on.
Step 3: Enter promo code FLURRY before hitting "Sign Up" to ensure you claim your promo bonus!
Step 4: All that's left to do is enter a contest!
Best of luck in your DFS contests on Underdog Fantasy! If you're looking to hop into some live drafts, feel free to Tweet at me.