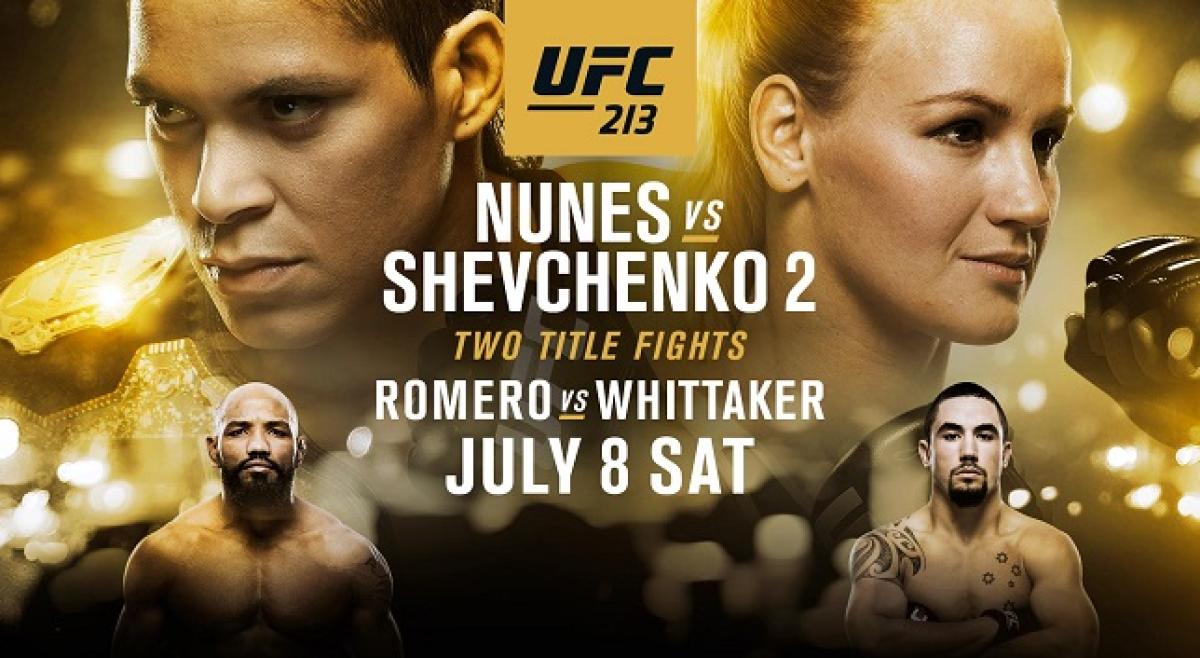 UFC 213 is expected to be a night full of triumphant victories, crushing defeats and historic matchups.
Headlining this dual title card is the UFC Women's Bantamweight Championship bout between current champion Amanda Nunes and multiple Muay Thai World Champion Valentina Shevchenko.
This is the second meeting of the pair after UFC 196 in March 2016 when Nunes won via unanimous decision. Nunes has since gained notoriety for her first round knockout of UFC legend Ronda Rousey at UFC 207.
Expect this to be an electric fight as both fighters try to distinguish themselves in the new, post-Ronda Rousey women's UFC. Nunes comes to the fight with a black belt in Brazilian Jiu Jitsu combined with a strong stand up game as 10 of her 14 wins have come via knockout.
Shevchenko holds a 56-2 professional kickboxing record, previously defeating current UFC Women's Straweight Champion Joanna Jedrzejczyk in Muay Thai. She has a dangerous standup and clinch game and has accumulated a 14-2 record with one of her two losses to Nunes.
Originally, this card featured the men's UFC Bantamweight Championship bout between current Champion Cody Garbrandt and former champion T.J Dillashaw on May 23rd, however, Garbrandt withdrew due to a back injury.
This much anticipated fight comes after Garbrandt's surprise victory over future UFC Hall of Famer Dominick Cruz. Dillashaw and Garbrandt served as coaches on the most recent season of The Ultimate Fighter. This, coupled with the highly publicized falling out of Dillashaw with Uriah Faber's Team Alpha Male, Garbrandt's training team, posed a legendary fight.
Now, UFC 213 sports the interim UFC Middleweight Championship bout between #1 contender and 2000 Olympic silver medalist in freestyle wrestling Yoel Romero and The Ultimate Fighter: The Smashes winner and #3 ranked challenger Robert Whittaker.
The matchup comes as current Middleweight Champion Michael Bisping recovers from knee surgery after failing to book a fight against UFC legend George St. Pierre in his return to the UFC.
Also on the main card was supposed to be Welterweight matchup between former champion and #3 Welterweight contender Robbie Lawler and #7 Welterweight contender Donald Cerrone.  However, Cerrone developed a blood infection and the fight will likely move to UFC 214 later in the month.
In another important main card matchup, former UFC Heavyweight Champion and #1 contender Fabrico Werdum and #3 contender Alistar Overeem will go at it. This will be the third time the fighters have faced each other, and the winner will likely face current UFC Heavyweight Champion Stipe Miocic for the title.
Rounding out the main card is a Lightweight bout between #6 contender and for UFC Lightweight Champion Anthony Pettis and Jim Miller. Pettis has lost 4 of his last 5 fights and looks to rekindle his career with this fight.
In the preliminary card, fans will see a Welterweight matchups between Jordan Mein and Belal Muhammad as well as between Chad Laprise and Brian Camozzi. There is also Heavyweight bouts between #9 contender Travis Browne and #14 Aleksei "The Boa Constrictor" Oleinik and #15 contender Daniel Omielanczuk and Curtis Blaydes.
The early preliminary matchups will be comprised of a Bantamweight bout between Rob Font and Douglas Silba de Andrade and a Middleweight bout between Thiago Santos and Gerald Meerschaert.
Fans can view the early preliminary bouts on UFC Fight Pass starting at 7PM ET/4PM PT and the prelims on FS1 at 8PM ET/5PM PT. The main card will be on pay-per-view starting at 10PM ET/7PM PT.