The eighth NFL Sunday of the season was undoubtedly the wildest yet. To help put things in perspective, consider that each of Mike White, Trevor Siemian, Geno Smith and Cooper Rush led their respective teams to victory. Underdogs were practically unstoppable at the NFL betting window and the same can be said for fantasy football. While plenty of big-name stars delivered fruitful performances, there were also a bunch of surprise names at or near the top of the scoreboard in Week 8.
Let's take a look at the top fantasy football performances from Week 8 of the NFL season across each position. This week's notable top fantasy performers include Michael Carter, A.J. Brown, Elijah Mitchell and Josh Allen.
Top Week 8 Fantasy Football Performances | RB
Michael Carter | New York Jets
Stat Line: 15 carries, 77 yards, 1 touchdown; 9 receptions, 95 yards
PPR Fantasy Points: 32.2 (RB1)
Everything about the Jets' performance in a stunning home win over the Cincinnati Bengals was remarkable. From a fantasy football standpoint, rookie running back Michael Carter stole the show. The North Carolina product compiled over 170 total yards and found the end zone for the third time in the last four games. All told, it amounted to 32.2 fantasy points, good for an RB1 finish in PPR formats. Carter's ability to contribute both as a rusher and receiver make him an intriguing fantasy candidate.
While banking on the Jets' offense on a weekly basis won't be easy, Carter should clearly be rostered going forward. One other potential hindrance to Carter's fantasy football value is the team's continued use of fellow RB, Ty Johnson. Carter again stole the headlines in fantasy this week, but Johnson quietly turned in 19.6 PPR points of his own, a total good enough to finish as RB9 on the week. Be wary of trusting Carter full-sell in future weeks.
Joe Mixon | Cincinnati Bengals
Stat Line: 14 carries, 33 yards, 1 touchdown; 4 receptions, 58 yards, 1 touchdown
PPR Fantasy Points: 25.1 (RB2)
Oddly enough, the RB2 in Week 8 also took part in the wild Bengals vs Jets matchup. Joe Mixon is definitely the running back from this game that most fantasy football managers would expect to see near the top of the scoring heap. While he only had 33 yards rushing on 14 carries, Mixon made an impact in the passing game as well. He caught four passes for 58 yards and finished with a pair of touchdowns, one in each phase of the game. Mixon is now the RB9 on the season in PPR scoring. While rookie wideout Ja'Marr Chase has garnered most of the headlines, Mixon is quietly turning in another solid season behind a poor offensive line.
Elijah Mitchell | San Francisco 49ers
Stat Line: 18 carries, 137 yards, 1 touchdown
PPR Fantasy Points: 19.7 (RB8)
While a lack of involvement in the passing game hindered his fantasy football upside, it was still an extremely impressive Week 8 performance for Elijah Mitchell. The rookie out of Louisiana actually led the NFL in rushing on Sunday, finishing with 137 yards on 18 carries. For those keeping track at home, that equates to a whopping 7.6 yards per carry. The fact that he posted those numbers against a pretty stout Chicago Bears defensive front adds to the intrigue. Mitchell scored a touchdown as well to finish as the RB8 in PPR formats despite not catching a single pass.
Top Week 8 Fantasy Football Performances | WR
A.J. Brown | Tennessee Titans
Stat Line: 10 receptions, 155 yards, 1 touchdown
PPR Fantasy Points: 31.5 (WR1)
The Titans have been relying so heavily on Derrick Henry this season that it's quite conceivable that some fantasy football managers forgot about A.J. Brown. After missing time earlier in the year with an injury, Brown put his stamp all over yet another clutch Tennessee win on Sunday. He finished with 155 yards receiving and a score on 10 receptions. That equated to a WR1 performance in PPR scoring with 31.5 fantasy points. Brown notched that line without running mate Julio Jones across from him. The latter remained sidelined by a nagging hamstring injury. This is a great sign for both the Titans and fantasy managers moving forward.
Michael Pittman Jr. | Indianapolis Colts
Stat Line: 10 receptions, 86 yards, 2 touchdowns
PPR Fantasy Points: 30.6 (WR2)
Much like this week's top running backs, each of the top two fantasy football wide receivers both hail from the same game. Michael Pittman Jr. may have been on the losing side of Sunday's Titans vs Colts divisional battle, but he still rewarded fantasy managers in a big way. With T.Y. Hilton getting knocked out of the game, Pittman stepped up to lead an undermanned Colts receiving corps. He finished with double-digit receptions and a pair of touchdowns, eclipsing the 30-fantasy points threshold for the first time this season. Many have been waiting on Pittman to live up to the hype that surrounded him upon entering the NFL last season. In his second year, we are now starting to see just what he is capable of.
Tyler Lockett | Seattle Seahawks
Stat Line: 12 receptions, 142 yards
PPR Fantasy Points: 26.2 (WR5)
So much for fading all Seahawks pass-catchers without Russell Wilson! It was a major outing for all involved in Seattle's blowout win over the Jacksonville Jaguars on Sunday. After five straight weeks of producing no more than 10.7 fantasy points, Tyler Lockett busted out in a big way in Week 8. The speedster finished with 142 yards receiving on 12 receptions, good for 26.2 PPR points and a top-five receiver ranking on the week. Lockett continues to be the absolute definition of a boom-or-bust player. While he has the potential to explode on any given Sunday, he is next to impossible to trust on a weekly basis.
It should be noted that Lockett wasn't the only wideout to do damage on Sunday. Teammate DK Metcalf also turned in a top performance, albeit in a very different fashion. While Lockett amassed his fantasy football points via double-digit receptions and over 100 yards, Metcalf was the red zone threat for Seattle. He hauled in six catches for 43 total yards and a pair of touchdowns. Metcalf finished as the WR8 on the week in PPR scoring with 22.3 fantasy points. Say what you want about Geno Smith, but he clearly had his way with the Jaguars defense.
Top Week 8 Fantasy Football Performances | TE
T.J. Hockenson | Detroit Lions
Stat Line: 10 receptions, 89 yards
PPR Fantasy Points: 24.1 (TE1)
Despite swaths of public bettors backing them to get their first win, the Lions forgot to show up on Sunday in a blowout home loss to the Philadelphia Eagles. Amidst all of the losing and misery in Motown, tight end T.J. Hockenson continues to provide steady production for fantasy football managers. Week 8 saw him catch 10 passes for 89 yards. In a low-scoring week for the TE position, that line was enough for Hockenson to finish as the TE1. He was easily the Lions' top receiver and will continue to have a role in this offense moving forward, even if it has to come in garbage time.
Dan Arnold | Jacksonville Jaguars
Stat Line: 8 receptions, 68 yards
PPR Fantasy Points: 14.8 (TE2)
The TE2 in PPR leagues this week was also on the wrong end of a blowout loss. Dan Arnold appears to be locked into a relatively stable fantasy football role for the remainder of the season. The trade that sent him from the Carolina Panthers to the Jaguars roughly a month ago flew heavily under the radar across much of the industry. Not here at FlurrySports, however, where we broke down why Arnold is a legitimate fantasy option in both written and video form. Sure enough, he was peppered with targets again in Sunday's loss. 68 yards on eight receptions is solid production at tight end just about any week for most managers. If Arnold is available in your league, make sure that changes ahead of Week 9.
Top Week 8 Fantasy Football Performances | QB
Josh Allen | Buffalo Bills
Stat Line: 29/42 passing, 249 yards, 2 touchdowns; 8 carries, 55 yards, 1 touchdown
PPR Fantasy Points: 29.46 (QB1)
For as bad as the Bills looked on offense in the first half of their Week 8 matchup, it's quite incredible that Josh Allen was able to rally and finish as the fantasy football QB1. Of course, Allen's rushing ability cannot be overlooked. He led all Bills players with 55 yards on the ground and punctuated the effort with a late rushing score to boost up his fantasy line. Allen was also solid through the air, passing for 249 yards and a pair of scores. The fact that he finished with nearly 30 fantasy points on a day that Buffalo was nowhere near their best speaks to just how high his floor is on a weekly basis.
Mike White | New York Jets
Stat Line: 37/45 passing, 405 yards, 3 touchdowns, 2 interceptions; 5 carries, -1 yard; 2-point conversion reception
PPR Fantasy Points: 26.10 (QB3)
Little-known Mike White took the entire NFL world by storm on Sunday. Making his first career start, White did more than lead the Jets to a stunning upset over the Cincinnati Bengals as double-digit underdogs. He also turned in a ridiculous fantasy football stat line for the few managers who might have actually started him. White led all NFL quarterbacks in Week 8 with 405 passing yards. He threw for three touchdowns and even caught a 2-point conversion following what proved to be the game-winning touchdown drive. If not for a pair of INTs, White would have been the top fantasy football QB too!
I do also want to at least acknowledge San Francisco 49ers signal-caller, Jimmy Garoppolo. If not for the incredible story that is Mike White, Garoppolo would be featured in this spot after finishing as the fantasy football QB2 in Week 8. He played a phenomenal game against the Chicago Bears, throwing for over 320 yards and also rushing for a pair of scores. Twitter needs to stop with the Trey Lance crap effective immediately. Garoppolo remains a possible streamer candidate depending on matchups in fantasy.
Top Week 8 Fantasy Football Performances | D/ST
Philadelphia Eagles
Stat Line: 6 sacks, 1 fumble recovery, 6 points scored; 228 yards allowed, 6 points allowed
PPR Fantasy Points: 21.0 (D/ST1)
The Eagles' defense has received a lot of criticism this season. It some cases, it has been warranted. The unit is not what it once was and is particularly void of talent in the secondary. Yet, Philadelphia dominated the line of scrimmage in a 44-6 throttling of the trendy underdog Detroit Lions on Sunday. Josh Sweat recorded two of the team's six sacks and Darius Slay returned a fumble 33 yards for a touchdown to highlight a splendid performance. Along with the huge road win, the Eagles were by far the top fantasy football defense in Week 8 finishing with 21 points.
Top Week 8 Fantasy Football Performances | K
Zane Gonzalez | Carolina Panthers
Stat Line: 1-1 PAT; 4-4 FG, 2 from 20-29, 2 from 50+
PPR Fantasy Points: 17.0 (K1)
The Panthers successfully snapped a four-game slide with a big road win over the division-rival Atlanta Falcons on Sunday. Zane Gonzalez proved to be a key element in Carolina's victory. Only one Panthers' drive was successfully capped by a touchdown. Yet, Gonzalez rose to the challenge and converted all four of his field goal attempts in the win. Two of them came from beyond 50 yards as well. Add in a successful PAT and he was the top kicker of the week with a whopping 17 fantasy points.
---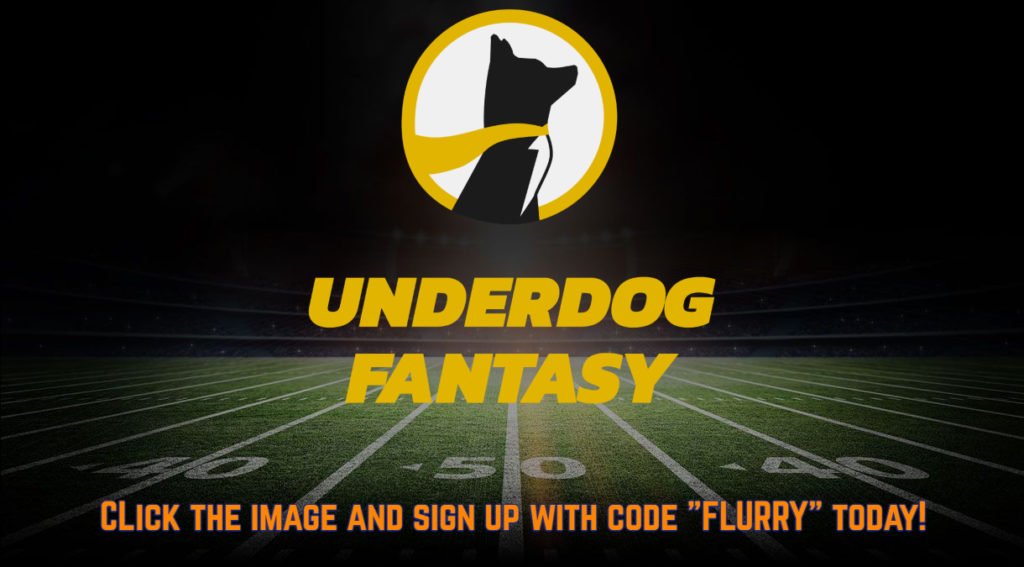 Underdog Fantasy is a new type of DFS that combines the fun of season-long drafts with daily fantasy sports. Aside from their fun, addictive draft mode, Underdog Fantasy also has pick'em player props for many different sports and athletes!
Click the image or RIGHT HERE to get signed up today, and don't forget to use the promo code FLURRY for a FREE $10 bonus on your first deposit!
---