With the NFL Draft now in the books, teams by this point should feel confident in their teams. Whether they are looking to contend or just be able to field a team that can be used to tank, rosters should be mostly set for needs. However, there will likely still be some teams scrambling that either didn't fill their need or aren't confident in the depth at certain positions. With the ongoing Aaron Rodgers saga, a lot of attention is being paid to free agent wide receivers who can help out quarterbacks.
While wide receivers aren't the most important position in football, they can help keep their quarterback happy. The position can also make the passer's job much easier, which is why it's so important to have depth in case some go down with injuries.
While there aren't many left, there are still some good options still on the board. Here are the top free agent wide receivers still available.

Top Free Agent Wide Receivers Still Available
Golden Tate
Golden Tate's resume needs no defending, as he has posted three seasons with over 1,000 receiving yards. Although that may seem like a long time ago, the most recent instance was only in 2017. When you take into account his last stops have been with the Eagles, Lions and Giants, it's no wonder why he couldn't replicate another season with the same success.
While he is 32 years old, he rarely drops the ball and is a solid secondary target. Questions will be asked about his maturity, as his frustrations with the New York Giants last year were well documented. After making a leaping touchdown catch, he was caught saying "throw me the ball" on tape, which lead to his benching for the next week. Much of that can likely be attributed to playing for a horrible team with bad play at quarterback. He wants to play and he wants to win. More importantly, Tate deserves a chance to showcase his abilities.
Larry Fitzgerald
What can't be said about Larry Fitzgerald? The future first ballot Hall of Fame player has more tackles than drops and has been consistently solid his entire career. While his career has been on a steady decline due to his increasing age, he's still a big target that is as sure of a receiver as they come. Fitzgerald certainly couldn't be much more than a secondary or tertiary option, but he's still a solid find and even played a decent role for the Cardinals this past season.
The only problem with Fitzgerald is unless you're the Cardinals, good luck signing him. He has made it well known that he would only come back to play for the Cardinals, and it's tough to blame him. He's been with the franchise since he was drafted third overall in the 2004 NFL Draft, and Arizona clearly holds a special place in his heart. He would be a heck of a get though, and NFL fans everywhere would sure love to see Larry Legend finally get that elusive Lombardi Trophy.
Dez Bryant
Dez didn't catch it, at least according to the rules and how they were explicitly stated. Now that's out of the way, let's talk about the player. No matter what you think of him as a person or personality, there is no doubt that Dez Bryant is a competitor. Bryant, at his prime, was one of the most feared receivers in the league. While Dez is far from his prime, he still has some gas left in the tank. He is only 33 years old and coming off of a disappointing season with the Baltimore Ravens. Dez caught six receptions for 47 yards and two touchdowns. While that's far from production fans want from a prospective wide receiver, it's worth noting that production was with Lamar Jackson as his quarterback.
It's tough to believe, but the former Cowboy would be a good guy in the locker room too. Not only does he want to win at all costs, he is willing to give everything to keep playing. He has made it known multiple times how much he wants and loves to play, and Dez would also be able to help the other young receivers on his prospective team improve as well.
---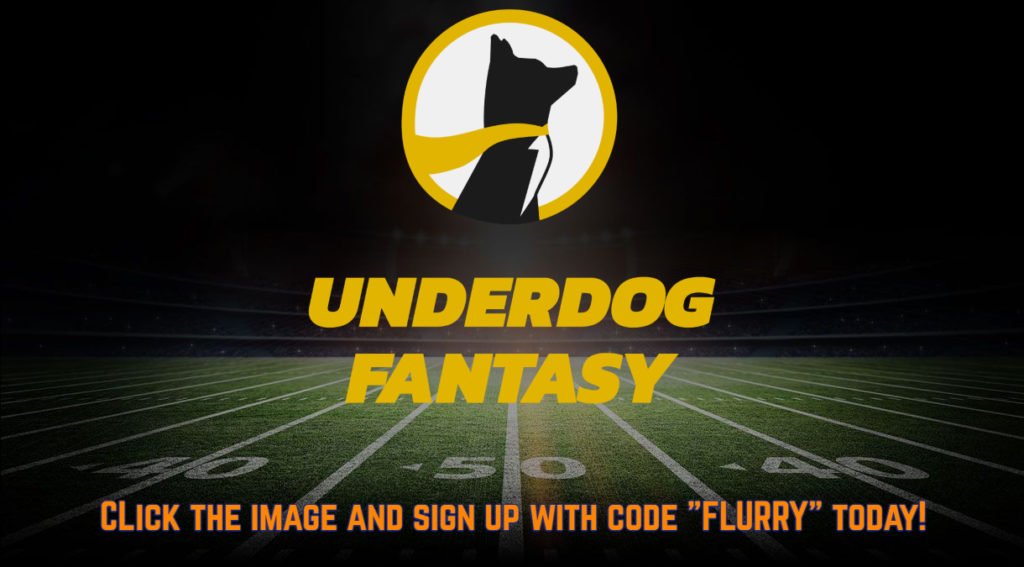 Underdog Fantasy is a new type of DFS that combines the fun of season-long drafts with daily fantasy sports. Aside from their fun, addictive draft mode, Underdog Fantasy also has pick'em player props for many different sports and athletes!
Click the image or RIGHT HERE to get signed up today, and don't forget to use the promo code FLURRY!
---
Marvin Hall
If you haven't heard of Marvin Hall before right now, you likely aren't alone. Hall has bounced around to three teams in a short four-year career. His only season over 300 receiving yards was 2020, when he caught 18 passes for 302 yards and two touchdowns. While those stats certainly aren't pleasing to the eyes, he has had a QB rating of 96 or higher when targeted each of his four seasons. When you take into account he's played for the Falcons, Lions and Browns, that's pretty impressive.
The most alluring part of Hall's game is his blazing speed. While Pro Day 40 times are always going to be questioned as to whether or not they are 100% accurate, it doesn't take away from the fact that he ran a 4.28. He hasn't had much success as a special teams returner, but that speed translates without question. Even if he doesn't make it as a returner for a team, his blazing speed is worth a cheap contract for his ability to take the top off of the defense on every play.
Alex Erickson
Arguably one of the most underappreciated wide receivers in recent years has been Alex Erickson. Not only has he flashed his abilities as a returner for both kicks and punts, he is also a reliable wide receiver as well. In 2019, he only started 6-of-16 games, and he still had over 500 receiving yards and had a drop rate of just 2.6%. While those numbers alone certainly aren't special, he has played for Cincinnati Bengals for his entire career. Being average in a mediocrity-ridden franchise like the Bengals is impressive in itself.
Erickson is far from a great or even a good receiver. However, at this point in free agency, it is nearly impossible to find anyone without some major flaws or red flags. While Erickson has never been flashy or stood out, his ability to play a good role in the passing and return game shouldn't be undervalued. He could be a sneaky good third or fourth receiver and would provide some much-needed depth for more than a few teams.