This year was a mixed bag for professional wrestling. We saw wrestling return to crowded arenas and also saw the birth of an honest-to-goodness two-horse race for the biggest American wrestling promotion, with AEW truly coming into its own. And while the WWE certainly gave us more to groan about than their upstart counterparts (I'm looking at you, Zombie Match), Vince McMahon's empire continued to pump out quality matches throughout the year as well.
So, the top 10 wrestling matches from AEW and WWE this year was quite a tough list to make. Wrestling gave us all plenty to enjoy through the good and bad of 2021.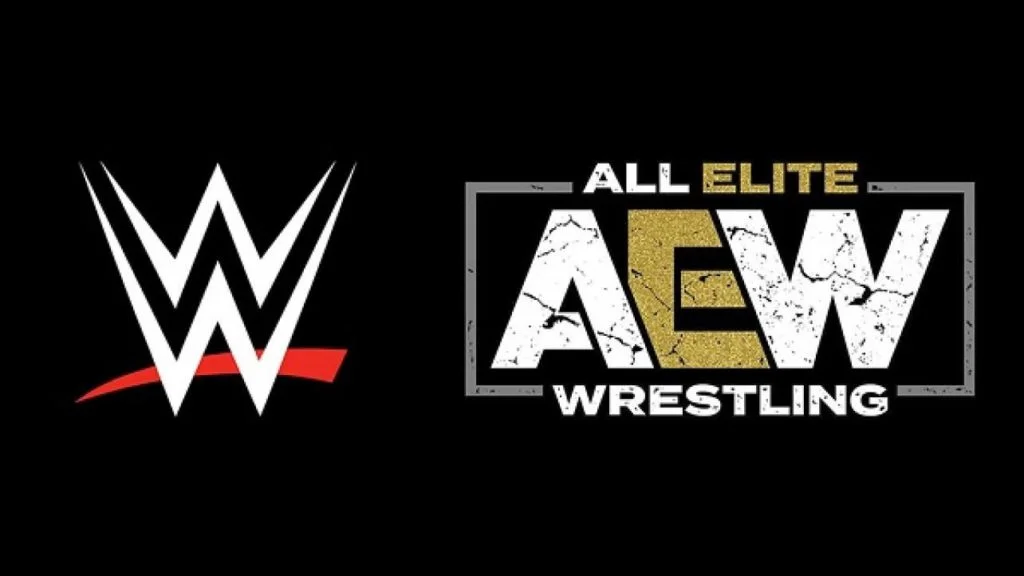 Top 10 AEW and WWE Matches of 2021
10: Eddie Kingston & Jon Moxley vs. The Young Bucks for the AEW Tag Team Championships (AEW Double or Nothing)
Rating: 4.25 out of 5
Though not a great year for classic tag team affairs, the best one in my opinion had to beat out some very honorable mentions for the #10 spot. Perhaps you preferred the Young Bucks vs. the Lucha Bros later in the year, but for me, it had to go to this grudge match.
I loved how personal Eddie Kingston & Moxley made this encounter feel, and in terms of sucking me into a match, this tag match took the cake for me. A perfect mix of too badass babyfaces taking all the punishment the slimy heels could deliver created a match that had you bought in from the get-go. Yes, I do think the Bucks should have dropped the titles here, but that's probably a testament to how badly Kingston and Mox made me root for them here.
9: PAC vs. Orange Cassidy vs. Kenny Omega for the AEW World Championship (AEW Double or Nothing)
Rating: 4.5 out of 5
In a banner year for AEW, I'm afraid this title match for Kenny Omega's World Championship is going to get lost in the shuffle. Yes, the classics of Danielson are going to make an appearance on this list, and so will Omega again, but I hope people remember how fun this triple threat was. Really, the only thing dragging this match down was the lack of stakes, as it seemed certain Omega would retain, but even that disappears as these three guys cause you to suspend your disbelief.
This match is carnage from start to finish, with near spots all over, and the desperation of both PAC and Cassidy were so welcome in contrast to Omega's literal last-ditch efforts to retain the title. But what you might forget if you focus too much on the clear matches Omega still had ahead of him is how these three guys blended together. No thrown-together stories here, as PAC represented the first real step into Omega's realization that he wasn't getting the job done at the beginning of AEW, while PAC and Cassidy had their own shared feud to draw from as well. A real sleeper hit that deserves more love.
See full match here: https://www.youtube.com/watch?v=egmSQ_B48UU
#8: Bianca Belair vs. Sasha Banks for the WWE Smackdown Women's Championship (WWE Wrestlemania)
Rating: 4.5 out of 5
Almost the best women's match of 2021. And if you can put some blinders on to where the booking went after this, it may be among the best feel-good moments in all of wrestling this year. Belair dethroning her idol in an emotional barn burner in front of the first traces of a real crowd setting came across as a love letter to fans, and it should be remembered as an all-time Wrestlemania moment. Any Sasha Banks match is sure to impress, and these two proved to be iconic rivals who truly brought out each other's best. I never thought a hair whip spot would make me teary-eyed, but these two proved me wrong in spectacular fashion.
See highlights here: https://www.youtube.com/watch?v=EAaA3Ke7h5s
7: Eddie Kingston vs. CM Punk (AEW Full Gear)
Rating: 4.5 out of 5
How could a top-10 list not include the return of CM Punk to professional wrestling after seven years? AEW made every second Punk was on screen a legendary moment, but when it comes to matches it has to be the one encounter that made fans boo Punk at times that took the cake.
Eddie Kingston is the best promo in all of wrestling, and if you haven't seen his promo warfare with Punk, then what are you doing here? The story in this match came across loud and clear, as Kingston was out to prove his place in wrestling to the guy who was made a hero of the sport even though he left it. It takes work to really get the crowd split in a match, even more so when one of those guys is the recently returned most popular wrestler on the planet. I also think. in-ring-wise. this was the best Punk has looked so far, and really I think the only shame here is that this match hasn't been revisited yet.
See highlights here: https://www.youtube.com/watch?v=nblcLda17Jg
6: Adam Cole vs Kyle O'Reilly (NXT Takeover: Stand and Deliver)
Rating: 4.75 out of 5
I understand if how the NXT careers of these two former Undisputed Era brothers left a sour taste in your mouth, but go back and rewatch this match. Yes, this feud should have been better. And yes, it should have been shorter. But this clash was a straight-up blood bath.
An unsanctioned match that was part opera and part wrestling, and somehow managed to capture the emotion of an almost decade-long story between these two. The moment where they sit across from each other and trade shots leaves me looking through my fingers every time, and more importantly, it made both men feel like killers. I do think the false finishes were high in quantity, but if any match deserved it, it was this one. I'm telling you, if you can watch this match in a vacuum separate from your gripes with NXT, or WWE, or even this feud, you will be shocked at how near-perfect this blow-off match was.
5: "Hangman" Adam Page vs. Kenny Omega (AEW Full Gear)
Rating: 4.75 out of 5
The best storyline in all of wrestling for the last two years gave us the best moment in either AEW or WWE in 2021. Page hoisting the belt before turning down a beer to hug his homies of the Dark Order will always over-shine this match, but that doesn't mean the action didn't keep up. Hangman winning the belt was all every fan wanted, and so every near fall and big move here produce heart palpitations. I don't think I've ever lived through a wrestling roller coaster like Page slipping out of the One-Winged Angel, only to hit his own, only for Omega to kick out as I went from dread to joy to uncertainty once again.
And how could you not get teary-eyed as the Young Bucks nodded as Hangman finally buried his demons and claimed the gold? It may not be the best match this year, but it is certainly the one that deserves every fan's love. Cowboy shit indeed.
4: Thunder Rosa vs. Britt Baker (AEW St. Patrick Day's Slam)
Rating: 4.75 out of 5
The best women's match of the year, and honestly, I can't tell if the only reason it's not higher for me is that they never did anything else in this feud now that Baker is the AEW Women's Champion. Trying to put that aside, this match wasn't for any big belt, it was just two stars determined to hurt the other badly in this Lights Out affair in order to prove they were the best.
Some of the spots in this match were so brutal that they made me pause while watching just to rub my own back in sympathy pain with Baker and Rosa. Through the brutality of it all, Baker and Rosa also showed a mastery of technical skill and crowd work that rivals any main event of any pay-per-view this year. Add in a victory for Rosa, which felt earned while also propelling Baker forward as a superstar, and you have a near-perfect encounter that needs to be revisited ASAP, just with a bit more at stake this time.
See full match here: https://www.youtube.com/watch?v=5ry9gTzbMgk
#3: Daniel Bryan vs. Edge vs. Roman Reigns for the WWE Universal Championship (Wrestlemania)
Rating: 5 out of 5
I have three matches I honestly think could be the best this year, and are in their own ways perfect. The biggest blockbuster match this year has to be this triple threat main event to Wrestlemania, where every man involved honestly felt like they could leave with the strap.
As omnipresent as Roman Reigns feels now, it's hard to remember how in jeopardy his title reign felt with Edge coming off his Royal Rumble win and Bryan making what would end up as his final run in the company. Those stakes played perfectly into the match, as three men who will be remembered among the best to ever do it took turns delivering all-time moments and producing cinema levels of drama.
Ultimately, the bad blood between Edge and Bryan was just enough for the Head of the Table to pin both f'n guys for the gold. In terms of momentous feeling and Shakespeare-level drama, this match might just be the best of the year.
2: Bryan Danielson vs. Kenny Omega (AEW Grand Slam)
Rating: 5 out of 5
Boy, that Danielson guy looks just like Daniel Bryan. If you're a fan of indy-style, sports-imitating action in your wrestling, then you are fuming this isn't my match of the year. A dream match unlike any other this year, two men who were the best in the world passing each other in the night for years finally got to dance in AEW, and this match truly sold itself.
Omega was in another feud, and Danielson had just arrived, but that didn't stop these two from absolutely blowing open the wrestling world with the greatest draw of all time. Yes, the lack of a conclusive winner left the door open, but it was almost better here because it completed the story of Omega being unable to prove he was better than Danielson, and Danielson showing just how dangerous he is and could become in AEW.
For me, the fact this felt like an opening chapter and that wasn't the decisive bout I'm sure these two will have down the line was enough for it to land at two. If you think I'm an idiot, I'll understand because that's how good this was.
See highlights here: https://www.youtube.com/watch?v=m9hljzeJfwE
1: Ilja Dragunov vs. WALTER for the NXT United Kingdom Championship (NXT Takeover: 36)
Rating: 5 out of 5
C'mon! This match was absolutely bonkers, and if it was on Wrestlemania or any AEW show, every wrestling nerd would have gotten Dragunov's scary, scary eyes tattooed on their chests. In the year where NXT ceased being the NXT we all cherished, don't forget they put on perhaps the best match the black and gold brand ever saw. While the previous two matches were perfect in their own ways, this is the only one I can say felt like a once-in-a-lifetime event.
The build of their first encounter in 2020 built the stakes for this match, and WALTER is as close to an Andre the Giant or Hulk Hogan level monster to topple 2021 had. WALTER is a tank with the world's biggest hands, and what story did they choose to tell here? By the end, he was afraid of the little Russian demon. In their first match, WALTER survived Dragunov. This time around, they somehow managed to turn the most imposing wrestler on the planet into the one struggling to cling to victory. Seriously, stop what you're doing and go look up Dragunov picking up this polar bear with a rear-naked choke. This match is perfect and, for me, is the best match 2021 had to offer.