Today in sports history (1999), John Elway rode off into the sunset, winning the last game of his career. To the delight of Denver Broncos fans, this happened to be Super Bowl XXXIII.
The victory over the Atlanta Falcons gave the Broncos their second straight Super Bowl victory. Atlanta came into the Super Bowl on the back of Vikings' Gary Anderson missing the game-winning kick in the NFC Championship.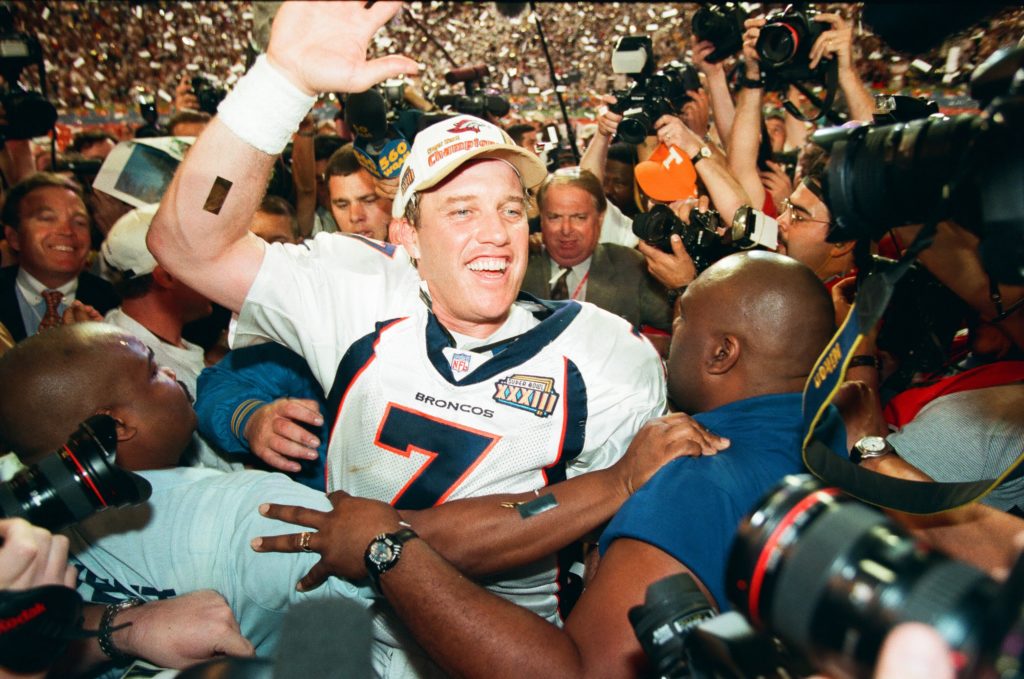 Denver Broncos Build an Early Lead
The Atlanta Falcons opened the game and immediately marched down the field. The drive stalled after a Bill Romanowski sack on fourth down forced the Falcons to kick a field goal. Denver responded by marching the team down the field to score. The drive went 80 yards and was fueled by a Rod Smith 41-yard completion and two Shannon Sharpe catches. The Broncos eventually scored with a Howard Griffith one-yard rushing touchdown.
After forcing a punt, Elway threw a pass that bounced off of Sharpe and was intercepted. The Falcons took over to start the second quarter. On their drive, Denver stuffed Atlanta on a fourth and short. On the backs of Smith and Terrell Davis, the Broncos marched down to add another three points, going up 10-3.
Atlanta once again drove all the way down for a field goal. The kick sailed wide right and the Broncos took over. Elway immediately connected with Smith to score an 80-yard touchdown. Atlanta again marched their way down the field and hit a field goal to cut the lead to 17-6 going into halftime.
John Elway Rides Off into the Sunset After Super Bowl XXXIII
Denver opened the half by marching all of the way down the field. The drive stalled though, as Jason Elam missed a field goal. Chris Chandler led a march for the Falcons, but the drive ended after he threw an interception. Denver once again found themselves in field goal territory and once again Elam missed. The Falcons again marched down the field, but Chandler was once again intercepted in Broncos territory.
Griffith started the fourth quarter scoring his second touchdown of the game. Chandler threw yet another interception on Atlanta's next drive. A 39-yard reception from Davis set up a three-yard Elway rushing touchdown.
Atlanta showed life, as they returned the ensuing kickoff for a touchdown to cut the lead to 31-13. The Broncos recovered an onside kick attempt and marched to add another field goal. The Falcons finally capitalized on a drive, scoring a three-yard touchdown with 2:04 left. Another failed onside attempt led to the Broncos failing on fourth down. Atlanta took over with 1:34 left in the game.
On the ensuing drive, Jamal Anderson fumbled and the Broncos recovered. They then ran the clock out to win Super Bowl XXXIII and Elway shortly retired, going out on top.