This past week in WWE had more than its share of good matches and moments to look back on. With the Great Balls of Fire Pay-Per-View happening last night, the week leading up to it served up plenty of final preparations for the PPV on Raw and 205 Live, while Smackdown Live and NXT also managed to deliver some highlights in their own right. With that said, let's look at the moments, promos, and matches that proved to be the cream of the crop this week in WWE.
[tps_start_button label="Start slideshow" style="" class=""]
Best Moment
Cena and Rusev Return (Smackdown Live)
When WWE announced John Cena would be returning to Smackdown, it instantly became a must watch. Always the patriot, Cena soaked in the pumped up crowd on the fourth of July, announcing that as a free-agent, he would go from show to show on WWE to fight with the biggest names on any show. While this was great news in its own right, it was the return of a ticked off Rusev that pushed this moment over the bar. Rusev pointed out that WWE had left no welcome mat for his return as they did with Cena, and was now set on proving WWE wrong. One thing is for certain, is that the return of these two stars really set up hope for some great possibilities in the near future.
Best Promo
Enzo Speaks Up (RAW)
After two straight weeks of being tossed around by his former best friend, Enzo Amore made his way to the ring and put Big Cass on blast. Enzo may have delivered one of his best promos yet, full of a rare fire and rage we don't get to see from the loudmouth Enzo. Enzo mentioned how a part of him had died when Cass betrayed him, and called Cass nothing more than a "seven-foot catchphrase" that he had created. While I was unsure of how much I wanted to see Enzo and Cass face off in an actual match, Enzo made it feel like a must, and I'm hoping WWE well make this feud last a little longer so we can see more promos like this in the coming weeks.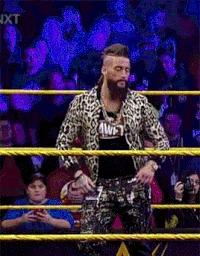 Best Match
Roderick Strong vs. Bobby Roode (NXT)
The NXT Championship match just edges the Finn Balor/Cesaro and Rich Swann/TJP bouts from this week simply because they didn't tell as compelling a story as this bout did. For weeks, Roderick Strong has made his rise as the lovable family man out to realize his dream of becoming champion, and he was about one's leg width away from doing just that. With his wife and mother at ringside, Strong kept refusing to go down to Roode's onslaught of attacks until Strong hit the End of Heartache, seemingly picking up the 1-2-3 and the belt in a heartwarming moment. However, the referee revealed that Roode's leg was underneath the ropes, therefore the match had to continue. It was then that Roode attacked the unsuspecting Strong in order to retain his championship and continue his "Glorious" reign. Maybe next time will be the happy ending String was hoping for.