With a record of 3-1, America's Team is currently rolling thanks to the NFL's most balanced offensive attack, as well as an opportunistic defense that ranks second in turnovers, with 10. The Dallas Cowboys faced a tough team, with the Carolina Panthers in town. While the first half had some hiccups, Dallas was able to pull away in the third quarter in route to their third-straight win.
For the first time in a long time, it appears this team is not only living up to the high expectations that come with wearing the star, but possibly even exceeding them. While Carolina came out with a ton of energy on Sunday, Dallas was able to weather that storm in the first half. From there, the Cowboys rode a dominant effort to a 20-point showing in the third quarter that all but sealed the game. The Panthers did make a late push but never actually had possession with a chance to tie the game in the fourth quarter.
It was Dallas' second win over a team that looks suited to make a run at the playoffs this season, and it keeps the Cowboys a game above Washington for the division lead. Let's look at some of the good and bad from the 36-28 victory over Carolina.
Takeaways From the Dallas Cowboys Week 4 Win
The Good:
Trevon Diggs
I honestly can't remember the last time (if ever) a Dallas Cowboys cornerback was playing with this level of confidence. Trevon Diggs wasn't perfect against the Panthers, but with him getting his hands on as many passes as we've seen in the first month, quarterbacks have to be wary about testing him.
Diggs picked off two more passes, with both coming amid the Cowboys' 20-point onslaught in the third quarter. He now leads the NFL with five interceptions while also having knocked down a league-leading eight more.
On the first, he dropped into zone coverage, read Sam Darnold's eyes and undercut a route with ease to haul in his fourth pick of the season. However, the second goes to show how good he can't be when his confidence is flowing. Not only did he make a tremendous break on the pass, but he showed exceptional ball skills to finish the play with the receiver fighting for the pass. On top of that, it came against D.J. Moore, who is one of the top young wide receivers in the game. That's the third time he has made an interception this year while shadowing the other team's top pass-catcher in man coverage, with the other two coming against Keenan Allen and Devonta Smith.
With five interceptions, Diggs has already surpassed most of the recent single-season bests of the past 20 years, with only Anthony Henry's six in 2007 left to reach to be the top mark of this millennium. He's on pace to easily hit double-digits if teams keep testing him, a feat only reached twice in Cowboys history. Everson Walls had 11 in 1981, while Mel Renfro had ten in 1969.
Rookie Power
This draft class is starting to look like a home run for the Cowboys' front office through the first month of the season. Micah Parsons has been sensational at whatever Dallas has tasked him with and now leads the defense with 2.5 sacks. Against Carolina, Parsons played primarily at linebacker for the first time this year, with 80 percent of his snaps coming at his natural position. Still, he managed to get a sack and two pressures on his 15 pass-rush attempts, and teams better start accounting for him on every play, regardless of his alignment.
In addition, Osa Odighizuwa is really coming into his own on the defensive line. While he only recorded a half-sack, Odighizuwa led the team with six pressures, according to Pro Football Focus. There were even some plays where the Cowboys lined him up on the edge as a defensive end to rush the passer. If he can offer reps on the edge and still get pressure, it will be a blessing for this Cowboys defense that was desperate for pass rushers going into the year.
Chauncey Golston also got his first quarterback takedown, splitting the sack with Odighizuwa and getting more pass-rush reps than any Cowboy against Carolina. Golston was also incredibly active in the run, tallying five tackles in the win. He now sits second on the team to only Odighizuwa in tackles by a defensive lineman with eight, despite only playing two games. Quinton Bohanna also continues to log time a nose tackle, as his 78 snaps currently rank third among the Cowboys' defensive tackles.
All this, and we still haven't seen Kelvin Joseph or Josh Ball because of injuries, while Nashon Wright and Israel Mukuamu have been played primarily on special teams.
Randy Gregory
This defense is getting a lot of praise, but it's not unwarranted. We are seeing more and more players step up for this unit, and on Sunday, Randy Gregory looked as good as we've ever seen him.
He routinely gave Camron Erving problems with his length, speed, and power, and collected two of this team's five sacks. Gregory looks most impressive on stunts where he is looping around the defensive tackle and rushing up the middle. These stunts allow Gregory to build a ton of speed before engaging the blockers, and his ability to translate that speed into power at the point of attack gives his opponents fits. His first sack was a result of a play like that, while on his second, he just manhandled Erving before bringing Darnold to the ground.
As mentioned earlier, my expectation coming into the season was that Dallas' pass rush would be an issue, and that was before Neville Gallimore, and Demarcus Lawrence went down. However, if both can return healthy from their injuries, this unit could be very dangerous in the second half of the year.
As for Gregory, if we continue to see this kind of production, he will earn himself a big payday in the offseason.
Offensive Dominance
I'd hate to be opposing coordinators with Dallas on the schedule right now. It's one thing to play a team with balance on offense, but the Dallas Cowboys can take a game over through the air or on the ground.
Kellen Moore and the offense are basically telling the team to pick their poison. Do they want to walk a safety into the box and challenge Dak Prescott, or would you rather play both safeties deep and take your chances with Ezekiel Elliott and Tony Pollard? The last three weeks, teams have challenged Dallas to run the ball with both safeties deep, and they are taking advantage. After big days on the ground against the Chargers and Eagles, America's Team took their rushing attack to another level against the top-ranked run defense.
While Carolina was giving up just 45 yards a game on the ground, Dallas rumbled for 245 yards on just 34 carries. Ezekiel Elliott went for over 100 yards for the first time this year, while Tony Pollard continued to rack up big gains as he currently leads all running backs with at least 35 carries, averaging 6.8 yards a run.
More importantly, Prescott isn't getting impatient as teams continue to dare the running backs to beat them. He's taking what the defense gives him, and when there's a chance to stretch the field, Prescott is making them pay as he did with a dime to Amari Cooper for one of his four touchdown passes. He remains near the top of the league in completion percentage, and he put up his second-straight performance with a passer rating of at least 130. He's not forcing the issue with the passing game, and he's playing mistake-free football. At this point, I don't think there's an answer to slowing this offense.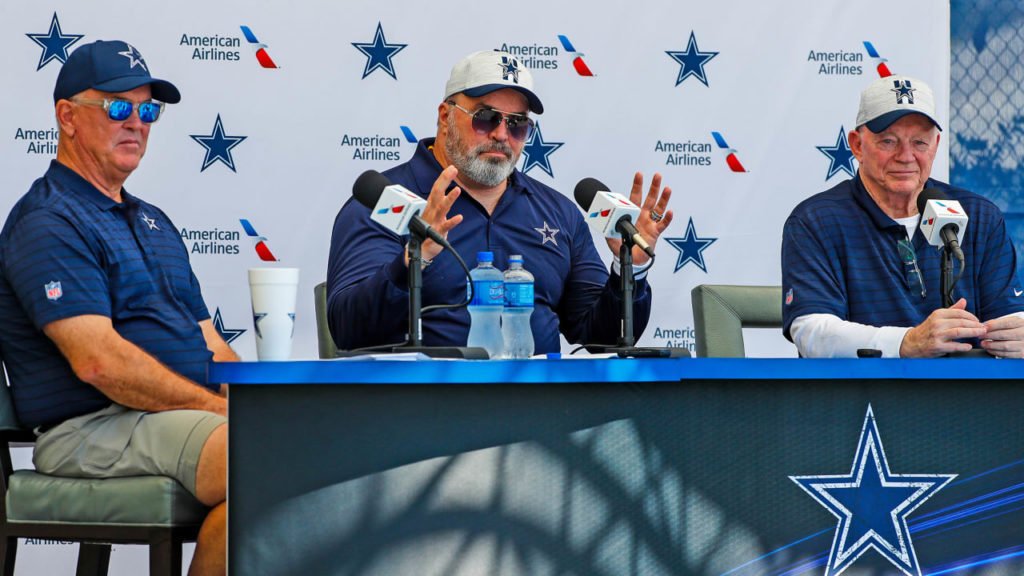 The Bad:
Mike McCarthy's Decision-Making
It seems like we see too many poor decisions from Mike McCarthy in crucial situations, which worries me. I didn't dislike the idea to go for two following a penalty on the second extra-point attempt. However, the decision to decline a personal foul penalty on a second down baffles me. It would have made it second and 24 from the 11-yard line, putting Carolina in a tough spot.
Backing them up makes second down the crucial play instead of third. At that point, if the Panthers don't pick up at least ten yards, they are likely to call a play to improve their field position for a punt. I'm not guaranteeing that they don't come up with a play like they did on third down, but it forces them to do it twice with an offensive line that just took the sad walk backward because of a facemask penalty. It not only damages the offense's confidence by backing them up, but it affects the play-caller too. If they don't get a substantial gain on second down, we probably see them play for the punt on third.
It's easy to second guess the decision, knowing the outcome, but it seems like the poor choices are stacking up for McCarthy, and that has to change. Not only are the Cowboys bound to play in some close contests this season where decisions like that can alter the outcome, but Kellen Moore is likely to get head coaching offers this offseason.
Dallas went to great lengths to keep him in this organization as a backup quarterback because they loved his football knowledge. If McCarthy doesn't want to be the next Wade Phillips that is keeping the seat warm for the young offensive coordinator, he better start hitting on these decisions.
Where's the energy?
Despite Carolina's undefeated record coming into the matchup, everyone knew they were the underdog coming into this contest, including them. Dallas knew they'd come in with a ton to prove, and I don't think the Cowboys matched that early energy.
Obviously, the Cowboys were able to weather the storm as they were only down 14-13 at the half. Still, there were too many plays that fed into the Panthers' enthusiasm early on. I get that Dallas technically didn't have a turnover in the game. However, on Elliott's touchdown, the ball came loose just after it crossed the goal line. Schultz also fumbled twice, with one being just a hair after his knee was down while the referees bailed him out on the other by blowing the play dead.
Did those plays ultimately hurt Dallas? No. However, those are the kinds of plays that fueled Carolina's intensity. With that kind of carelessness, teams grow more confident that a big play is available for the taking. As the half went on, it was apparent that the Panthers' spirits were growing because of plays like that, even if they weren't resulting in turnovers. Over the next month and a half, Dallas should be favored in each of their five games.
They will see teams play with the same kind of underdog mentality that Carolina did on Sunday. To build a lead in this division, the Cowboys must come out with more focus and intensity than we did in the first half.
---
Follow us on all of our social channels! Check out our Twitter, Facebook and YouTube for more great FlurrySports content.