Having the perfect fantasy football team name is arguably just as important as the players you draft. Nothing is lamer than rolling into the season with the default name your preferred hosting site gives you. So, if you're simply looking for the 100 best fantasy football team names, we already have you covered. However, if you want a team name related to the San Francisco 49ers, we will give you a more specialized list here.
It's always fun to have a fantasy football team name related to both the NFL team you cheer for and one of the players on your team. So, even if you have to reach for a player like George Kittle or Trey Sermon, it may be worth it, if you have the perfect name.
Without further ado, here are some of the best San Francisco 49ers fantasy football team names for the 2021 season.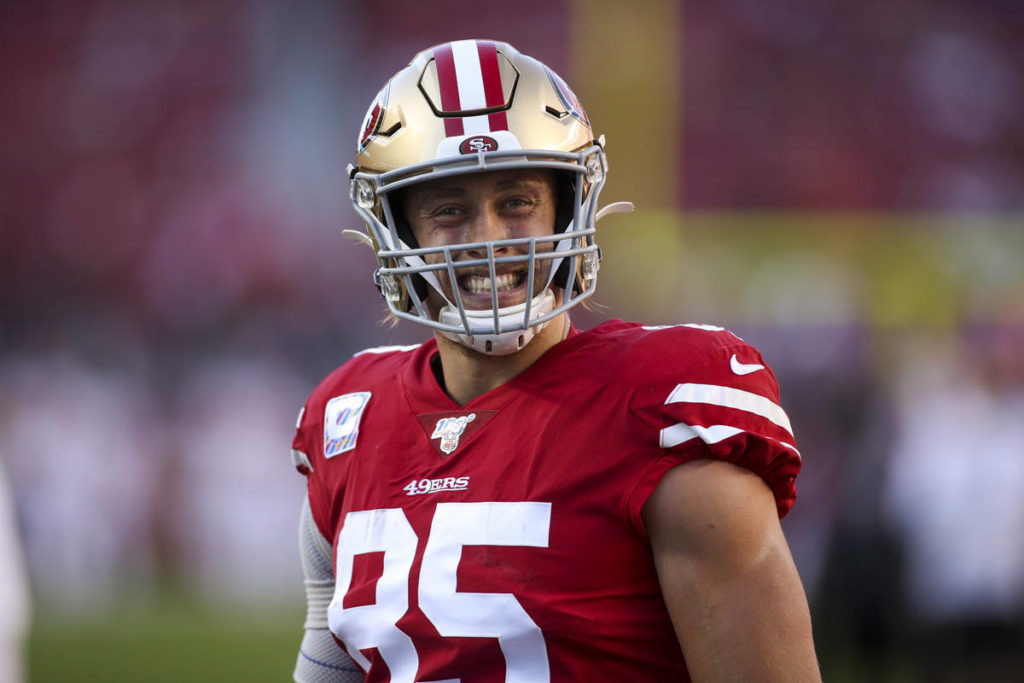 San Francisco 49ers Fantasy Football Team Names
San Frantasy Football
4th and 9ers
Shanahanigans
The Streets of San Francisco
Gold Rush
Covid-49
Jerry Rice-A-Roni
Wine Her, Dine Her, 49er
Deebo Samuel
Deebo's Nutz
How Deebo Your Love?
Son Of Samuel
Finding Deebo
Jimmy Garoppolo
Aint Nothin' But a Jimmy G Thang
Garoppolypse Now
GQ Jimmy
The Garoppolos Islands
El Garopollo Loco
George Kittle
Kittle Me This
Kittles and Blitz
Kittles, Taste the Rainbow
Kittle Corn
Kittle Big Town
Kittle League
Trey Lance
Freelancer
Sir Lancelot
First Knight of the Round Table
First Knight of the Endzone
Lance A Lot
50 Shades of Trey
---
---
Trey Sermon
Sunday Sermon
50 Shades of Trey
Golden Trey Warriors
Brandon Aiyuk
Aiyuken!
Brandon Aiyukidding Me
Raheem Mostert
Mostert Likely to Succeed
Raheem Must Start
Hostess with the Mostert
Ketchup & Mostert
Put Some Mostert On It
Colonel Mostert
Robbie Gould
Good As Gould
Heart of Gould
Gould Rush
Gould Diggers
Gouldmember
---
Are you ready to rock?
Get this exclusive Aaron Rodgers F U Tour 2021 shirt from My Sports Shirt now! Either click here or on the picture above to get yours today!
---
---
Follow us on all of our social channels! Check out our Twitter, Facebook and YouTube for more great FlurrySports content.