Drafting the rookies that explode in their first NFL season is important to having a championship fantasy football team. However, having the best rookie fantasy football team names is arguably more important!
There is nothing more lame than entering your fantasy draft with the default name from your fantasy site. "Zach's Mind-Blowing Team." Wow, so cool. We don't want you to be this guy, which is why we have come up with a list of the best rookie fantasy football team names for 2023. Additionally, we have also come up with the 100 best fantasy football team names overall for this season, if you are looking for a non-rookie.
With that in mind, let's take a look at some of the best fantasy football team names for the 2023 NFL season based on rookie players!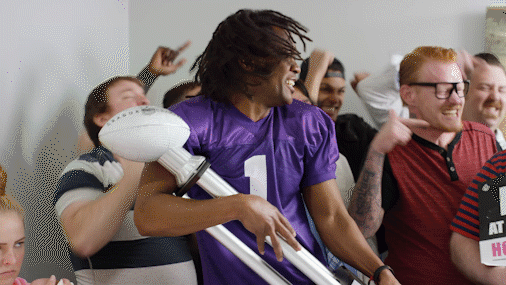 Check out TrophySmack today to get the best fantasy football trophies, belts, rings and draft boards in the industry! Use promo code FLURRY for a free championship ring with a trophy, or get a nice discount!
Rookie Fantasy Football Team Names for 2023
Bijan Robinson Fantasy Names
Bed Bath & Bijan
Jahmyr Today Bijan Tomorrow
Spicy Bijan Mostert
Let Bijans Be Bijans
Bijan With The Wind
To Infinity and Bijan
Jaxon Smith-Njigba Fantasy Names
Njigbas in Paris
The Slot-Njigbas
JSN Vorhees
Sorry Ms. Jaxon
Gettin' Njigy Wit It
Jahmyr Gibbs Fantasy Names
Jahmyr Today Bijan Tomorrow
No Fucks to Gibbs
Jahmyr I Go Again
Can I Gibbs a Fin
Bryce Young Fantasy Names
Bryce is Right
Forever Young
Vanilla Bryce
Bryce Bryce Baby
Bryce Krispies
Rolls-Bryce
Jordan Addison Fantasy Names
Addison Square Garden
Addison in Wonderland
Air Jordan
Zay Flowers Fantasy Names
Zay My Name
Allergic to Flowers
Whatcha Zay
---
Sign up for Underdog Fantasy with promo code FLURRY for a deposit match up to $100!
---
Josh Downs Fantasy Names
Downs With the Sickness
System of a Downs
Downs Syndrome
Double Downs
TouchDowns
Downs For Love
Dalton Kincaid Fantasy Names
Kincaid and Blow
Kincaid Bear
Into That Kincaid Shit
CJ Stroud Fantasy Names
Stroudy With A Chance Of Deep Balls
Midnight Stroud
Stroud Boys
Other 2023 Rookie Fantasy Football Team Names
Hendon's Hookers
Hookers Need Love Too
Mayer McCheese
Bottles of Charbonnet
LaPorta Potty
A Mingo Ate My Baby
Mingo Was His Name-O
The Great Bigsby
Abanikanda Forever
RICHardson in Life
Off the Achane
It's Kendre Miller Time
Boutte Call
Django Achaned
Charbonnet Sauvignon