Everyone knows what a good draft can do for a team. With less than a week to go until the 2021 NFL Draft, fans are looking forward to what their team will do next. But before we get there, let's take a look back. The 2017 NFL Draft was full of potential, yet it did not amount to much for the New York Giants. The recent departure of running back Wayne Gallman means that there is only one player remaining from the 2017 Giants draft class still with the team — Evan Engram.
With Engram being the lone draftee still remaining, let's take a look back at what could have been done differently with a four-round redraft of the 2017 Giants draft class (each redraft selection was taken within 10 picks of their original draft position).
Redrafting the 2017 Giants Draft Class
Round 1, Pick 23: TE Evan Engram, Ole Miss
While there are reports that the Giants wanted to trade up in this draft to select a quarterback, it never happened. Instead, they selected Evan Engram. The tight end was a polarizing prospect coming out of Ole Miss. His pure athleticism made him a prospect that many teams wanted. Most notably, he ran a 4.42-second 40-yard dash, and many teams saw this as a complete gamechanger. His biggest issue was drops. During the 2016 season, he had seven drops on 73 targets. This same issue has impacted his NFL career. Engram has totaled 17 career drops, with 11 of them coming in the 2020 season. This has led to many people questioning this pick and how a different choice would have impacted the team. 
New Pick: LB TJ Watt, Wisconsin
TJ Watt has turned into one of the best defensive players in the league, alongside stars such as Aaron Donald and Khalil Mack. The Giants are able to get the centerpiece of their defense here. While his excellence can partially be attributed to playing with the Steelers, who have developed great linebackers, it's hard to believe that he wouldn't have performed at the same level with the Giants.
Round 2, Pick 55: DT Dalvin Tomlinson, Alabama
Tomlinson was the pick of the NFL Draft for the Giants. He appeared in all 64 games and was on the roster until this offseason, when the Giants let him walk. While it is still unknown if it was a good decision to not re-sign Tomlinson, his efforts can't be ignored. He totaled 106 tackles and eight sacks during his four seasons in New York and was a focal point on this defense. 
New Pick: RB Alvin Kamara, Tennessee
While it would be tempting to still select Tomlinson, the lack of running back talent on the roster is far too relevant to not address it. The top rostered running backs before the draft were Orleans Darkwa and Paul Perkins. Neither of these backs proved to be the game changer that Alvin Kamara has been in New Orleans. Kamara has racked up 59 total touchdowns in four years and has become one of the top running backs in the NFL. Surrounding Eli Manning with the most weapons possible would have made sense. Kamara could have revitalized this offense, much like he has done for the Saints.
Round 3, Pick 87: QB Davis Webb, California
In an effort to find the next great Giants QB, Davis Webb was selected. There is not much to say here besides this was a poor pick. Webb has never appeared in a regular season NFL game and has zero stats recorded.
New Pick: WR Kenny Golladay, Northern Illinois
While Kenny Golladay has finally made his way to the Giants, he could have been there in 2017. Golladay excelled at Northern Illinois, but dropped in the NFL Draft to pick 96, where he was picked by the Detroit Lions. With 21 career touchdowns and 3,068 receiving yards, Golladay has proven to be a real threat in the NFL. Another quality receiver on this roster would have been a scary sight to defenses across the NFL.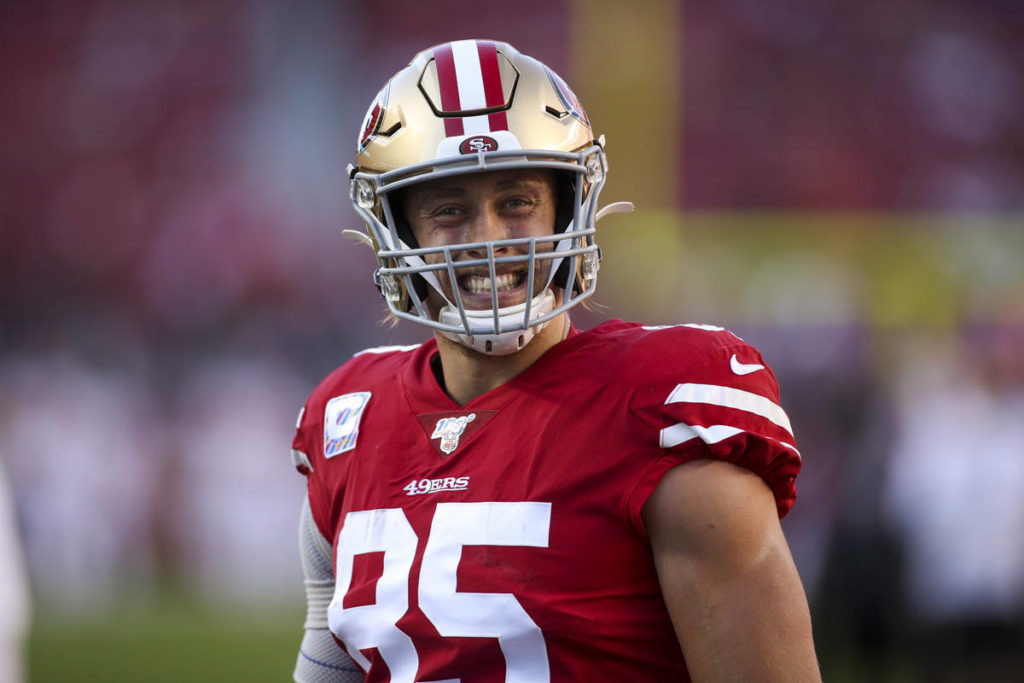 Round 4, Pick 140: RB Wayne Gallman, Clemson
Wayne Gallman, much like Dalvin Tomlinson, was a Giant until this offseason, when he chose to sign with the San Francisco 49ers. Gallman proved to be a quality back for the Giants, and he stepped in nicely for them this season when Saquon Barkley went down with a torn ACL.
New Pick: TE George Kittle, Iowa
With the last pick of this redraft, the Giants select George Kittle out of Iowa. Kittle, who went to the 49ers at pick 146, has become arguably the best tight end in football, right next to Travis Kelce. He has had 14 career touchdowns, 264 receptions and 3,579 yards. Kittle is an absolutely electric player who in this redraft, could have been the last piece to finish off a perfect 2017 Giants draft class. 
Review of 2017 Giants Draft Class Redraft
A draft consisting of TJ Watt, Alvin Kamara, Kenny Golladay and George Kittle would be a dream come true in hindsight, but there is no way of knowing how these players would have turned out if they were drafted by a different team. An offense consisting of Odell Beckham Jr., Kamara, Golladay and Kittle would possibly be the best thing in football. With Watt leading a defense, you will always have a chance to compete. There is potential in every draft, and there is no chance of telling what players will become the next stars. There will always be misses and there will always be hidden gems.
In this scenario, all of the gems just happened to fall to the Giants. Let's see if this is able to translate to the 2021 NFL Draft.