The Los Angeles Rams' waiting game with left tackle Andrew Whitworth paid huge dividends — literally. The 15-year veteran has toyed with retirement for the last couple of seasons, but the former Pro Bowler will suit up once again.
Even more noteworthy is the fact that he recently agreed to reduce his 2021 base salary from $7 million down to $4 million in exchange for a fully guaranteed contract. Whitworth has been a staunch leader on the field for the Rams ever since he came over from the Cincinnati Bengals in 2017. Now, the prized offensive lineman is finding other ways to prove his already unquestioned leadership with surefire moves of loyalty off the field.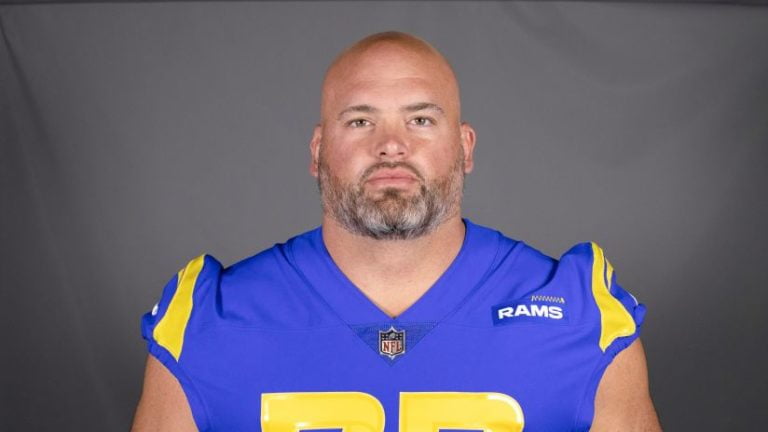 Andrew Whitworth Returns to Rams on Reduced Contract
Not only should Rams fans be rejoicing at Whitworth's return, but his generous pay cut is a blessing not so much in disguise for a team very publicly struggling with cap issues. Before the Whitworth agreement, the Rams were sitting around a paltry $10 million under the cap. The Rams will probably not be looking to add many more players in NFL Free Agency anytime soon, but Whitworth's restructured deal gives the team a little more breathing room.
Also, there is the on-field factor to consider. Whitworth did miss significant time last year after suffering a torn MCL in the Week 10. However, even at his advanced age (39), Whitworth has repeatedly proven that he is far more than a dependable protector in passing downs and a cog in the run game. Whitworth further proved his allegiance to the team by coming back from injury just in time for the Ram's Wild Card win against the Seahawks. Newly-acquired quarterback Matthew Stafford will heavily depend on Whitworth to provide him ample time to make accurate reads in the pocket.
Rams Offensive Line Needs Improvement
However, even though the Rams just received an unexpected jolt of luck, the offensive line as a whole remains an area of concern heading into the 2021 season. The Rams must find some sort of answer at the center position first and foremost. Austin Blythe is still a free agent, and by all indications he will not be re-signing with the team. He recently met with the Minnesota Vikings, and according to sources around the league the two sides are close to an official deal.
Other than Blythe, former 2018 fourth-round pick Brian Allen is the only remaining center on the depth chart. Allen has had an up and down start to his professional career so far, first filling in as a starter in 2019 for former veteran center John Sullivan. Unfortunately, his most noteworthy achievement in the league so far has been being the first NFL player to test positive for COVID-19.
The Rams will likely target the center position in the draft. Even though they have a limited amount of picks available, there are a plethora of talented linemen in this year's pool. Alabama's Landon Dickerson is a name that is repeatedly being mentioned in a lot of recent mock drafts. Although the Rams have other needs like inside linebacker and edge rusher, Dickerson would make a solid selection in the second round if available. Dickerson not only has size and strength, but the burst to quickly become a featured center in offense.
The only knock against Dickerson is that he appears to be injury-prone, as he missed chunks of time in college due to different maladies. But should he fall to pick 57, Pittsburgh's Jimmy Morrissey would make an excellent addition. Ohio State's Josh Meyers and Grambling State's David Moore would be worth taking a serious look at too.
Although Whitworth's return is a mark in the plus column, the Rams still have other concerns. The team will need to add solid depth all across the line. Obviously precious draft capital should be targeted at more pressing needs for the upcoming season. But at some point, the team needs to find future replacements/solid backups for Whitworth, right tackle Joe Noteboom and the interior offensive linemen.