With the Oxnard portion of Dallas Cowboys training camp having wrapped up, it's time to take a stab at how this roster is going to look come Week 1. There were several headlines during the Cowboys' time on the west coast, with none being more crucial than the health of Dak Prescott.
While Dallas continues to play down the seriousness of the strained shoulder that has kept him out since padded practices began, one can't help feeling like a kid on the doctor to the doctor. No matter how many times the parent says you're not getting a shot, you know you're not in the clear until you're back in the car on the way home.
A second MRI certainly sounds like a parent changing their tone to "probably not." Fans of America's Team are not going to buy a word until Prescott is seen in the huddle when the Cowboys take the field against Tampa Bay.
Still, with everything we've seen thus far, here are my predictions for what the roster will look like following final cuts on August 31.
Dallas Cowboys Roster Prediction: Offense
QB: Dak Prescott, Garrett Gilbert (2)
With rules in place that allow each team to bring two players from their practice squad to the gameday roster each week, quarterback would appear to be one position Dallas can go light on when it comes to the final cuts. I'm just not sure who the Cowboys plan to keep as their practice squad option.
Ben DiNucci has not developed, and more importantly, his mechanics are still far too inconsistent. He's still throwing from awkward arm angles without cause, and his footwork puts him in bad positions to throw off-platform.
What I do believe is that Prescott and Gilbert will both be with this team in 2021. As of now, I've got Gilbert penciled in as the second signal-caller on the final roster. While he had some costly misses in the Hall of Fame Game against Pittsburgh, he looked more comfortable in the split-squad practiced with the Rams.
The Cowboys could bring in a veteran for this spot and hope to get Gilbert back on the practice squad. Still, the further they get into camp without procuring an experienced option, the more likely Gilbert is the guy come September.
RB: Ezekiel Elliott, Tony Pollard, Rico Dowdle (3)
Elliott and Pollard are no-brainers for the final roster, and I'd be shocked if either gets much wear-and-tear through the rest of the preseason. However, Dowdle is putting the Cowboys in a tough spot with his play.
When he came to Dallas as a rookie free agent a year ago, he was known as more of a physical, between-the-tacklers runner who could help on special teams. Still, Dowdle has shown surprising short-area quickness so far in camp, and he also made an impressive catch against the Steelers to set up the Cowboys' only score.
If Dallas chooses to go heavy on the defensive line or at cornerback, it could be at Dowdle's expense. Still, he's making that decision very difficult, and I have my doubts about him going through the waiver process unclaimed.
On a side note, it appeared as if Coach Mike McCarthy had a role in mind Sewo Olonilua as a versatile fullback that could also help on the coverage units. An unfortunate neck injury has likely ended that possibility, leaving Nick Ralston as the only healthy fullback on the roster.
Ralston is the better lead blocker of the two but doesn't have the same versatility on offense that Olonilua offered. Still, he'll have several weeks to convince the Cowboys to keep a fullback.
WR: Amari Cooper, Michael Gallup, CeeDee Lamb, Cedrick Wilson, Noah Brown, Malik Turner (6)
The top six on the depth chart are doing little to change their candidacy for this team. Cooper, Gallup, and Lamb should be one of the top trios in football. With Cooper finally being activated to the roster, that group is one step closer to working together in camp.
Wilson is the same silky-smooth receiver that thrives as a route runner and had a pair of big catches in his limited action against Pittsburgh. After being typecast as a blocker early in his career, Brown looks as good as ever catching the football and is still one of this team's most capable players on the coverage units.
Turner is another special-teams contributor, and his ability to get open has been one of the reasons the younger cast of receivers seems destined to fight for jobs on the practice squad. There is still time for someone to prove to have enough untapped potential to change the team's mind, but the top six are clear, and I'd be shocked if those aren't the group we see lining up for week one.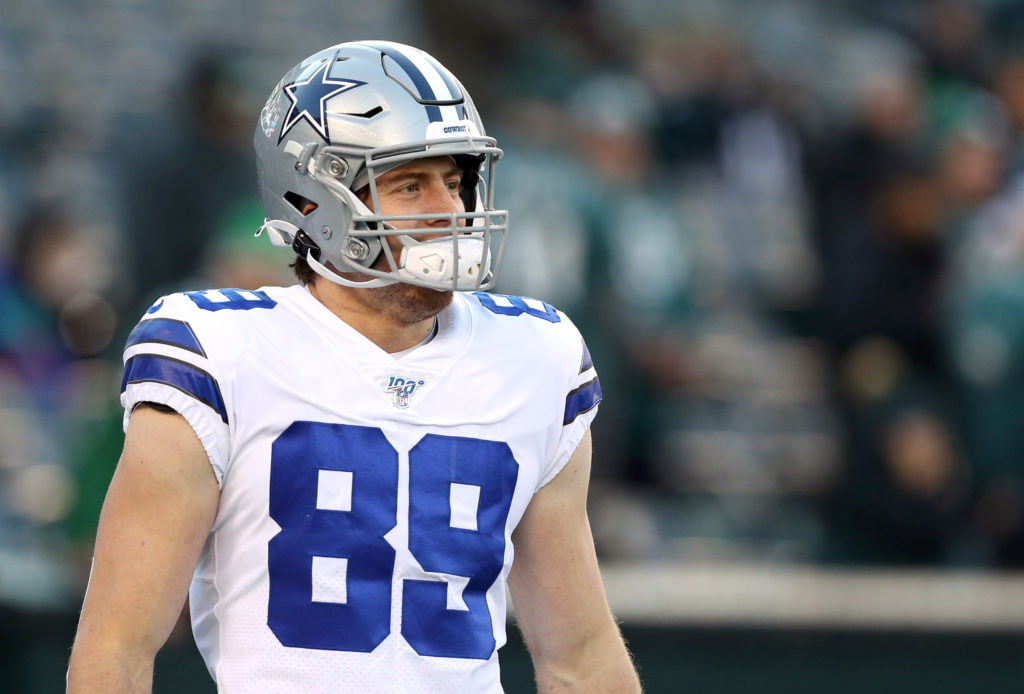 TE: Blake Jarwin, Dalton Schultz, Sean McKeon (3)
Coming into camp, the first two spots seemed to be locked in, and Jarwin and Schultz have done nothing to change that as both are have been terrific to this point. However, the development that McKeon has shown with both his play and stature has made this an easy decision for Coach McCarthy.
The one thing that is up for debate is whether they will keep a fourth tight end. Jeremy Sprinkle is a proven blocker in the NFL and likely the only candidate that could change Dallas' mind. Still, I'm not sure he brings anything to the table that the top three don't.
OL: Tyron Smith, Connor Williams, Tyler Biadasz, Zack Martin, La'el Collins, Ty Nsekhe, Connor McGovern, Terence Steele, Brandon Knight, Josh Ball (10)
Only 10 on the Dallas Cowboys roster isn't exactly going heavy on the offensive line, but nine could certainly get the job done with the right versatility on the roster. Dallas has pushed to accomplish that kind of position flexibility by working Williams at center with the second team.
In addition, Connor McGovern has a history of playing center at the collegiate level, and Martin has also taken reps at the pivot in past training camps. Martin, Williams, and Knight also have experience playing tackle, making it feasible for the Cowboys to go with nine.
However, there are two reasons I'm going with more. Smith, Collins and Martin all missed a significant amount of time a year ago, and Dallas has a lot of talented linemen. Guys like Steele, Knight and Ball have the potential to be long-term solutions as reserves, if not possibly starters in the future.
That's part of why I get so frustrated when they move Knight to tackle to make up for injuries. I believe he can be a capable guard in this league, but putting him on the perimeter, where he doesn't fit, is consistently putting his confidence at risk. A player without confidence in the NFL doesn't stay in the NFL very long.
Still, with this starting five and Nsekhe, McGovern, and Knight as the primary reserves, this unit has a chance to return as one of the strengths on this roster. They can continue to develop Steele and start developing Ball as well.
I'll add that if Ball's ankle doesn't start to improve, he could end up on injured reserve to start the year. That could mean Dallas only keeps nine, or a guy like Matt Farniok, who had his bright spots against Pittsburgh, could slide into that tenth slot.