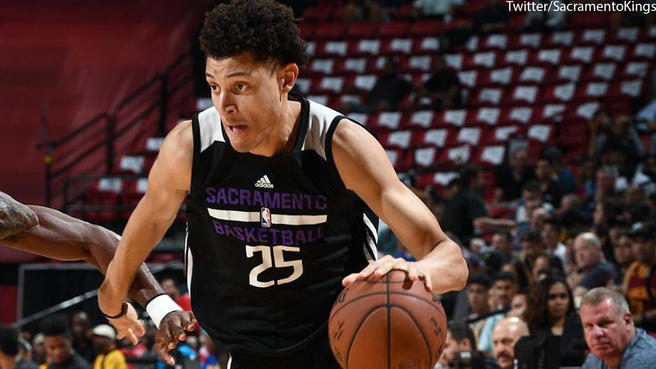 Kings Look Solid
Six different Kings scored in double figures on Tuesday night. Their leading scorer, Justin Jackson, turned in 20 points on 8-13 shooting. He was able to frequently attack the rim and hit a fair amount of shots with the shot clock winding down. He was also able to convert 2-4 three-pointers in this game as well. Harry Giles turned in an excellent performance as well, contributing 11 points (5-11 from the field) and 12 rebounds. Giles has yet to make his NBA regular season debut due to knee complications last season, but if he can produce at the next level with these types of numbers, the Kings may have a pretty competitive roster. Speaking of double-doubles; Frank Mason III had one for the Kings as well. Mason scored 10 points on 3-6 shooting, but also dished out 13 assists! Mason III's terrific offensive output was capped off on the defensive end where, despite being just 5' 11" he recorded a block.
Grizzlies Without Jaren Jackson Jr.
JJJ did not play in this Summer League game and the Grizzlies could have certainly used his help. Wayne Selden and Ivan Rabb have both played NBA minutes and they looked like it, going for 17 points each. Rabb was able to snag 8 rebounds while Seldon dished out 4 assists as well. A guy that really needed to step up for the Grizzlies that didn't was Jevon Carter. C
arter was taken with the second pick in the second round, but he was a solid player for West Virginia and was expected to be a late first round pick. Carter went for just 5 points on 2-10 from the field. This positive from his game on Tuesday was that, despite the shot not falling, he was able to rebound and make his impact with his passing by grabbing 5 rebounds and giving out 6 assists. The Grizzlies have a long way to go playing in the Western Conference and giving up 90 points to a Kings team that did not have Marvin Bagley III. Even in Summer League, it is a bit concerning.
More NBA Summer League
Kevin Knox Scores Game-High, but Knicks Comeback Bid Falls Flat
Collin Sexton Outplays Aaron Holiday in Cavaliers Win over Pacers
Chris McCullough the Bright Spot as Sixers Lose Again