Turnovers are often the difference between winning and losing in the NFL. The New England Patriots found that out the hard way in Sunday's season opener. The team's first two possessions both resulted in giveaways and enabled the Philadelphia Eagles to jump out to a 16-0 lead. The Patriots went on to outscore the reigning NFC champs 20-9 over the final three quarters but it wasn't enough to overcome the early hole in this Eagles vs Patriots matchup.
Now, it would be very easy to take a doom and gloom approach following this Week 1 defeat. However, Patriots fans should hardly be deflated by what transpired on the field of Eagles vs Patriots. In fact, one could argue that New England outplayed an Eagles team that was among the betting favorites to win the Super Bowl coming into the year.
Despite the fact that the game went down as a loss, there is plenty of reason to be optimistic about what the Patriots are capable of moving forward in the 2023 NFL season. Below, we share some key observations and takeaways, both good and bad, from Eagles vs Patriots for New England fans.
Eagles vs Patriots Week 1 Recap: The Good
Bill O'Brien Makes Impact in Return as OC
It's hardly a secret that in order for the Patriots to improve upon last year's 8-9 record, the offense was going to take a significant leap forward. In the Eagles vs Patriots matchup, the unit appears to be well on its way to doing just that. The move to bring Bill O'Brien back to New England as the offensive coordinator already yielded positive returns, albeit in a loss.
With O'Brien calling the plays, the Patriots were able to move the ball up and down the field consistently against the uber-talented Philadelphia defense. Mac Jones regressed mightily last season with Matt Patricia and Joe Judge co-coordinating the offense. While he hardly played a perfect game in Week 1, one could argue that his performance was better than any game from a year ago.
O'Brien has already jumpstarted what was a dormant screen game last season. The Patriots also successfully implemented tempo at various points when the offense was in rhythm. Jones now has a true offensive mind and a developed scheme to work with. The 382 yards that New England put up on Sunday was more than all but two teams achieved against the Eagles' defense a year ago.
Depth of Offensive Weapons Shines Through
Once again, the Patriots don't necessarily have a dominant offensive skill player in 2023. While this makes them a tough team to analyze on the fantasy football side of things, it doesn't appear that it will keep the offense from producing as a whole. Despite the lack of a true alpha weapon, Mac Jones has a much more talented arsenal of weapons at his disposal this year.
Since Jones had a whopping 54 pass attempts in Week 1, it makes sense to first focus on the pass-catchers. Kendrick Bourne led the team with 11 targets on Sunday, catching six for 64 yards and two touchdowns. That's a lot of targets, but he was hardly the only one getting in on the action. Fellow wideouts JuJu Smith-Schuster and rookie Demario Douglas both finished with seven targets.
The Patriots also once again have a talented tight end duo. Hunter Henry caught a touchdown and also had a spectacular one-handed grab to extend a drive late. Meanwhile, Mike Gesicki hauled in all three of his targets.
Last but not least, the running backs. Despite generating very little on the ground against the Eagles' defensive front, both Rhamondre Stevenson and Ezekiel Elliott were involved throughout the game. Stevenson finished with 89 total yards while Elliott emerged as a clear priority in the Patriots' passing attack. Fantasy football managers in PPR leagues had better take note.
No matter what way you choose to stack up the pecking order, the depth of weapons and talent that the Patriots have assembled this season is quite impressive. The lack of a big-name player will keep this offense flying under the radar, but the collective returns could be tremendous.
Defense Looks the Part
While Patriots fans have every right to be optimistic that the offense will be improved in 2023, the defense still figures to be the backbone of the team. This is hardly Bill Belichick's best defense ever in terms of talent, but good coaching will help mask some of that. The effort put forth against the defending NFC champions in Week 1 was extremely impressive.
As one of the Eagles' touchdowns came off of a pick-six, the defense actually only surrendered 18 points for the game. The only touchdown the unit allowed came off of the second first-quarter turnover that set Philadelphia up at the Patriots' 26-yard line. Aside from that, all the Eagles could muster offensively were four field goals, two of which required Jake Elliott to connect from beyond 50 yards.
The Patriots' front seven is a bit smaller than what some other NFL teams deploy but boasts plenty of speed. With a revised contract locked in, Matthew Judon went out and recorded a sack and tackle for loss in Week 1. Rookie cornerback Christian Gonzalez also made his presence felt in his debut with a sack, tackle for loss and a key pass breakup late in the game to give the offense one last chance.
All things considered, New England has a talented defense at all three levels. Weaknesses such as lack of size up front and inexperience can be overcome by Belichick's scheming which will ensure that the unit plays cohesively all season long. To add some context, consider that the 251 total yards allowed on Sunday was fewer than the Eagles' offense tallied in any game all of last season.
Eagles vs Patriots Week 1 Recap: The Bad
Offensive Line Play Lacks Consistency
In order for the Patriots' offense to maximize its potential in 2023, the O-line will need to be more consistent than it was in Week 1. Overall, the unit hardly played poorly. However, it does appear to be an area of concern moving forward this season.
To be fair, the Pats were up against an Eagles defensive front that, despite losing some key cogs from a year ago, is still among the best in the NFL. That said, the interior of the New England line got worked over on multiple occasions by rookie, Jalen Carter, and veteran, Fletcher Cox.
While Bill O'Brien ensures a better offensive scheme is in place, the Patriots most likely would prefer not to have Mac Jones attempting 50+ passes a game over the entire season. In order to avoid this, the offensive line is going to have to do its part in establishing a ground game. This was a tough matchup to be sure, but the fact that Rhamondre Stevenson and Ezekiel Elliott combined for only 54 yards rushing on 19 carries between them is cause for concern.
Holding penalties were also a problem in Week 1. The Patriots were the victims of a few ticky-tack calls, but more discipline is certainly needed in this area going forward. Fortunately, discipline is something that Bill Belichick knows a thing or two about.
Reliability of Mac Jones
By and large, Mac Jones played well in Sunday's season-opener against one of the league's best defenses at that. His final stat line included 35 completed passes out of 54 attempts for 316 yards, three touchdowns and the lone interception. However, it was far from a flawless performance.
Aside from the interception, the mistakes that Jones made were easily swallowed up within the game. There were, however, a number of poorly thrown balls and missed opportunities on passes down the field. He particularly struggled to connect with receivers out near the perimeter. New England did a great job of attacking the Eagles' defense over the middle but must be able to count on Jones to work the entire width of the field moving forward.
Another area the Patriots fans should hope improves is his efficiency. While more short-yardage passes and screens are a focal point this season, Jones still needs to do his part by hitting the right playmaker based on the situation. His average yards per completion of 5.9 will ideally improve going forward.
Eagles vs Patriots Week 1 Recap: Other Notes
Tom Brady returned to Foxborough, was honored in a halftime ceremony and will officially be inducted into the team Hall of Fame next year.
Knock on wood, the Patriots appear to have gotten through Week 1 without any active players sustaining a significant injury.
The reimagined Gillette Stadium Lighthouse which was part of the stadium renovations looks awesome. It will open to the public on October 1st.
Looking Ahead For the New England Patriots
The New England Patriots will be at home once again next week for their first AFC East Division clash of the season. The Miami Dolphins will roll into Foxborough in a game that has been given the primetime spotlight on Sunday Night Football.
For the second week in a row, oddsmakers have tabbed the Patriots as a home underdog. The opening lines in Las Vegas list the Dolphins as a 2.5-point favorite for this Week 2 matchup. The game total sits at 45.5.
Given that the Patriots ultimately did lose their season-opener, one could argue that next week's divisional encounter is about as must-win as a game could get this early in the season. Not only can New England not afford to start out 0-2, but back-to-back home losses would be an even tougher pill to swallow. Of course, a win would almost feel like a win and a half given that it would provide a leg-up against a divisional foe.
---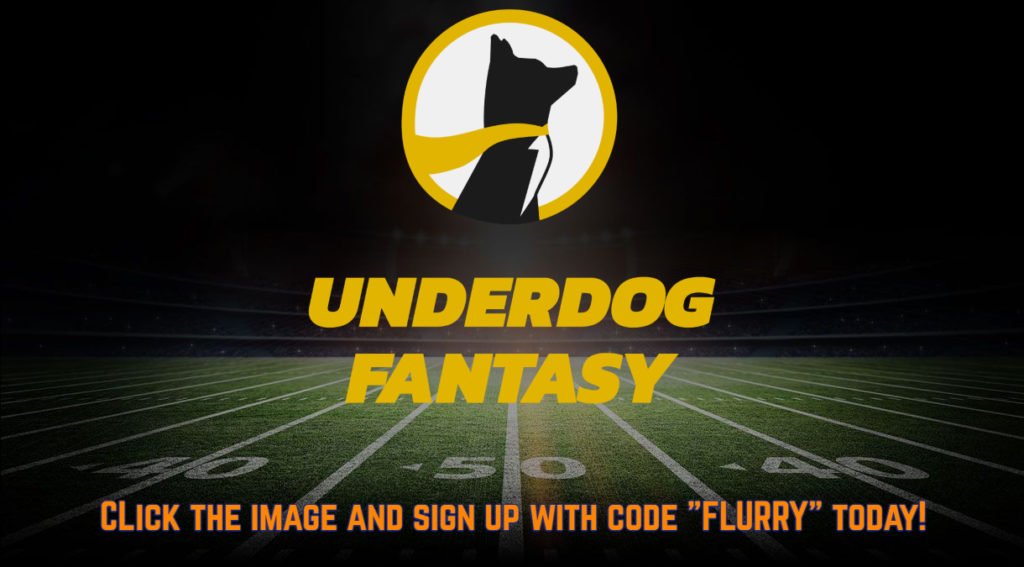 Underdog Fantasy is a new type of DFS that combines the fun of season-long drafts with daily fantasy sports. Aside from their fun, addictive draft mode, Underdog Fantasy also has pick'em player props for many different sports and athletes!
Click the image or RIGHT HERE to get signed up today, and don't forget to use the promo code FLURRY for a FREE $10 bonus on your first deposit!
---