We have created our rankings of the NFL top 100 players of 2022. Each article will be split up into 10 different players, starting at 100-91 and moving all the way to 10-1.
With that being said, let's take a look at the next 10 players on the list of our NFL top 100 players of 2022. Two MVP quarterbacks, two young wide receivers and a set of sibling pass rushers grace this edition of the list.
NFL Top 100 Players of 2022: 30-21
30. Deebo Samuel – Wide Receiver – San Francisco 49ers
Deebo Samuel is a running back inside of a wide receiver's body. That gives the 49ers an incredible weapon to use all over the offense. Samuel capitalized on this skill set, by recording eight rushing touchdowns. That was two more than he had receiving. With Trey Lance at quarterback this season, look for Samuel to be heavily utilized in the young quarterback's development.
29. Fred Warner – Inside Linebacker – San Francisco 49ers
If he is not number one, Fred Warner is very close to the top of the list of linebackers. His ability to run down receivers and running backs make him the prototypical linebacker in today's NFL. In 2021, Warner recorded 137 combined tackles, three fumble recoveries and seven tackles for losses.
28. Nick Bosa – Defensive End – San Francisco 49ers
After Nick Bosa missed 2020 with a torn ACL, he came back with a vengeance. That included 15.5 sacks, which was good for fourth in the NFL. Bosa brings what the 49ers defense needs, with a star pass rusher. Bosa started all 17 games in 2021 and recorded 21 tackles for losses. He should once again produce big numbers for the 49ers.
27. Joe Burrow – Quarterback – Cincinnati Bengals
Joe Burrow took the world by storm in 2021, leading the Cincinnati Bengals to the Super Bowl. In his second season, Burrow proved his spot in the NFL with his deadly accuracy. With a bad offensive live, Burrow threw for 4,611 yards and 34 touchdowns. Burrow's best stat in 2021, was his completion percentage of 70.4.
26. Lamar Jackson – Quarterback – Baltimore Ravens
Lamar Jackson is coming off of the worst season in his career, due mostly to a mid-season injury. In the offseason, Jackson reportedly put on 15 lbs of muscle. Jackson rare ability of running as a quarterback have pushed him into superstardom. The former MVP lost Hollywood Brown, but with Rashod Bateman having another season under his belt, that shouldn't be a problem.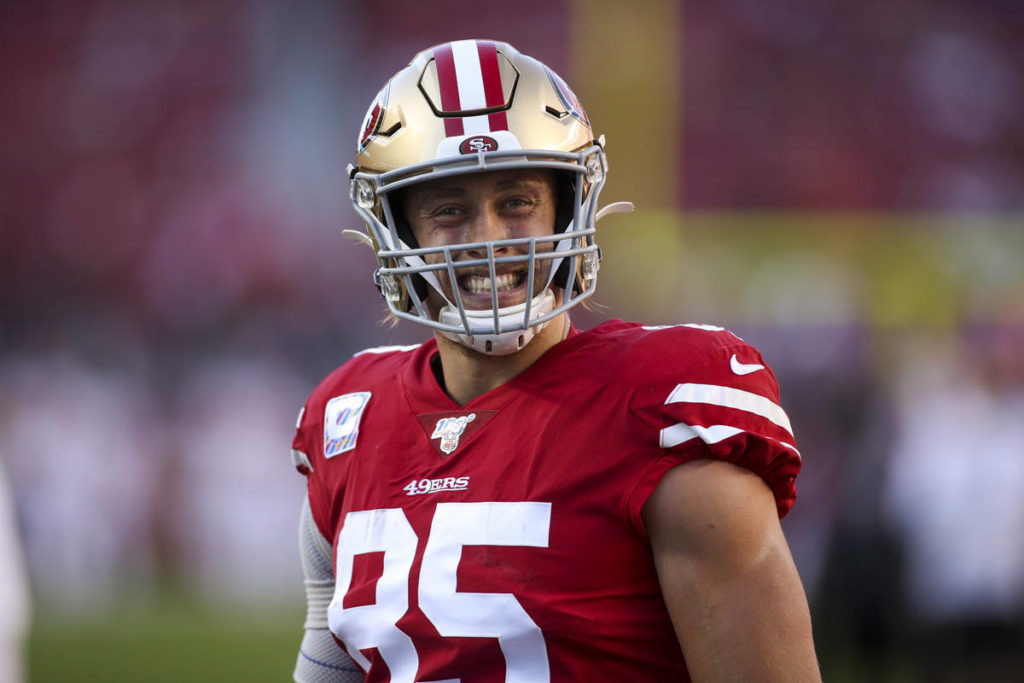 25. George Kittle – Tight End – San Francisco 49ers
The conversation surrounding the best tight end in the NFL, always has to have George Kittle in it. The large tight end, is incredible in his efforts to run block, but he is at his best when running with the football. Injuries are a problem, but in 14 games last season, Kittle recorded 71 catches. Much like Deebo Samuel, look for Kittle to be a big part of Trey Lance's development.
24. David Bakhtiari – Offensive Tackle – Green Bay Packers
David Bakhtiari missed all of 2021 with a knee injury, but with an offseason of work, he should be back there for Aaron Rodgers. When healthy, Bakhtiari is the best left tackle in the NFL. His ability to lock down Aaron Rodgers blindside gives the Packers so many options on offense.
23. Joey Bosa – Defensive End – Los Angeles Chargers
The Chargers have a lot of star power on their team, but none as good as Joey Bosa. While he only had 10.5 sacks last year, Khalil Mack is there now. That should leave Bosa in one on one situations, where we know exactly what will happen.
22. Justin Jefferson – Wide Receiver – Minnesota Vikings
Justin Jefferson is certainly on the career path of becoming one of the best wide receivers in the NFL. In just his second season in the NFL, Jefferson finished fourth in receptions with 108 and second in receiving yards, with 1,616. With another year under his belt, Jefferson should slip into the conversation of the best wide receivers in the NFL.
21. Jaire Alexander – Corner Back – Green Bay Packers
Jaire Alexander was the Packers' answer to bad defensive back play after Charles Woodson. Alexander almost instantly produced for the Packers. While Alexander was hurt for most of 2021, in 2020, we saw him only give up 375 yards in 15 games. Alexander is an outspoken leader of the Packers defense and should elevate the Packers back to contenders.