It is that time of the year! Sports fans all around the world can smell football in the air. We have created our rankings of the NFL top 100 players of 2022. Each article will be split up into 10 different players, starting at 100-91 and moving all the way to 10-1.
With that being said, let's take a look at the next 10 players on the list of our NFL top 100 players of 2022. The top two running backs in the game, an All-Pro defensive tackle and two more guards grace this list.
NFL Top 100 Players of 2022: 20-11
20. Cam Heyward – Defensive Tackle – Pittsburgh Steelers
Believe it or not, but Cam Heyward may have been the best players on the Steelers last year. Much like Kenny Clark, Heyward is a player who is not going to rack up a lot of numbers, but rather his presence alone should boost others. Heyward recorded the second best sack total of his career in 2021, with 10 sacks. 2021 also culminated in a All-Pro season for Hayward.
19. Joel Bitonio – Offensive Guard – Cleveland Browns
A lot of Nick Chubb and Kareem Hunt's production can be attributed in part to Bitonio. The Cleveland guard is a moose in the run game, which Cleveland has dominated in recently. The Browns often times sport one of the better offensive lines in the NFL. With Bitonio at the helm, another All-Pro season should be at the helm.
18. Tyreek Hill – Wide Receiver – Miami Dolphins
Tyreek Hill was one of the major stories of the offseason, as he relocated to Miami. Hill has speed like no one else in the history of this game and he has made a career on it. While speed is Hill's big ticket, he also sports a very underrated ability of high-pointing passes. Hill has recorded 1,100+ receiving yards in four of his first six seasons in the NFL.
17. Derrick Henry – Running Back – Tennessee Titans
Derrick Henry would probably be much higher on this list if it wasn't for injuries. While Jonathan Taylor is still young, I don't think it is crazy to say that Henry is the best running back since Adrian Peterson. In eight games last season, Henry recorded 937 rushing yards and ten touchdowns. A rare combination of size and speed, Henry should be at the top of the rushing yards list in 2022.
16. Chris Jones – Defensive Tackle – Kansas City Chiefs
Chris Jones has made it known that he is the best defensive tackle in football for sometime now. Early last season, Jones was moved to end, which didn't work. Some fans may have noticed that Kansas City's defense picked up towards the end of the year. That was partly due to Jones moving back to tackle. He had nine sacks last year and provided so much more in the run game.
15. Jonathan Taylor – Running Back – Indianapolis Colts
The Wisconsin alum had one of the better seasons from a running back in NFL history last year. Taylor totaled 1,811 rushing yards and 18 (!) rushing touchdowns. With Matt Ryan at quarterback in 2022, Taylor should be relied upon to help carry the offense. His ability to get to the second level and make a guy miss, puts him at the number one runner in the NFL.
14. Cooper Kupp – Wide Receiver – Los Angeles Rams
Speaking of incredible season in NFL history, let's look at Cooper Kupp. The Rams number one target recorded 1,947 receiving yards on 145 receptions. Even though Kupp attracted so much attention in 2021, he still saw 191 targets. Kupp is such a big part of the Rams offense, proved by his 191 targets. Kupp also tied the lead league for most receptions of 40+ yards, with nine.
13. Jalen Ramsey – Corner Back – Los Angeles Rams
In year seven, Jalen Ramsey is still the premier corner in the NFL. While he is excellent in man coverage, Ramsey's biggest strength might be his physicality. Ramsey is at his best when he is near the line of scrimmage. Hi ability to bottle neck wide receivers, as well as play very physical in the run, gives Ramsey the ability to talk as much trash as he does.
12. Quenton Nelson – Offensive Guard – Indianapolis Colts
The third-best lineman in football goes to the young Indianapolis guard. Quenton Nelson biggest strength comes from his run blocking, as it has become second nature for Nelson to maul guys ten yards downfield. The aforementioned Jonathan Taylor can attest to that. Nelson has continued to improve in pass blocking as well, sending a good omen to Matt Ryan.
11. Travis Kelce – Tight End – Kansas City Chiefs
Now that Tyreek Hill is gone from the offense, will we see a fully unveiled Travis Kelce? Kelce has followed in the shoes of fellow stud receiving tight ends, Rob Gronkowski, Jimmy Graham and Julius Thomas. What separates Kelce from them is his speed. Kelce has the ability to completely flip the field in one play. Kansas City uses Kelce in a variety of ways, including goal line quarterback.
---
Follow us on all of our social channels! Check out our Twitter, Facebook and YouTube for more great FlurrySports content.
---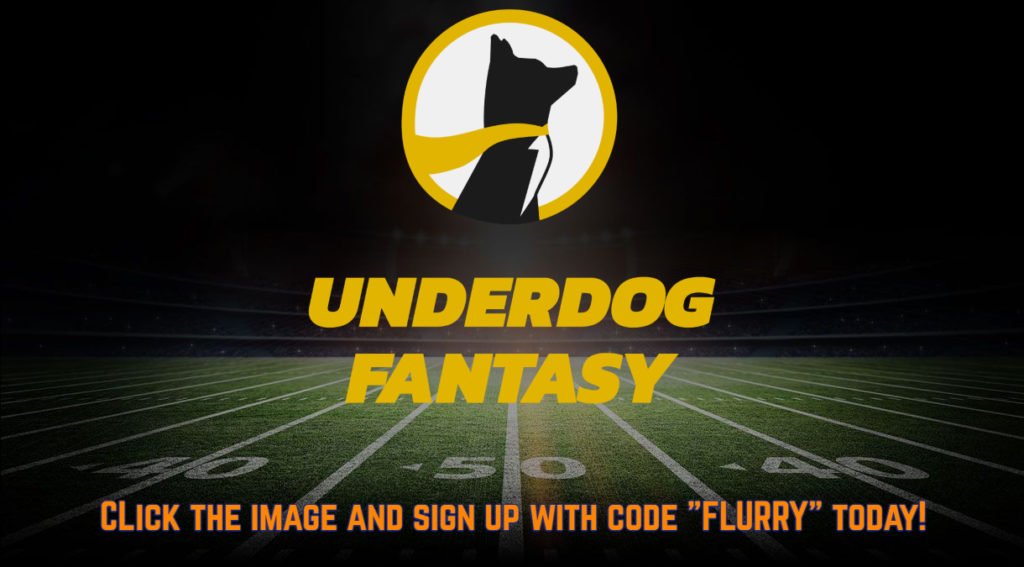 Underdog Fantasy is a new type of DFS that combines the fun of season-long drafts with daily fantasy sports. Aside from their fun, addictive draft mode, Underdog Fantasy also has pick'em player props for many different sports and athletes!
Click the image or RIGHT HERE to get signed up today, and don't forget to use the promo code FLURRY for a FREE $10 bonus on your first deposit!
---