If you are unaware of what NFL survivor picks are, the basic concept is you make NFL picks throughout the season, but you can only pick a team once. Once you lose, you're knocked out, so choose your Week 6 NFL Survivor Pool picks wisely.
If you are new to reading my survivor articles, what I do is outline my "lock of the week," my "value of the week" and my "high-risk, high-reward pick." The lock of the week details what team I think has the best chance of winning their matchup. This would most likely be a good team that plays a bad team. The lock is also the official pick for NFL Survivor Pools, meaning we will not reuse a "lock." My value pick of the week details a mid-tier team that has a good matchup. And finally, my high-risk, high-reward pick details a bad team that has a good matchup.
I was once again in the losing section last week, as Jacksonville went down to divisional rival Houston. That loss was kind of predictable, but Trevor Lawrence really surprised me with how "not-great" he was. The 49ers took care of business, as we predicted, and Washington was right there, but couldn't finish the job against the Titans. Let's try to get back on track with some easier games to predict.
Teams Used:
San Francisco 49ers
Cleveland Browns
Cincinnati Bengals
Los Angeles Chargers
Jacksonville Jaguars
Week 6 NFL Survivor Picks
Lock of the Week | Best Pick For NFL Survivor Pool Week 5
Green Bay Packers vs. New York Jets
At 7.5 points, the Green Bay Packers have the third-longest odds to win this week. The Packers are playing a Jets team who are 3-2 and actually look competent. While yes, two 3-2 teams are probably not somewhere you want to go for a lock of the week, but the Jets haven't really picked up a solid win. Yes, they did make those comebacks against the Browns and Steelers and won against Skylar Thompson. I am not how much stock you can take into a team from those wins. On the other side, the Packers are a good football team. Losses to the Giants and the Vikings push the Packers to a 3-2 record.
It is no secret that the Packers want to run the ball. I believe that the Packers do need to run the ball if they want to win games this year, and the Jets are giving up four yards per carry. Green Bay has taken recent criticism due the abandonment of the run game. That seems like it should be taken care of this game, as in Green Bay's two losses, Jones and Dillon combined for under 20 rushes. In the wins, over 20 rushes.
On the defensive side of the ball for Green Bay, the Packers have not been great. A defense that looks awesome on paper has struggled mightily to stop the run. Luckily for the Packers, the Jets have just 485 rushing yards through five games. This really feels like a game where the Packers get back and track and just overpower the Jets with talent. I wouldn't be surprised if Green Bay won this game by 21+.
Lock of the Week: Green Bay Packers
Value Pick of the Week | Week 6 NFL Survivor Pool Picks
Los Angeles Rams vs. Carolina Panthers
The Los Angeles Rams are off to a shaky start. While yes, they are winning games, something seems off from the team that we saw win the Super Bowl last year. The Rams are currently 10.5-point favorites on the week, by far the highest of the week.
I think that the Rams need a statement win to get their season back on track. Currently, the Rams record under 300 yards a game and score just 16 points per game. That is obviously a far cry for what we are used to in Los Angeles. What works in the Rams' favor is that the Panthers are far worse on the offensive side of the ball. In fact, the Panthers average just 271 yards per game. Now, they have to do it this week with P.J. Walker starting at quarterback. It seems likely that due to the change in quarterback, Christian McCaffrey will need to be relied upon if the Panthers want to move the ball forward. While Bobby Wagner might not be enough to completely shut down McCaffrey, he is as capable as any player to slow him down. There is also nothing on Carolina's offensive line that you are scared of if you are Aaron Donald.
Take the Rams here solely based on the fact that they are the better team in the matchup.
Value Pick: Los Angeles Rams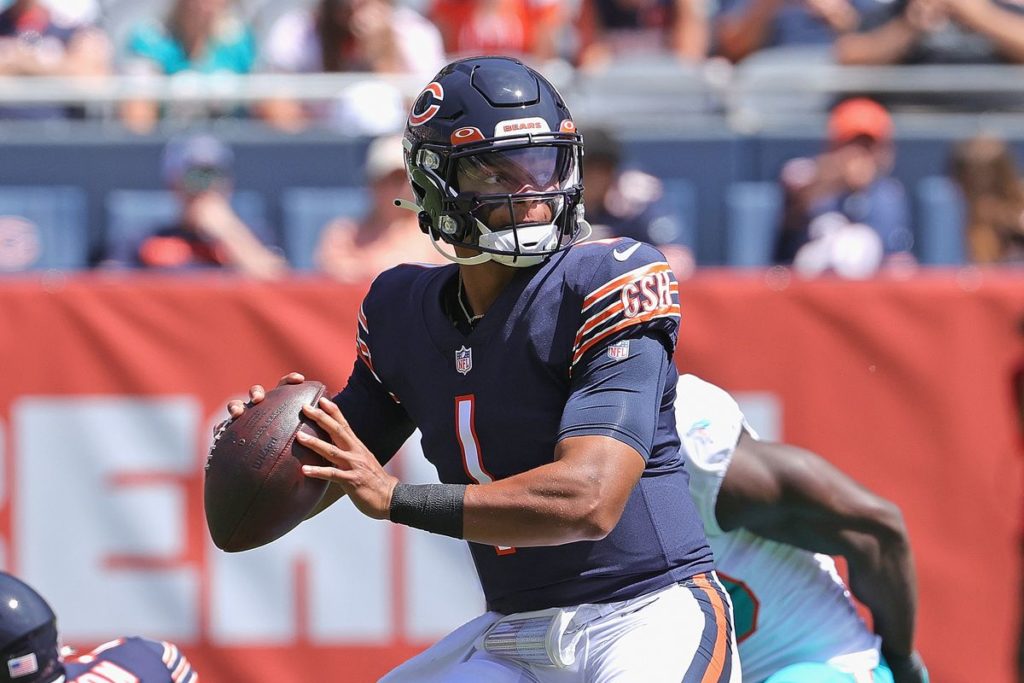 High Risk, High Reward Pick of the Week | Week 6 NFL Survivor Pool Picks
Chicago Bears vs. Washington Commanders
Since winning the first game of the season, the Washington Commanders have yet to find that second win. Washington has scored 17 for fewer points three times. Carson Wentz is constantly getting sacked and the Commanders are in the midst of a transition of running backs.
A big key for Chicago to win this game is that Jahan Dotson is out with a hamstring injury for Washington. Dotson has been a bright spot for Washington, as the rookie has scored four touchdowns on the year. If you factor in Logan Thomas being out, you have to imagine that Washington will somewhat struggle on offense. Even though Washington has that defensive line, they still are not playing good football.
This really feels like a game that Justin Fields can take over with his legs. Once Fields can get running a little bit, he should be able to make plays, as outside of the pocket is where he is at his most dangerous. The injuries and struggles protecting Wentz are too big for me to take the Commanders
High Risk, High Reward: Chicago Bears
---
Follow us on all of our social channels! Check out our Twitter, Facebook and YouTube for more great FlurrySports content.