If you are unaware of what NFL survivor picks are, the basic concept is you make NFL picks throughout the season, but you can only pick a team once. Once you lose, you're knocked out, so choose your Week 3 NFL Survivor Pool picks wisely.
If you are new to reading my survivor articles, what I do is outline my "lock of the week," my "value of the week" and my "high-risk, high-reward pick." The lock of the week details what team I think has the best chance of winning their matchup. This would most likely be a good team that plays a bad team. The lock is also the official pick for NFL Survivor Pools, meaning we will not reuse a "lock." My value pick of the week details a mid-tier team that has a good matchup. And finally, my high-risk, high-reward pick details a bad team that has a good matchup.
Welp (x2). I think I started this article off last week saying that Week 1 was a tough start to my season. Little did I realize that was an understatement. Looking back at my picks, I don't know why I thought the Browns were the pick, when Robert Saleh was talking about receipts. Yikes. Anyways, I was on the right side of the Broncos this week, as they took down the Texans. Finally, the Giants all of a sudden are 2-0 with a win over Carolina, pushing my record to 2-4.
Teams Used:
San Francisco 49ers
Cleveland Browns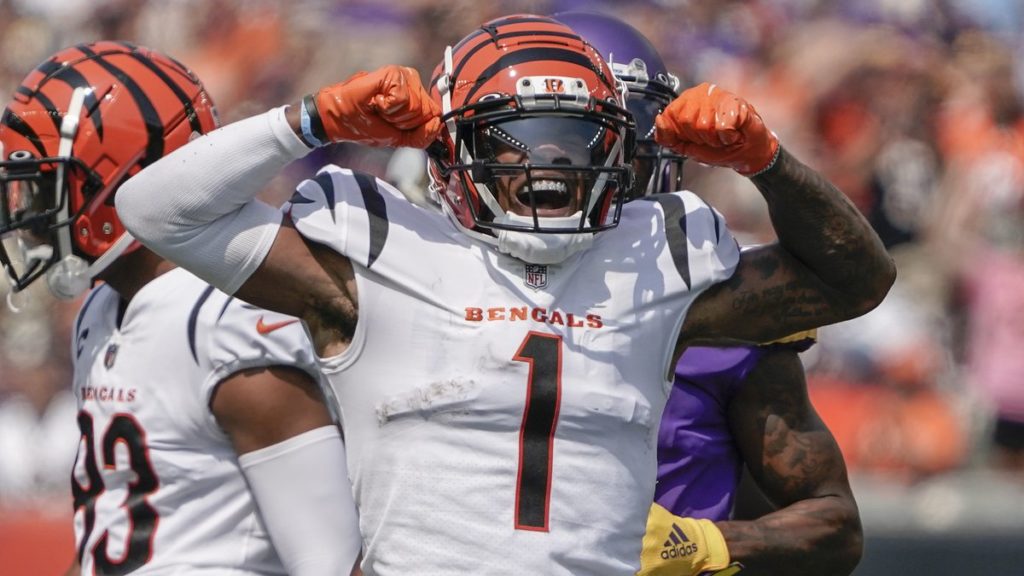 Week 3 NFL Survivor Pool Picks
Lock of the Week | Best Pick For NFL Survivor Pool Week 3
Cincinnati Bengals vs. New York Jets
I am going to be honest… I hate the schedule this week to make an NFL survivor pool pick. Coming off of two bad showings, the Cincinnati Bengals need a get-right game to get their season back on track. The Bengals get a matchup with the New York Jets, who are coming off of an incredible come-from-behind win. An emotional win for a young team oftentimes is followed by a rough loss, and that is what I am expecting in this game. While Joe Flacco has all of a sudden looked like he did during Baltimore's Super Bowl run, it is hard to trust the vet moving forward.
I also love Ja'Marr Chase in this game. I don't think it is in the game plan to only get Chase five touches. Getting the ball in the best player on your team's hands needs to be the game plan, as Cincinnati needs to pick up a win over an inferior opponent. The Jets have given up 247 yards and three touchdowns on the ground, which may mean we see a little more Joe Mixon this week. Through the air, the Jets have given up 432 yards through the air, with four touchdowns. I would expect Burrow can hit the over on that. I would imagine the Bengals stars are the centerpiece of this game, and that I can get on the right side of the Jets this week.
Best Pick For NFL Survivor Pool Week 3: Cincinnati Bengals
Value Pick of the Week | Week 3 NFL Survivor Pool Picks
Las Vegas Raiders vs. Tennessee Titans
When it comes down to it, the Tennessee Titans are not playing good football. They lost in heartbreaking fashion to the New York Giants in Week 1 and got destroyed by the Buffalo Bills in Week 2. Ryan Tannehill does not look like the guy anymore to lead the team. The Titans' best offensive weapon, Derrick Henry, has yet to really make an impact on the season. I don't see that changing in this game, as the Raiders sport somewhat of a solid run defense this year. There is nothing really on this offense that makes me think that the Titans are going to win this game.
On the other side, the Raiders need to get Davante Adams more involved. Two catches in Week 2 is not acceptable for one of the best players in the NFL. Whether it is Roger McCreary or Caleb Farley matched up on Adams, the Raiders should not be scared. This seems like a get-in-the-groove game for Derek Carr, who hasn't really put on a great performance in 2022. Look for Adams to get involved early and often and for Las Vegas to get into the win column against Tennessee.
Value Pick: Las Vegas Raiders
High-Risk, High-Reward | Week 3 NFL Survivor Pool Picks
Houston Texans vs. Chicago Bears
This may be the only chance all year that you can take the Houston Texans. For what it is worth, I still believe that the Chicago Bears are the worst team in the NFL. Last week, the Green Bay Packers showed that you can run against the Bears to set up play action. I love that for the Texans this week. In order for this Texas offense to work, the run game needs to get going. With Dameon Pierce and Rex Burkhead back there, I would guess that they both see career-like days. Getting the run game going early should help Davis Mills settle in. Also in that Bears-Packers game, Green Bay was able to get Chicago's linebackers and safeties to cheat up on the run. Should that happen in this game, I don't see why Brandin Cooks can't have 100+ receiving yards.
Nothing on Chicago's offensive side of the ball should scare you either if you pick the Texans. While Houston does not sport the greatest rushing defense of all time, I think Chicago goes down early in this game and abandons the run. While Justin Fields can be a threat with his legs, Jerry Hughes and Christian Kirksey should be able to contain the Ohio State quarterback.
High-Risk, High-Reward: Houston Texans