If you are unaware of what NFL survivor picks are, the basic concept is you make NFL picks throughout the season, but you can only pick a team once. Once you lose, you're knocked out, so choose your Week 2 NFL Survivor Pool picks wisely.
If you are new to reading my survivor articles, what I do is outline my "lock of the week," my "value of the week" and my "high-risk, high-reward pick."
The lock of the week details what team I think has the best chance of winning their matchup. This would most likely be a good team that plays a bad team. The lock is also the official pick for NFL Survivor Pools, meaning we will not reuse a "lock." My value pick of the week details a mid-tier team that has a good matchup. And finally, my high-risk, high-reward pick details a bad team that has a good matchup. It may be worth it to look at the NFL betting odds for these games and place some bets as well.
Teams Used:
Baltimore Ravens
Week 2 NFL Survivor Pool Picks
Lock of the Week | Best Pick for NFL Survivor Pool Week 2
Buffalo Bills vs. Las Vegas Raiders
Josh Allen looked bad last week against the Jets. I fully expect this to be a major bounce-back game for him. A major factor in this game compared to the Jets is how much worse the Raiders' defense is than the Jets. I would imagine that the Bills are heavy favorites in everybody's survivor pool, but I think that needs to be the case, because what did we really learn about the NFL in Week 1? Nothing. The Bills are still a good team and should put that on full display against Vegas. This is also kind of a sneaky pick because Buffalo has a number of tough games this year.
The Raiders currently have a number of injuries at their receiver position. Jakobi Meyers and Davante Adams are both questionable to play, leaving Vegas' number one receiver to be Hunter Renfrow or Kristian Wilkerson. (Who?) Jimmy Garoppolo is also questionable and while that may not mean much, he is certainly a better option than Brian Hoyer. Based on offense alone, Stefon Diggs, Josh Allen and the Bills' tight ends certainly have the edge in this game. To me, this is just a game where one team is better than the other. I understand why you would not want to take the Bills here, but I think you should, as I said before it is hard to trust anyone else.
NFL Survivor Picks Lock of the Week: Buffalo Bills
Value Pick of the Week | Week 2 NFL Survivor Pool Picks
New York Giants vs. Arizona Cardinals
So, I was going to pick the Giants for my lock of the week, but I don't love taking a team that is traveling across the country as my official NFL Survivor pick. Also, the Giants got smoked last week and I don't think I could live with myself if I lost my locks of the week riding with Daniel Jones.
Anyways, the Arizona Cardinals are the second-worst team in the NFL (Chicago Bears) and the Giants, much like the Buffalo Bills, are in a major bounce-back position this week. I would imagine that Saquon Barkley gets the ball early and often, as he looked great to start the game last week. The Giants just went away from the run immediately after the blocked field goal. While the Giants' receiving staff is not great by any means, the Cardinals sport the worst starting quarterback in the NFL.
People forget that Brian Daboll was the coach of the year last year and he still has a good defensive unit. Isaiah Simmons is in line for a revenge game, while other players like Dexter Lawrence and Kayvon Thibodeaux are forces. Much like taking the Bills, the Giants are just the better team here and should take home a win, regardless of travel or not.
Value of the Week: New York Giants
---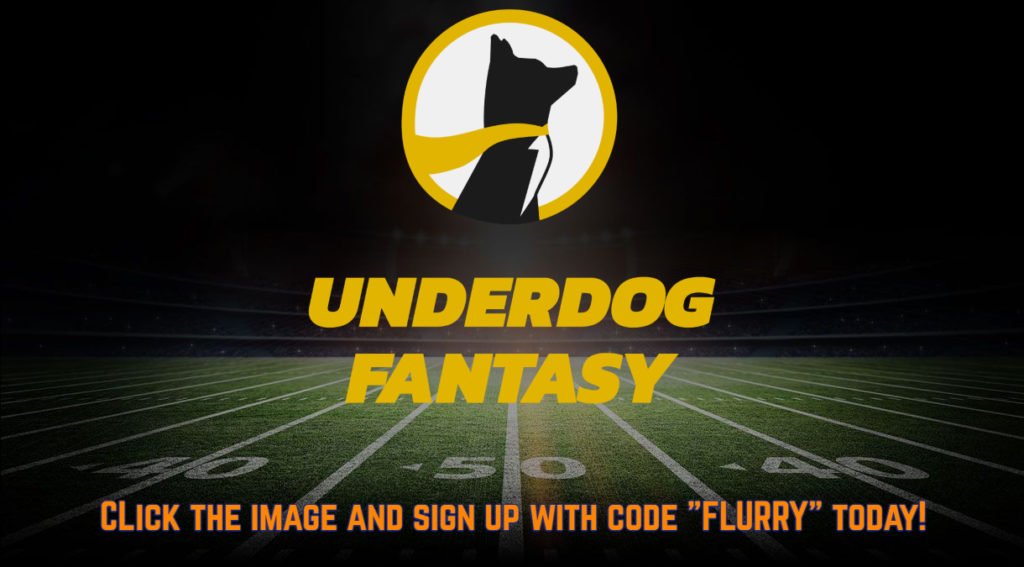 Underdog Fantasy is a new type of DFS that combines the fun of season-long drafts with daily fantasy sports. Aside from their fun, addictive draft mode, Underdog Fantasy also has pick'em player props for many different sports and athletes!
Click the image or RIGHT HERE to get signed up today, and don't forget to use the promo code FLURRY for a FREE $10 bonus on your first deposit!
---
High Risk, High Reward Pick of the Week | Week 2 NFL Survivor Pool Picks
Tampa Bay Buccaneers vs. Chicago Bears
Baker Mayfield is the kind of player that if you give him an inch, he will take a mile. Given Tampa's upset of Minnesota last week, the Buccaneers should be buzzing. Back at home this week, Mayfield and the Bucs should be favored by much more than 2.5 points. Tampa sports an underrated defensive unit and should have the speed at linebacker to spy and contain Justin Fields.
Also, let's talk about the Bears' offensive game plan. Justin Fields is just not good enough of a quarterback to be an elite passer and, for whatever reason, there were no designed runs for Fields in Week 1. It is fairly obvious that the Bears don't believe in Fields' arm and that should play into the Bucs winning this game. As the Packers did last week with Aaron Jones in the receiving game, I can see this being a Rachaad White game. While both of these teams aren't very good, the Bucs are just a little bit better than the Bears and should be happy starting the year out 2-0.
High Risk, High Reward Pick of the Week: Tampa Bay Buccaneers