I will take responsibility for the injury bug coming back with a vengeance this past week. After mentioning it was finally slowing down, Saquon Barkley, Daniel Jones, Juju Smith-Schuster and many others fell victim to injuries in Week 5. While there were plenty of big-name injuries around the league, there isn't too much shifting in the NFL Power Rankings, as not much has drastically changed among the NFL in terms of fake versus real teams.
With bye weeks starting to pop up, hopefully, some players can rest up and come back better than ever and show out for their team. With that in mind, here's how the NFL Power Rankings shake out, heading into NFL Week 6.
NFL Power Rankings: Week 6
1) Tampa Bay Buccaneers (4-1) (2)
Tom Brady has had plenty of troubles with the Miami Dolphins in the past. While it looked to be an easy win, there were still some who questioned if this game could be a squeaker after a narrow win over New England last week. Brady decided to throw five touchdown passes with a hurt finger and route the Dolphins, 45-17. Tampa's only loss was to the Rams on the road. They beat Dallas and have now won two of three games, in which they were heavy favorites, in blowout fashion.
This team may not be the best at the end of the season, but as of now, it's hard to argue with Tampa's resume. With the Eagles on deck this Thursday, the Buccaneers should be able to tee off on Jalen Hurts and coast to another easy victory.
2) Buffalo Bills (4-1) (5)
The Kansas City Chiefs have a major problem at defense. With that being said, they have one of the most potent offenses in the league, which makes Buffalo holding them to 20 points at Arrowhead that much more impressive.
Since their opening week upset to the Steelers at home, the Bills have won their next four by a combined score of 156-41. While all of those games outside of Kansas City came against below-average teams, they are leaving little doubt that they're a force to be reckoned with. Their defense looks arguably better than last year's and they were able to not only keep Tyreek Hill and Travis Kelce in check, but also intercept Patrick Mahomes twice. Color me impressed.
3) Arizona Cardinals (5-0) (1)
I get it, the Arizona Cardinals are the only undefeated team left in the NFL. They should be happy they're even at the third spot this week. I admit I was overly impressed with this team after their romping of the Rams last week. Is anyone still impressed by these guys? Arizona has beat the Titans (who lost to the Jets), Minnesota on a missed field goal, Jacksonville after being down nine late, and have now squeaked by rookie Trey Lance and San Francisco by one possession. You could argue that Kyle Shanahan lost the game for San Francisco more than Arizona won it, and they have the Browns on deck. This week is a good opportunity to show us they aren't just an early flash in the pan again.
4) Los Angeles Rams (4-1) (3)
When Russell Wilson injured his finger, it looked as if all was lost for Seattle. Then something weird happened. Geno Smith came in and balled against a tough Rams defense. While Los Angeles did get the win on the road, Stafford looked shaky and the Rams only put up three points in the first half. Even with Wilson healthy, the Rams should be beating the Seahawks without too much of a sweat. The Rams have a cakewalk against the Giants on deck in what should be nothing more than a scrimmage, as their next three matchups are against teams with one or fewer wins. L.A. is primed to be sitting at 7-1 going into a Week 9 Sunday Night Football matchup with the Titans.
5) Dallas Cowboys (4-1) (4)
Cowboys fans, hear me out. This Dallas team is undeniably good. While their defense will have questions that need answering against actual solid opposition, it's been showing out when needed in recent weeks. The Cowboys breezed to a 44-20 win over the Giants that, quite frankly, wouldn't have been impressive even if Saquon Barkley and Daniel Jones hadn't been knocked out in the first half due to injuries. Nothing against this team, but their division is terrible and their strength of schedule is even worse. The next opportunity for Dallas to show us something will be in a road matchup with Kansas City in Week 11. Until then, expect them to keep beating up on the little guys.
6) Los Angeles Chargers (4-1) (11)
The fourth quarter of the Browns-Chargers game can be compared to the first four rounds of the Fury vs. Wilder fight this past weekend. In a game that started relatively slow, the two teams combined for 41 points in the fourth with the Chargers coming out on top, 47-42. Keenan Allen wasn't involved much, and it didn't matter thanks to massive weeks from Austin Ekeler and Mike Williams. This offense can beat you many different ways, but this defense looked lackluster at best. While the Browns are no scrubs, it was just too easy for Cleveland to move up and down the field for most of the game. In the end, the Chargers won, although it will be interesting to see if Brandon Staley's questionable fourth down decisions continue to work out for them.
7) Green Bay Packers (4-1) (10)
The Green Bay Packers went on the road to play a pesky Bengals team, had Aaron Rodgers throw an early interception, had kicker Mason Crosby miss an extra point and two field goals in regulation, lost the coin toss in OT, missed another field goal in OT, and still won. It wasn't pretty, but I don't think the Packers will be complaining.
Outside of Crosby, this team looked solid. Davante Adams had a career game, with over 200 receiving yards, and the Packers were inches away from a game-altering pass breakup on Burrow's 70-yard touchdown pass to Ja'Marr Chase to end the first half. For as bad as they looked at times, it's clear many of the negatives were simply fluky circumstances. The Packers have a date with Chicago this week at Soldier Field in a game that already has major implications for the NFC North.
8) Kansas City Chiefs (2-3) (6)
The good news for Chiefs fans is that they've seen this problem before. The bad news is, things like these can't always be just "figured out" in the regular season. I'm obviously referencing the embarrassing Kansas City defense that's best performance was giving up 29 points to the….checks notes….Philadelphia Eagles. The Chiefs have played a tough schedule, and it should be noted that, for the most part, this offense is still good enough to win them a Super Bowl.
With this current defense, however, they won't be able to get there, as they'll be the AFC version of the post-Super Bowl XLV Packers.
9) Cleveland Browns (3-2) (7)
Cleveland held a 14-point lead midway through the third quarter and had a seven-point lead twice within the last 10 minutes of the fourth. At the end of the day, they just couldn't keep Justin Herbert and the Chargers. This offense looked very good and more than capable of carrying its weight.
This defense, however, did much less than that. Are we sure this defense is good? They gave up 34 points in three games leading up to Week 5, but that was against Houston, Chicago and Minnesota. Against Kansas City and Los Angeles, Cleveland has given up 80 points in just two games. The Browns have a date with Kyler Murray and the Cardinals next week and we should see if this defense continues to cower in big games.
10) Baltimore Ravens (4-1) (8)
Is anybody actually impressed with the Ravens after Monday night? The Ravens found themselves down 19 in the third quarter and 16 in the fourth and needed overtime to beat the now 1-4 Colts at home. Lamar Jackson was good in the air and okay on the ground, but his attempts to make a play when there wasn't one to be made hurt Baltimore multiple times. Outside of beating Kansas City, a win that looks less impressive each week, they have lost to Las Vegas in overtime, needed an NFL record field goal to beat the Lions, and needed a furious comeback win in overtime against the Colts. This will fly in the regular season, but in the playoffs, the Ravens won't have this type of luxury. Baltimore has a lot to fix before the postseason starts.
---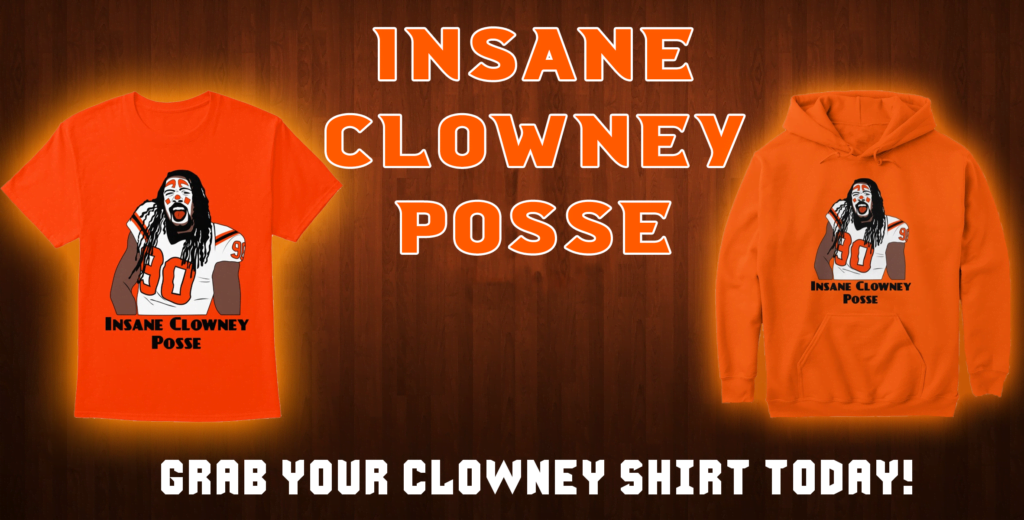 The only thing scarier than the Browns' pass rush are clowns. Get the design that shows off both today!
Available shirts in men, women and kids, along with posters and tumblers! Click here or the image above to see!
---
11) Carolina Panthers (3-2) (9)
12) Seattle Seahawks (2-3) (12)
13) San Francisco 49ers (2-3) (13)
14) New Orleans Saints (3-2) (18)
15) Tennessee Titans (3-2) (17)
16) Cincinnati Bengals (3-2) (15)
17) Chicago Bears (3-2) (20)
18) Las Vegas Raiders (3-2) (14)
19) Pittsburgh Steelers (2-3) (24)
20) Philadelphia Eagles (2-3) (22)
21) Washington Football Team (2-3) (19)
22) Denver Broncos (3-2) (16)
23) New England Patriots (2-3) (23)
24) Minnesota Vikings (2-3) (21)
25) Indianapolis Colts (1-4) (25)
26) Atlanta Falcons (2-3) (28)
27) Miami Dolphins (1-4) (27)
28) New York Giants (1-4) (26)
29) Detroit Lions (0-5) (30)
30) Houston Texans (1-4) (31)
31) New York Jets (1-4) (29)
32) Jacksonville Jaguars (0-5) (32)