While college football teams across the country are finally in their conference schedules, losses are starting to carry extra weight. The list of unbeaten teams in the country is shrinking, and we are getting a clearer view of which teams are truly in the playoff picture.
As for the highlighted games last week, Cincinnati's Desmond Ridder was far from perfect. Still, he threw two touchdown passes while running for a third score to lift the Bearcats over Notre Dame. Alabama's defense constantly harassed Ole Miss's Matt Corral, and we rarely got to see his unique skill set shine as a result. In addition, Owen Pappoe was a late-scratch for Auburn, and Mike Jones had less of an impact with LSU rotating their players. Still, Damone Clark continues to have a breakout season as he recorded 13 tackles in the loss. This week, I'm featuring three conference rivalries, with two of which matching up ranked opponents.
Let's take a look at the top college football games for Week 6 to watch in order to see some of the top NFL Draft prospects in the country.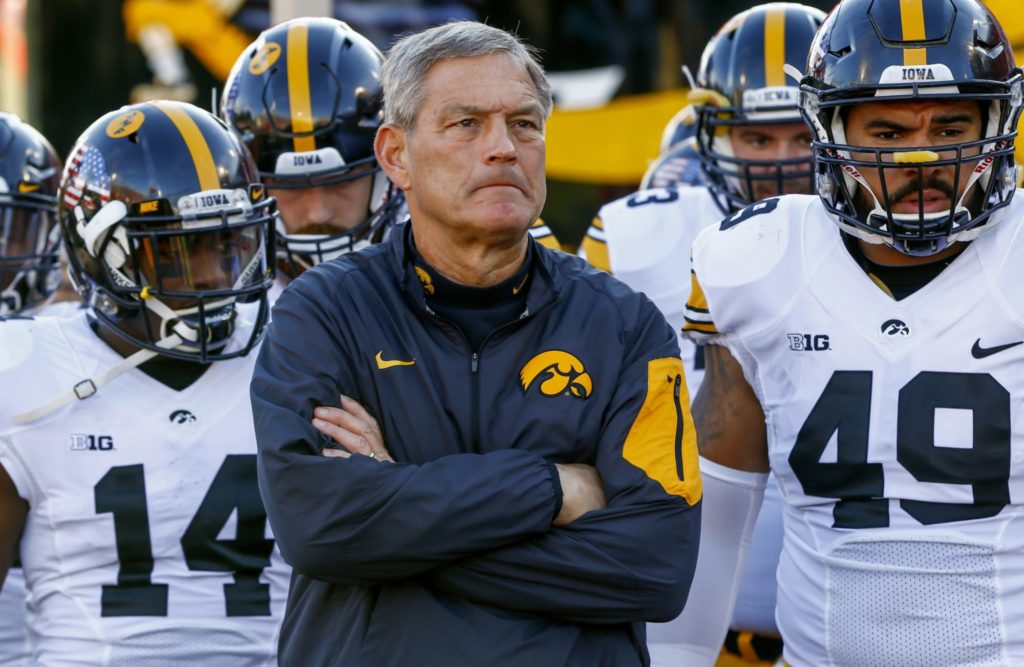 College Football Game of the Week: Penn State vs Iowa
Kinnick Stadium, Iowa City, Iowa, Saturday, October 9, 3:00 p.m. (CT) on FOX
Penn State Football:
Penn State has been one of the most balanced teams in the country, fueled by top-notch prospects on both sides of the ball. The offense is led by one of college football's most explosive players in wide receiver Jahan Dotson.
Dotson isn't the tallest or strongest player, which is why he rates just outside of my top five receivers. Still, he has exceptional speed and body control that make him tough to cover and even more challenging to corral after the catch. At 5'11" and 175 pounds, he may get typecast into a slot role, but with the NFL offenses evolving, he can be a star in that position. He ranked just outside the top 50 in my preseason rankings, but a strong fall is pushing him up the board.
Offensive tackle Rasheed Walker was in our preseason rankings. However, he's had more of an up-and-down year. While Walker has tremendous size and length, he needs to continue to get the most out of his physical gifts. His biggest issue to date is his balance, which must improve before he hits the NFL. Walker also needs to show better awareness, which Iowa will test with stunts and blitzes. This should be a big opportunity for him to impress scouts on Saturday.
On defense, Jaquan Brisker is a hard-hitting safety that plays a downhill brand of football. He has traits that allow him to handle playing deep or in the box, but his long-term home should be near the line of scrimmage. Still, the versatility will improve his draft stock if he keeps showing his range on the backend. Linebackers Brandon Smith and Ellis Brooks are also two players to keep an eye on. Smith, in particular, shows fantastic range that offers three-down capabilities if he gets stronger.
Iowa Football:
Much like Penn State, the Hawkeyes have intriguing prospects on both sides of the ball. On offense, Tyler Linderbaum is one of the top offensive line prospects in the country and my top center. He's not only a terrific athlete for the position, but he also fights to finish blocks. Iowa also has a pair of playmakers in that offense. Running back Tyler Goodson is a determined runner with a nice combination of contact balance and short-area quickness.
However, it's tight end Sean LaPorta that can be a game-changer. He's one of the top receiving tight ends in the country, thanks to terrific acceleration and impressive body control. Goodson and LaPorta have combined for eight of Iowa's 17 offensive touchdowns.
On defense, I'll certainly be keeping my eye on Riley Moss. He's been a contributor at Iowa ever since he arrived in Iowa City, and he's already got three interceptions this year, with two going for touchdowns. He's got a tall, long build that can disrupt players early in the route. That will come in handy when he gets matched up with Dotson.
My Two Cents on the game:
We've had some terrific matchups thus far this season. Georgia and Clemson. Oregon and Ohio State. Cincinnati and Notre Dame. This game is right there with all of those, as both teams are playing terrific football. However, it's the defenses that have really stood out. Iowa is second in the nation, giving up 11.6 points a game, while Penn State is third at 12 points. So which team's offensive playmakers are going to step up?
Dotson? LaPorta? Goodson? Spencer Petras or Sean Clifford? I'm leaning with Penn State, but this game should be tight from start to finish. The Nittany Lions have won against a pair of quality opponents in Wisconsin and Auburn, while Iowa's one quality opponent has somewhat flamed out in Iowa State.
Linderbaum is my top prospect in this game, but Dotson can be the most impactful and I think he has a big day.
Matchup of the Week: Oklahoma's Brian Asamoah and David Ugwoegbu against Texas' DeMarvion Overshown
Cotton Bowl, Dallas, Texas, Saturday, October 9, 11 a.m. (CT) on ABC
Brian Asamoah, LB, Oklahoma, Fourth-Year Junior, 6'1", 228
David Ugwoegbu, LB, Oklahoma, Third-Year Junior, 6'4" 248
Oklahoma has a pair of linebackers that I couldn't choose between for this matchup. In some ways, Brian Asamoah and David Ugwoegbu are very similar while being very different in others.
For starters, Asamoah is an exceptional athlete. He has good burst to beat blockers to the spot while also being able to pursue the ball with ease, thanks to his speed and ability to change direction smoothly. Those skills also help him in coverage, as well as on special teams. Ugwoegbu is a physical player that combines strength with the ability to build speed to become a disruptive force. He's a long-armed player built to take on blockers and even rush the passer, although he is still learning to make the most of his gifts.
While they have very different skill sets, both are still developing their feel for run-blocking schemes. They also tend to be too aggressive and overrun plays. Still, both have tremendous physical gifts. As they learn to implement them with a keen understanding of what's going on in front of them, scouts will continue to take notice. They should have their hands full with Texas' Bijan Robinson, who will likely be a top prospect for 2023.
DeMarvion Overshown, LB, Texas, Fourth-Year Senior, 6'4", 223:
Both Asamoah and Ugwoegbu are physically gifted, but DeMarvion Overshown might be the belle of the ball. He has a similar skill set to Isaiah Simmons, albeit not quite the exceptional athlete. Still, he's a tall, long-armed player with tremendous straight-line speed and a knack for making plays in the passing game. He is an agile obstacle with good ball skills in zone coverage, and Overshown has a knack for timing his blitzes to get to the quarterback.
The big question for him in most cases will be his natural position. It's challenging to be 223 pounds as a linebacker and that much more difficult to be that light at 6'4". Some teams may employ his skillset by playing outside as either an edge player or an overhang linebacker.
Fortunately, he should get a chance to show off his skills in the passing game against Oklahoma. Spencer Rattler has not had the Heisman-caliber year most thought and is prone to make mistakes. He's already tossed four interceptions this season, and Overshown picked him off a year ago, which led to him being temporarily benched. This should be a game where Overshown can have an impact.
College Football Player of the Week: Utah's Devin Lloyd vs. USC
Los Angeles Memorial Coliseum, Los Angeles, California, Saturday, October 9, 7:00 p.m. (CT) on FOX
Devin Lloyd, LB, Utah, Fifth-Year Senior, 6'3", 235:
Devin Lloyd is an athletic linebacker that should be in for a busy night against the Trojans' offense. He has outstanding speed and change-of-direction that show up in coverage and pursuit. The Utes play him on the weak and strong side of the formation, but his slightly slender build is probably best suited for the weakside. However, he's got solid recognition skills and burst to beat blockers to the spot if teams want to play him in the middle regularly.
He will play a significant role in slowing down USC's group of runners, but I will really be interested in seeing him in coverage. Lloyd is most comfortable in zone, where he can keep his eyes on the quarterback and react to his movements. In man coverage, he is less capable, but his long arms help. I'm also a big fan of him being a spy and even blitzing up the middle. His burst really shows up in this area. The Trojans are a different animal when they play with balance, and Lloyd can impact that.
---
Follow us on all of our social channels! Check out our Twitter, Facebook and YouTube for more great FlurrySports content.