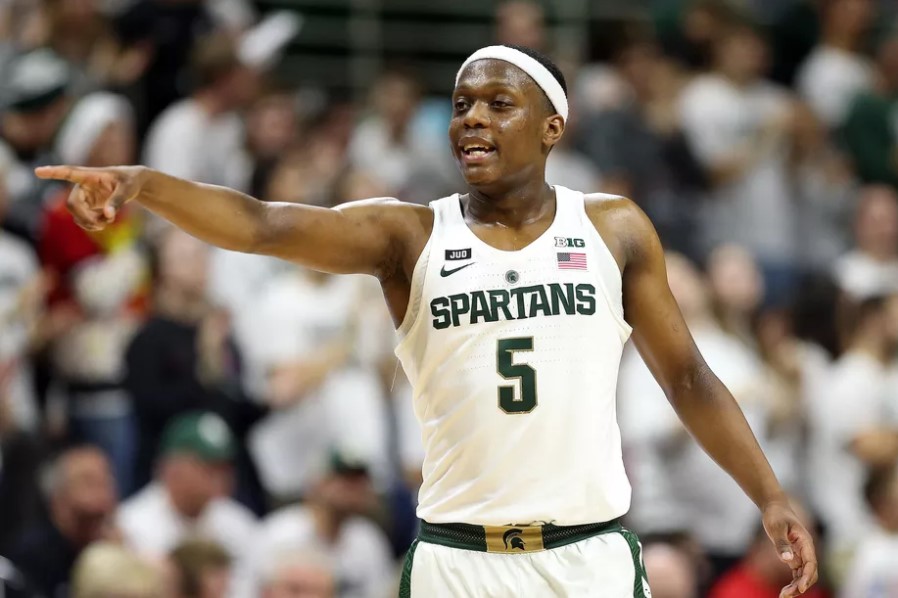 AP Poll 
 MSU
Duke
Villanova
ASU
Xavier
West Virginia
Oklahoma
Virginia
Wichita State
Kansas
Texas A&M
UNC
Purdue
Arizona
Miami
TCU
Kentucky
Texas Tech
Gonzaga
Cincinnati
Seton Hall
Arkansas
Tennessee
FSU
Clemson
Top-25 Breakdown
MSU takes over at #1 after Villanova falls to Butler. Xavier and West Virginia, who were my number one contenders in their respective conferences, continue to rise in the top-10. Virginia and Gonzaga are way too high for me, while Arizona is too low. Lastly, we welcome two new teams this week: Arkansas, who upset Tennessee, and Clemson, who cannot seem to cool off.
Top-25 Notes
#21 Seton Hall feeds off of an impressive comeback to knock off Creighton in an amazing game. Creighton fell out of the top-25.
#17 Kentucky absolutely destroys their biggest rival, as they went to Louisville to dominate the Cardinals. Then, they held off Georgia late. The Wildcats could be ranked higher than 17 after these wins, in my opinion.
#18 Texas Tech was not having it at home, as they beat Baylor by 24.
#10 Kansas shoots the lights out of Texas' gym on their way to a much-needed road win to re enter the top-10.
#12 UNC barely beats Wake Forest, who is one of the worst teams in the ACC.
Boston College falls one point short of upsetting #9 Virginia.
#2 Duke puts up 100 points in a seven-point win over #24 Florida State.
#12 Trae Young, I mean Oklahoma, completes an amazing comeback to hand #16 TCU their first loss. Trae had 39 points and 14 assists.
#14 Arizona handed #4 ASU their first loss, but the Sun Devils still proved that their non-conference success was not a fluke, as they only fell to the Wildcats by six away from home.
Other Headlines
Butler holds off Georgetown in double OT, and Xavier survives at Marquette for a great start to the very competitive Big East conference play.
SMU takes out UCF by five to cement themselves at the top of the AAC.
Providence actually plays how they should, as they beat the very promising St. Johns Red Storm by 22.
Temple has reached the struggling point, as Tulane grabs another great win by ten. However, Tulane fell at home to Tulsa later in the week. Tulsa has improved, since they struggled in non conference tournaments.
Things were actually starting to shape up for Rutgers, but they have been upset in their last two games, by Rider and Hartford.
Iowa State seemed to have turned their season around, until they fell to Kansas State by 16 on their home court.
USC and Oregon both start PAC 12 play on a bad note, as USC falls to Washington, and Oregon falls to Utah. Both games were at home for the Ducks and Trojans.
La Salle dominates St. Louis in A10 play to show us that St. Louis may not compete in the conference after all.
St. Bonavneture is 100% healthy and they are clicking on all cylinders.
St. Marys knocks off BYU in overtime in a fantastic WCC game.
Richmond is playing well, and their 3-10 record may not mean much if they can compete in the A10. They beat Davidson by 11.
Alabama finally plays as a team in a wild 22-point upset over #11 Texas A&M.
Syracuse beats VTech by 12 in a defensive game.