Every summer, the College World Series in Omaha, Nebraska is one of the best sporting events of the year. You get fanbases from all across the country, tailgating and some great baseball.
In 2020, the College World Series was cancelled due to the pandemic. It was the first time there was no College World Series, since it began in 1947. Fast forward to 2021, and the tournament is back on and fans have flooded to Omaha. However, it seems that the 2021 version of the tournament was not completely rid of COVID-19.
Underdog, and fan favorite, North Carolina State was eliminated from the tournament this morning due to COVID-19 protocols. The Wolfpack were 2-0 and had just beaten Vanderbilt on Tuesday before last night's rematch with the Commodores. The depleted Wolfpack lost to Vanderbilt, 3-1, last night. The deciding game was scheduled for today, but has been declared no contest. Vanderbilt advances to the College World Series Final.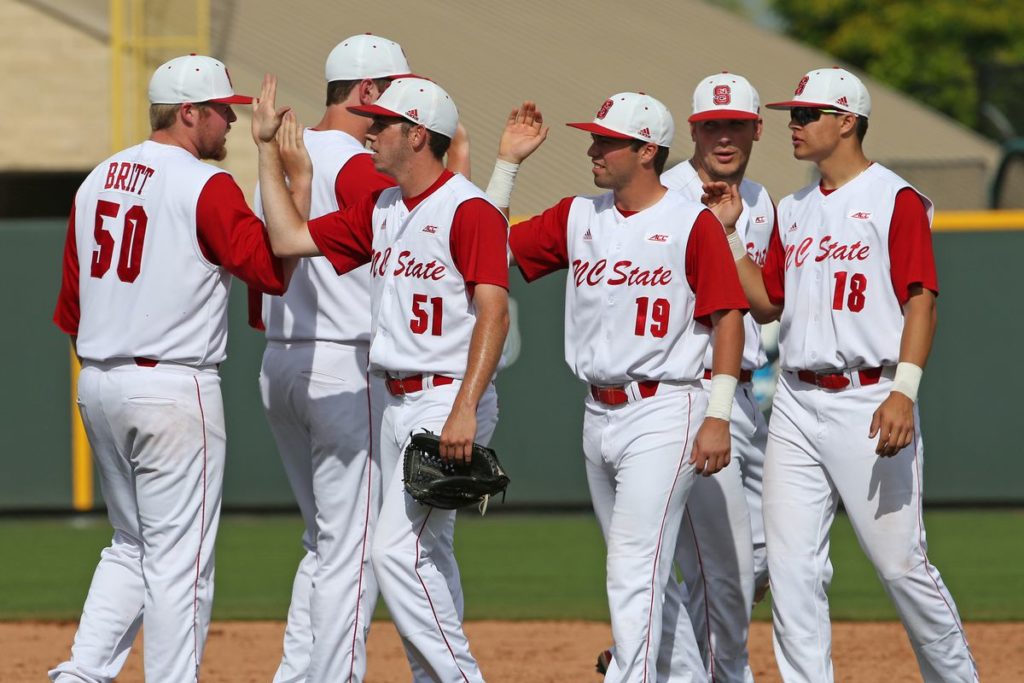 NCAA Statement on College World Series COVID-19
At the early time of 2:00 AM, the NCAA Division I Baseball Committee declared today's game between Vanderbilt and NC State a no-contest. In a statement, the NCAA defended their decision to call the game. "The NCAA and the committee regret that NC State's student-athletes and coaching staff will not be able to continue in the championship in which they earned the right to participate," the statement read. "Because of privacy issues, we cannot provide further details."
Expectations were high for the Pack. They beat the number one overall seed Arkansas in the Super Regional to advance to the World Series. Their hot start came to an end last night versus the defending champions. It all started yesterday afternoon when Ryan McGee of ESPN announced that Wolfpack second baseman JT Jarrett and reliever Evan Justice were out for yesterday's game due to COVID-19 protocols.
Reaction From Around the Country
North Carolina State athletic director Boo Corrigan released a statement about the decision this morning: "We are truly heartbroken for NC State's student-athletes, coaches, support staff, administration, alumni and fans," ACC commissioner Jim Phillips said in a statement Saturday. "To have the season abruptly end this way is devastating. Watching this team, especially in the postseason, has been nothing short of inspiring and we applaud the entire program for the resiliency it has shown this season."
In a press conference earlier this morning, NC State baseball head coach Elliott Avent did not say whether he encouraged his team to get the vaccine, or if he himself had gotten it. He declined to say and was clearly annoyed with the press. "If you want to talk baseball, we can talk baseball," Avent said. "If you want to talk politics or stuff like that, you can go talk to my head of sports medicine, Rob Murphy."
Stop Making This Political, You're Hurting Your Team
I'm have no issue telling people that yes, I am indeed vaccinated. If I had decided not to get it, if I eventually came down with COVID-19, that would be my fault. It would hurt me and me alone. Getting or not getting the vaccination does not need to be political in any sense. It was clearly stated before the College World Series, that if you were vaccinated, you would not have to go through daily testing. NC State baseball players knew this and did not care. In their case, not only did they harm themselves, but they hurt their teammates. If you have the chance to win a national championship and you decide to make a stand for some political reason, you're not only hurting yourself, but you're hurting your team and teammates.
The same can be said for Cole Beasley of the Buffalo Bills. He has decided he will not be taking the vaccine, no matter what. As Sports Illustrated points out, there is a vaccine for COVID-19, but not one for COVID-Stupid. Beasley has said he will not be getting the vaccine and living his life the way he wants. Because of the deal between the NFLPA and the NFL, players who aren't vaccinated won't have the same opportunities as those who are. It makes a lot of sense. If Beasley wants to continue to be an idiot about this, he can watch film from his basement and get ready for game-day in the parking lot.
---
Follow us on all of our social channels! Check out our Twitter, Facebook and YouTube for more great FlurrySports content.