The 2019-20 NBA season is in suspended with no restart in the horizon, thanks to the COVID-19 pandemic. However, if they the NBA season does return with an immediate start into the NBA Playoffs, these are our Eastern Conference Predictions.
All year long, most experts have predicted that the Western Conference Finals would be between the Los Angeles Lakers and Clippers. If the regular season meant anything, that would be a terrific series and maybe an all-time classic. However, the rest of the West would not be a walk in the park.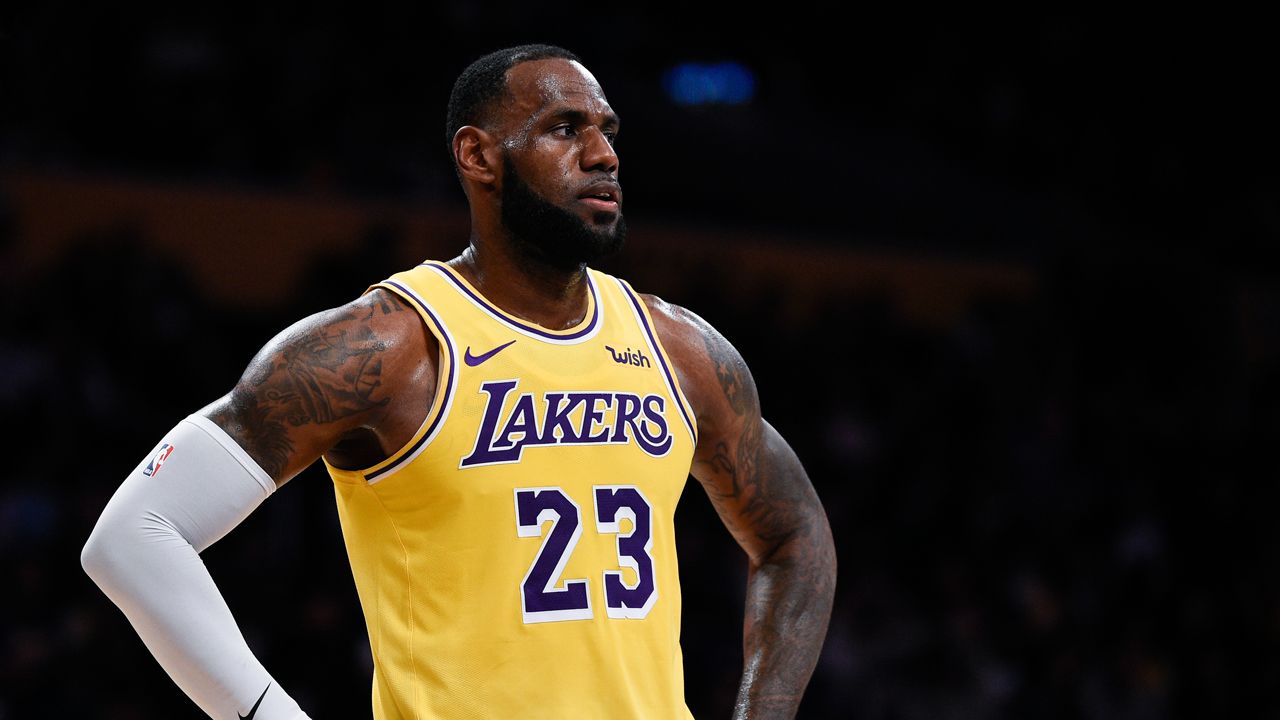 NBA Western Conference Playoffs Predictions
Western Conference Round 1 Predictions
| | | |
| --- | --- | --- |
| | Vs. | |
1) Lakers vs 8) Grizzlies
Regular Season Series: Lakers won 3-1
Analysis: The Grizzlies came into the 2019-20 season as a team that many expected to be near the bottom of the standings, but with the help of Rookie of the Year-favorite Ja Morant, they have fought and clawed their way to the eighth seed. Jaren Jackson Jr. has been an amazing sidekick to Morant all year long, Dillon Brooks has seen his scoring improve by 8.2 PPG and Jonas Valanciunas is putting up a very respectable 14.9 PPG along with 11.2 RPG. Brandon Clarke has been a complete steal for the Grizzlies at the 21st overall pick. The rest of the bench is pretty good, putting up a combined 41.4 PPG, which is sixth-best in the NBA. On on the other hand, the Grizzlies are just 8-20 against team .500 or better and are middle of the pack on almost every category such as defensive rating, and net rating.
The Lakers, however, are third in defensive rating and second in net rating. Led by MVP candidates LeBron James and Anthony Davis, the Lakers have been having their best season since the 2010-11 season. Danny Green and Avery Bradley should play great defense against Morant and Brooks. While the Grizzlies have a very good young team (youngest team in the NBA), they still need some playoff experience.
The Lakers should beat the Grizzlies with ease and move on to the second round for the first time since the 2011-12 season.
Prediction: Lakers 4-0
| | | |
| --- | --- | --- |
| | Vs. | |
4) Jazz vs 5) Thunder
Regular Season Series: Series tied 1-1
Analysis: After trading away Paul George and Russell Westbrook for a ton of future draft picks, Shai Gilgeous-Alexander, Chris Paul and Danilo Gallinari, many expected the Thunder to enter a rebuild. Following a poor 6-11 start to the season, the Thunder have had one of the best records in the NBA. Paul has proven that he still has some left in the tank, as he earned his first All-Star appearance since 2016. Gilgeous-Alexander and Gallinari have proven to be great acquisitions, putting up a combined 38.5 PPG, and Dennis Schroder is a leading candidate for Sixth Man of the Year. Steven Adams and Nerlens Noel have been a great 1-2 punch at center and two-way player Luguentz Dort appeared out of nowhere and even started 21 games for them. The Thunder are a feisty and tough team that had the most comeback wins in the NBA.
Before the NBA suspended play, the Jazz were a team that did not perform to their greatest ability, and that all started with Mike Conley. The point guard was supposed to be the missing piece to this Jazz team, but it just has not panned out quite yet. He is putting up his lowest point total since the 2011 season and is shooting just 40% from the field. Donovan Mitchell and Rudy Gobert picked up the load and were both All Stars this year. Bojan Bogdanovic has fit in really well with this team, putting up 20.2 PPG, and Jordan Clarkson has also proven to be a great acquisition, averaging 15.6 PPG off the bench. Their defense has not been as great as it was last year, but they are still 11th in defensive rating. The offense has been pretty good and their overall net rating is eighth in the NBA.
This will be a hard fought series and it could go either way. It will be close, but the Jazz will move on to the second round.
Prediction: Jazz 4-2
| | | |
| --- | --- | --- |
| | Vs. | |
2) Clippers vs 7) Mavericks
Regular Season Series: Clippers won 2-1
Analysis: Throughout the first couple months of the 2019-20 campaign, Luka Doncic was in the top three MVP candidates. Unfortunately, he suffered a couple of injuries, which took him out of the conversation, but he was voted a first-time All-Star starter by the fans and was putting up 28.7 PPG, 9.3 RPG and 8.7 APG before the suspension of play. Kristaps Porzingis finally returned after missing a year and a half with a torn ACL, and even though he was a bit inconsistent (which is expected for a player who misses a year+ of action), he put up a respectable 19.2 PPG. They are first in the NBA in offensive rating, but a below average 17th in defensive rating. The Mavericks are also just 10-16 against teams over .500, while the Clippers are 17-11.
Health is the Clippers' biggest enemy. When the Clippers were healthy, they looked a lot like the team that some predicted would win the championship. When someone is injured, they lose games to teams like the Hawks and Timberwolves. The Clippers gave up a lot to acquire Paul George and he has only played in 42 of the 64 games played so far. Throughout the season, the Clippers have picked up Marcus Morris and Reggie Jackson, who are great pieces to add.
Dallas has a pretty solid team to maybe win one game, but the Clippers have the star power, experience and depth to make it to the second round.
Prediction: Clippers 4-1
| | | |
| --- | --- | --- |
| | Vs. | |
3) Nuggets vs 6) Rockets
Regular Season Series: Series tied 2-2
Analysis: Before the league's suspension of season, the Nuggets were on pace to finish with the same record as the year before, but a seed lower. Nikola Jokic earned his second straight All Star nod and Jamal Murray has been a perfect side kick for him, putting up 18.8 PPG on 45.5% shooting. Michael Porter Jr proved this year that he is capable of being an X-factor in a playoff series. The Nuggets are ninth in offensive rating, 12th in defensive rating and ninth in net rating. This is a good team that is a superstar away from being a real title contender.
The Rockets have a superstar in James Harden and a star in Russell Westbrook. Around the trade deadline, the Rockets traded away Clint Capela and fully embraced the small ball movement. Since that move, Westbrook has been playing like a superstar and the results have varied. They beat Anthony Davis and the Lakers, but lost to the Knicks. Houston should have no problems scoring on offense (they rank second in points), but guarding Jokic in a playoff series could present a big problem (no pun intended).
The Nuggets have a lot of depth and are well-coached, but Westbrook and Harden are by far the better backcourt and Robert Covington, Danuel House or PJ Tucker are capable of providing at least 15 points on any given night. It will be a close series, but small ball should work for at least one round.
Prediction: Rockets 4-3
Western Conference Semi-Finals Predictions
| | | |
| --- | --- | --- |
| | Vs. | |
1) Lakers vs 4) Jazz
Regular Season Series: Lakers won 2-0
Analysis: In their most recent meeting, the Lakers went to Utah and destroyed the Jazz by 25 points. The Lakers have two All-Star starters, in Davis and LeBron, and those two players will determine whether or not the Lakers win on any given night. Kyle Kuzma could go off, but he is averaging a career low in points, and their next highest scorer is Kentavious Caldwell-Pope, who is averaging 9.5 PPG.
The Jazz are top-six heavy and their bench is 25th in scoring. Gobert could probably play some pretty good defense on Davis, but no one on the Jazz will be able to slow down LeBron. Joe Ingles is a good defender, but LeBron can easily just out-power him. If they decide to send a double team, LeBron (who leads the league in assists) will find a way to find a wide open teammate via a cut to the basket or a wide open three. Mitchell has his spurts and he is more than capable of putting up 40 on any given night and lead his team to a win.
In the end, the Lakers have the experience and two of the top ten players in the NBA. Utah will never go down without a fight, but the Lakers should make it to their first conference finals since the 2009-10 season.
Prediction: Lakers 4-1
| | | |
| --- | --- | --- |
| | Vs. | |
2) Clippers vs 6) Rockets
Regular Season Series: Series tied 2-2
Analysis: The Clippers and Rockets gave us some pretty good matchups throughout the regular season. If they perform like that in the playoffs, we should be in for a treat. In the most recent matchup, the Clippers kind of exposed the Rockets small ball lineup. They held the Rockets to 36.1% shooting and a horrendous 16.7% from three-point range. Harden and Westbrook put up 32 and 27 points per game against the Clippers this year, respectively. Kawhi Leonard and George each put up 25 and 22 points per game against the Rockets, respectively.
It would be interesting to see what kind of lineup the Clippers would put out against the Rockets. One would assume that they would start Ivica Zubac for about five minutes, then Montrezl Harrell and Jamychal Green would split time at the five. Leonard has proved that he plays his best basketball in the postseason and, if he struggles, he is surrounded by George and Lou Williams, who can both easily create their own offense and give the Clippers 20+ every night.
The Clippers seemed to have found the formula to beat the Rockets in their previous meeting and, given Kawhi's postseason record, their depth and their great defense (fifth in defensive rating), the Clippers should advance to their first conference finals in franchise history.
Prediction: Clippers 4-2
NBA Western Conference Finals Predictions
| | | |
| --- | --- | --- |
| | Vs. | |
1) Lakers vs 2) Clippers
Regular Season Series: Clippers won 2-1
Analysis: Every game this year between the Lakers and Clippers has brought out the best of both franchises. Each team is trying to prove who the king of LA is, and there is no better way than to do so than having the two teams face off in the conference championship with the winner going to the NBA Finals.
The first two matchups saw the Clippers as the better team, but in their recent meeting, even after the Clippers made improvements, the Lakers came out on top behind LeBron and AD putting up a combined 58 points. Kawhi has put up 30.7 PPG against the Lakers this year on 53.6% shooting, which is amazing. LeBron, on the other hand, has struggled this year against the Clippers. He is averaging 23 PPG on 38.3% from the field and 21.7% from three-point range. The superstar duos of George and Leonard versus LeBron and AD alone should make this a great series.
Depth wise, the Clippers have a huge advantage, which could be the deciding factor in this series. This series could go either way, and it features the third and fifth-best overall teams in terms of defensive rating and third and fourth-best overall in offensive rating. These teams are both really great, but in the end, one team needs to come out on top.
LeBron will put up legendary numbers like he always does, but the Clippers just have the depth and the reigning Finals MVP which should put them to their first NBA Finals.
Prediction: Clippers in 4-3
---
This article comes from our partner LA Peach Basket, where you can find fan-inspired articles covering the LA Lakers and Clippers. CLICK HERE to read more!
---
More Articles
Eastern Conference Playoffs Predictions, If the Season Continues
Fighting Intelligence: Growth of Justin Gaethje Ahead of UFC 249
Lakers' Loan Revelation is a Bad Look For the Proud Franchise